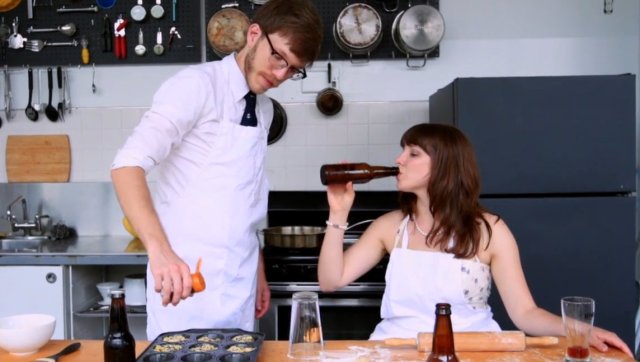 Brooklyn Brew Kids from Dark Rye on Vimeo.
People have been making beer, or at least something resembling beer, since the dawn of civilization. But from the end of Prohibition until the late 1970s, it was illegal to make beer at home in the United States. When President Jimmy Carter lifted that antiquated ban, he started a beer-culture explosion that eventually turned North America into the creative epicenter of the beer-making world.
Still, craft beer making can seem like a daunting prospect, a world of large, austere metal tanks, ritually-filled growlers, and seasonal flights prepared by gruff brewmasters. But Erica Shea and Stephen Valand, a couple of young, unprepossessing Brooklynites, have figured out a clever, handy way to bring beer making home. Their company, the Brooklyn Brew Shop, makes nifty little one-gallon brewing kits, shipped to your door in an unpretentious brown cardboard box.
They started the business in 2009, after Shea gave Valand her father's old home brew kit for Christmas. Cooking up beer proved tough in Shea's tiny Brooklyn apartment, so they experimented with minimalism. When they discovered that their one-gallon formula worked, they started selling kits at the Brooklyn Flea Market and online. After that proved successful, it seemed like they had the ingredients, not only for making great beer, but also for a successful small business that would simplify the home beer-making process without dumbing it down.
Just to make sure they could handle each other in close quarters, they went on a seven-week backpacking trip to Europe. They returned with their sanity and relationship intact, and the Brooklyn Brew Shop was born. "When we left for the trip," Valand says, "we figured if we didn't kill each other on the road, we'd be OK starting a business together. In the end, we both respect each other greatly and always have each other's backs because there are great days and there are really hard days, and we couldn't imagine sharing them all with anyone else."
Though there are the usual small-business hassles of dealing with suppliers and shipping to customers, the essence of Valand and Shea's business boils down to the simple, creative act of brewing up beer. While writing a book of recipes, they brewed up to nine batches a day, using unconventional ingredients in the mixes like jalapeño peppers and charred oak chips soaked overnight in a bourbon barrel. Their passion for beer, cooked easily at home on a stovetop, has led to a feature in The New York Times, as well as appearances on The Today Show and The Food Network. What began as a hobby has become a career. Best of all, they get to share the spoils (or at least the beer) with their friends.
And according to Shea, there's one special bonus to learning how to home brew correctly. "In case of a zombie apocalypse," she says, "the bandits are going to let you in because you can make beer."
This video by Dark Rye was produced by Angus Cann and Kelly Le Castre and edited by Jason De La Rosa and Andy Pickard.
To watch Erica and Stephen's "How to Brew" tutorial, click here.
For more stories like this, visit darkrye.com or vimeo.com/darkrye.