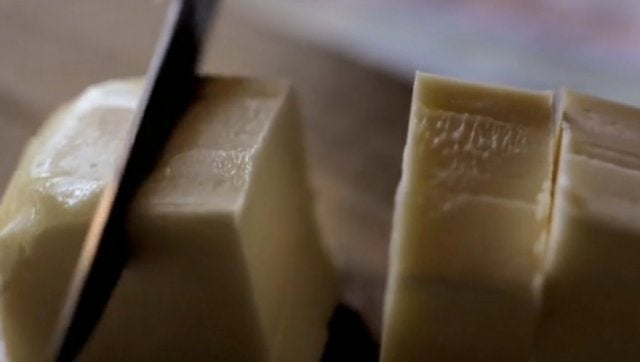 A small-town girl from Kansas moves to New York City with dreams of making it on Broadway, but her life takes an unexpected turn when a chance encounter at a neighborhood coffeehouse leads her to rediscover her childhood love of baking cookies. That sounds like it could be a plot synopsis from a lost Meg Ryan comedy from 1991. But it pretty much describes Alison Walla's actual life.
After years of living around New York, Walla began to feel rootless. She left a national tour of Fiddler on the Roof and couch-surfed around town, looking for a permanent home. One day, on a whim, she took a train to Fort Greene, Brooklyn, and she found the kinds of neighbors she'd been missing and decided to put down roots. Growing up in Kansas City, Walla learned from her mother that when you go calling on your neighbors, you should bring them something delicious, preferably homemade and tastefully decorated, and that is exactly what she did. Her newfound friends suggested she start selling her cookies at local stores. Out of that genuine feeling of neighborliness, her business, Butter + Love, was born.
She says, "It was the local business owners who said, 'Hey, your stuff is really good, we'd love to sell it.' It took a few months for them to convince me, but finally I settled on a menu, rented a kitchen, finalized the design and packaging, and baked my first batch."
Walla's baked goods were an immediate hit. People told her the cookies tasted just like grandma's, but Walla was also putting a modern spin on things. She crafts delicacies like salted rosemary butter cookies with marionberry jam, grapefruit tarragon plum pies and goat cheese tarts with pistachios. She also makes her own shortbread and gingerbread mustaches. Her gingerbread "ninja men" were featured in the Time Out New York 2012 holiday gift guide. Butter + Love products can now be found in a dozen venues around Brooklyn and Manhattan, one in Los Angeles, and online at Etsy.com.
Meanwhile, Walla continues to pursue her love of acting. She still hits the boards off-Broadway and auditions when she can. This past fall, she scored a small role on the hit series Elementary. In her mind, it all ties together.
"Baking, especially when it's experimental, is like perfecting a new performance in solitude and then delivering it," she says. "Performance is a gift. The result is shared, but the process is not. Acting, like baking, is all about instincts."
And if you follow Walla's line of thinking, it's all about sharing a part of yourself with your community. Her baked goods may no longer be free, but they're still gifts from this small-town girl to her big-city neighbors. "A tray of cookies or a cake will tell you when it's ready by how it springs back, pulls away from edges or feels spongy," she says. "It's the same as how you settle into the place you call home."