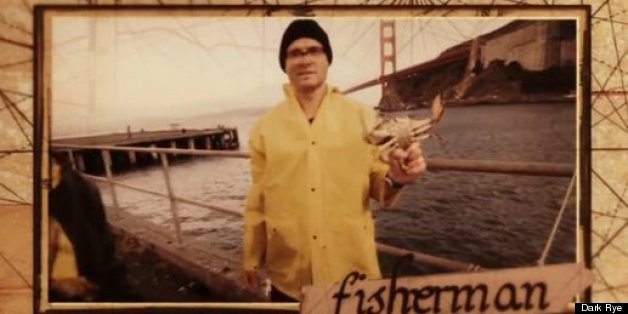 Episode 4 - The Curious Adventures of Kirk Lombard - Salmon from Dark Rye on Vimeo.
Kirk Lombard is a sea forager. He trawls the shallow coastal waters of Northern California looking for food and rejecting the callow industrialism of commercial fishing. He catches what he can carry on his back, and that's usually more than enough. It could mean a bounty of moon snails or a bucket of herring. He hunts monkeyface eels and digs up bivalves, takes out a net for the smelt or gets in a boat and casts a line for sea bass. And he does it all with a swashbuckling style, while playing a mean harmonica that makes him the ideal subject for a video series.
But Lombard's specialty is humble fish that ordinarily wouldn't appear on restaurant menus. He once told a reporter that our current overfishing crisis could be solved if we'd all just learn to eat bait. "It's not just about going hogwild and catching everything in sight," he told SFGate earlier this year. "It's about being proper stewards of the environment and understanding the rules. Or more importantly, knowing why the rules exist."
Before becoming the Bay Area's ultimate indie fisherman, Lombard spent seven years working as a "catch monitor" for the California Department of Fish and Wildlife, where he got to know the area's tidal waters better than anyone and saw how out of control commercial fishing had become. He hearkened back to his earliest memories of fishing at twilight with his grandfather and wanted to bring that experience to everyone. Now he leads sea-foraging tours and, along with his accordion-playing wife, sings original sea chanteys at local restaurants. He is the fisherman of the moment.
In this episode, Lombard takes to the river with his pal Mikey in search of salmon returned to spawn. As Mikey says, the salmon "gets born in one little section of the river. Travels down to the ocean and travels halfway across the world... stays there for four years, gets nice, fat and plumped up, and returns to the very exact spot where it was born."
After much discussion of the salmon's "sacred" nature, Kirk and Mikey call it a day, only to don headlamps and go foraging for clams in the tidal muck. Later, our hero eats his prey, while musing on the impermanence of all things and on the inevitability of failure. And then he plays a beautiful seafaring tune. It's just a standard day in the curious world of Kirk Lombard.

This video from Dark Rye was produced by Kelly Le Castre and edited by Joel Fisher.