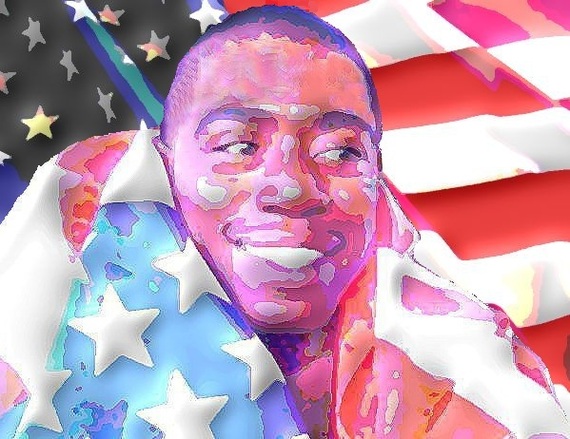 In 1970, Marvin Gaye witnessed an act of police brutality at an anti-war rally in Berkeley, CA that compelled him to begin composing his 1971 self-produced hit concept album, What's Going On. Gaye's record offered a stunningly moving and genius rendering of his political commitments in a moment of civic discontent inspired by the botched Vietnam War. Some forty years later, university students protesting as part of the Occupy movement in the same city that birthed What's Going On faced similar violent antagonism from police on the UC Berkeley campus. There was no Gaye to write their song, however.
Times have changed, but many social conditions have not. And music, an art form that, as Jimi Hendrix once remarked, "doesn't lie," is still awaiting to be created. Given that, where are those Black musical artists who, like Gaye, write songs that use sentient lyricism, cadence, harmony, and rhythm to testify about the social ills and gains in the world? Who are the contemporary Black soul evangelists making music today?
Enter Atlanta's contemporary purveyor of soul, Donnie. Born in Lexington, Kentucky during the mid '70s and later moving to Atlanta, Georgia, Donnie is a child of the South. As such, his music expresses and inflects a unique Southern energy through compositions that are pastiches of blues, soul, gospel, house, and experimental sounds.
Donnie's music also exemplifies a black consciousness and acute social awareness that is similar to that which animated the influential music of artists like Donnie Hathaway, Nina Simone, and Stevie Wonder, to name a few of the soul singer's inspirations. And like Hathaway, Simone, and Wonder, his musical roots are also grounded in the gospel tradition.
"I come from a Gospel music background. The Clark Sisters, Commissioned, and The Winans influenced my writing, as well. It's important for me to write about blackness because it is who I am, first and foremost. Blackness is the story of my life and I will not allow the story of black people to be buried," Donnie wrote in response to one of the questions I forwarded him through email.
Donnie's sometimes gritty, and sometimes graceful, musical styling and vocal fashioning are similar to contemporary artists like Anthony Hamilton and India Arie. Unlike Hamilton and Arie, who have achieved relative commercial success as evidenced by their record sells, Donnie's musical genius has not garnered him similar achievement in mainstream music markets.
Donnie notes, "You've got to be creative and flow with the time. When trying to reach an audience, you bend a little...you go with the flow." Yet, going with "the flow" is precisely what has garnered Donnie followers like me.
I was drawn to Donnie's music several years ago while partying at a club in Newark, NJ. The DJ played "Cloud 9," a popular song that has become a house music anthem, and I promised myself to hunt the song and artist down. And, I did locate the artist and his full-length albums, Colored Section (2002, Motown) and The Daily News (2007, Soul Thought) -- and discovered a voice that is deeply textured, rich, and profoundly honest. His is a style that is reflective of and beyond the times precisely because compelling lyricism and musicality is priceless in an age where much mass produced music lacks the ingenious natural talent that producers using modern technology now attempt to re-create.
Donnie, an inventive artist attempting to make and sell music within a market that pivots around unoriginality and mass mediated race and gender images, pens political songs with titles like "Big Black Buck," for example. Body-rocking, soul-stirring music that challenges the listener to critically consider her/his place in a context of white racial supremacy, capitalism, and heterosexism is prophetic, dynamic music. And, it is lacking in the industry.
Donnie describes himself as "a visionary type artist who does concept albums." For the sake of his own sanity, he continued, he had to start laughing more. According to the singer, the soon to be released, The American Mythology, represents a different approach in his musical styling because it is "American history told from my wacky perspective but the music is still that soulful sound hitting even harder."
Undoubtedly, The American Mythology will forward Donnie's innovative style. It is an album that will also reflect what Donnie describes as a work born from the perspective of a person who had to overcome his own series of daunting obstacles over the past several years. Donnie is a black gay artist who has faced an array of challenges. "Hate of self, loneliness, anger, depression and forgiveness are the hurdles. The American Mythology is what's next. It saved my life by giving me the therapy I needed. It set things in order for me mentally and spiritually," he admitted.
Artists who seek to explore their own place in the "American mythology" are wanting. One of Donnie's greatest gifts, in fact, is his keen ability to bear himself in the music despite the possibility that the market may not embrace him. "I had to learn that it's not selfish to think about how alone I am and to appreciate me. It's just the way things work, especially in American culture. Every person is a corporation. It's about business. I am accepting how superficial it all seems, but how deep it is in truth," he laments.
Rare in contemporary American cultural outlets are attempts at demystifying the myth of American grandeur and virtuousness, which makes most cultural productions unimaginative. Donnie offers his audience an opportunity to move beyond the bland untruths riffed about in most music. Instead, he brilliantly offers a return to the soul, America's and our own, through mesmerizing vocal artistry.