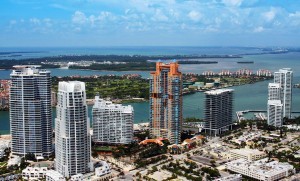 John Lennon is my real estate agent in South Beach, Miami. Seriously, that is his real name.
John sells property on only one street, South Pointe Drive, in the exclusive area called SoFi (South of Fifth). His sales territory consists of six über-luxury high-rises along the cruise ship waterway and Miami Beach front.
In the past 15 years, John has sold more than $3 billion in real estate on this street. (Do the math on 3 percent commission—that's almost as much as the other John Lennon made!)
A few months ago, John took my wife and me to lunch to give us an update on our property and the market. I took the opportunity to try and pry out of him the secret to his extraordinary success.
I found it! And now I will pass it along to you.
"John, there are hundreds of agents who (attempt to) sell in this market. How do you sell 100 times more than most everyone else?" I asked.
Here is his response.
"When I started out I was in an office with four other agents. We all took turns handling incoming foot traffic. We all had the same number of prospects to work with. Each agent would close a deal once every three to four months; I was closing 31 per month. The difference was I wasn't selling what they were selling. Sure, it was the same building and same apartment units, but I was selling something different for every different person. One time, the building developer called me to ask what I had sold that day. I replied, 'I sold a $4 million parking space, a $2.8 million gym and spa access pass, and a $6 million closet. And each came with an apartment included.'
"The developer was perplexed, 'What do you mean you sold a $4 million parking space?' I explained that I had discovered the parking space was what was most important to that buyer. He owned vintage cars and had a bad experience in a previous building. I spent an hour explaining the security, safety, and cleanliness of our underground parking. He couldn't write the check fast enough.
"Most salespeople try to sell everything to every person every time. Huge mistake. A realtor will show all the units available in someone's price range, pointing out all the features and everything they like about each place. Even if a client points out something they like, the agent will continue to show more units (selling): 'Oh, you also need to see this unit. The view is spectacular.' Too many options create a blur of complexity, extinguishing the desire to make a decision and buy. Sometimes, it's just the parking space they are interested in.
"I don't sell at all (of sorts). I ask questions, listen, and observe. I find out what's really most important to clients and focus my education on those features. That way they discover what they are really looking for… and they buy it."
Here's how you, too, can sell like John Lennon:
1. See everyone as unique.
What you assume people are most interested in is mostly incorrect. Start with that assumption.
2. Ask questions.
You've heard this a hundred times, but you are still making more statements than you are asking questions. Stop it.
3. Watch and listen.
If/when you finally do ask questions, listen closely and continue to probe until you discover the client's real desire.
4. Restrain yourself.
This is the hardest step—to stop selling. Insecure sellers make a sale and then "buy it back" because they keep talking, showing, presenting, or selling. Once you discover the client's core motivation, connect it with your solution and then stop and ask them to buy.
5. Serve, don't sell.
There are countless times when John was servicing my unit, performing functions well below his pay grade. The result? Well, I am writing about him now. No wonder he doesn't have to sell! There is a clue in that.
And lastly, as the other John Lennon would say, "Only people just know how to talk to people. Only people know just how to change the world. Only people realize the power of people. A million heads are better than one, so come on, get it on!"