When it comes to coal company eco-villains, no one fits the bill better than Massey Energy CEO Don Blankenship.
Richmond, Virginia-based Massey is best known for its October, 2000 spill of 300 million gallons of coal waste into two pristine mountain streams in Martin County, Kentucky: Wolf Creek and Coldwater Creek. At the time, the EPA called the spill "the worst environmental disaster ever in the southeast United States."
Blankenship was recently in the national news when he angrily confronted an ABC News cameraman in Belfry, Kentucky. ABC featured the incident on the program Nightline, and the story entitled "Coal Boss: If You Take Photos, 'You're Liable to Get Shot'" can be found here on the ABC News website.
Now Blankenship has made news again, with this pithy quote in the New York Times:
"I've been around West Virginia long enough to know that politicians don't stay bought."
Which raises an interesting question: how does he know?
I'll bet he wishes he had chosen his words a little more carefully.
Massey has been embroiled in a long-running court case over contract interference with another coal company, Harman Mining, The case was decided in favor of Massey by the West Virginia Supreme Court. But then photos surfaced in the New York Times of Blankenship on vacation on the French Riviera with West Virginia Supreme Court Justice Elliott "Spike" Maynard -- while the Harman case was pending before the court.
And this development came on top of Blankenship's contributions of over $3 million to "And For The Sake of the Kids," which helped elect Brent Benjamin, a little-known candidate for the West Virginia Supreme Court in 2004.
The Harman Mining case is now headed to the US Supreme Court, where Wal-Mart, PepsiCo, Intel, and Lockheed Martin have all filed briefs urging the nation's highest court to throw out the West Virginia ruling. Many in West Virginia believe Blankenship's campaign contributions to Judge Benjamin have created the appearance of impropriety.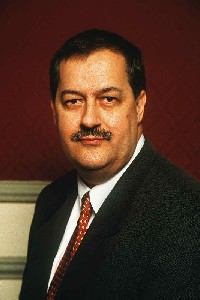 In early 2008, Massey agreed to a $20 million settlement with the EPA to resolve thousands of violations of the Clean Water Act for routinely polluting waterways in Kentucky and West Virginia with coal slurry and wastewater. On November 22, 2008 the Williamson (West Virginia) Daily News reported that Blankenship compared the editor of the Charleston Gazette, James A. Haught, to Osama bin Laden. In a videotaped speech, Blankenship also called House Speaker Nancy Pelosi, Senator Harry Reid and former Vice President Al Gore "crazies" and "greeniacs." And ... but what's the point in going on.
Fortunately, a dedicated Massey employee named Troy Andes is on the job to repair the damage. In a letter to Wikipedia editors, Andes complains about the "lack of descriptive and pertinent information about [Massey] on Wikipedia" and helpfully offers a lengthy listing of the company's good deeds and charitable works, including Massey's annual "Christmas Extravaganza," which provides toys and candy to the needy West Virginia families who live below the mountains that Massey is blasting apart for coal.
Giving candy to children -- isn't that heartwarming? Remember, with Massey and Don Blankenship, it's all for the sake of the kids.