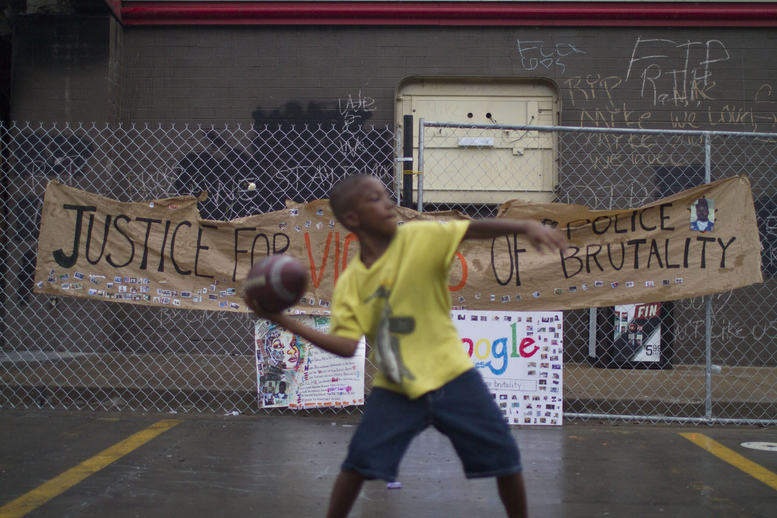 The Ferguson community looks for something more meaningful than violent protest. (Photo by Dave Gershgorn)
Ferguson, Mo. -- As the roar of protests echoes down W. Florissant Ave., one group struggles to make its voice heard from churches and outside police lines -- families of Ferguson.
Bandana-covered faces and militaristic police forces wallpaper national press, but community members looking for meaningful dialogue are often not on the same street. They hold vigils at local churches or wait at home, hoping for a time where they do not need to fear police reprisal.
"You can't talk about making something better if the people having difficulty are not involved in the process," county executive Charlie A. Doolie said Friday. Instead of taking to the streets Thursday night, Doolie lead a peaceful march at a local church, where youths shared their thoughts amongst themselves. Police were stationed elsewhere.
It's important to keep in mind that looters and late-night opportunists clashing with police are a small minority of protesters. Many Ferguson and Florissant residents say that they don't recognize those who come out after dark, and have been seen looting and throwing smoke canisters back at police.
Families usually clear the streets around 9 p.m., and organized protests subside around 11 or 12 p.m. Those staying out later, and have seen tear gas and smoke thrown by police, are a mix of impassioned youth protesting police brutality and opportunists looking to smash windows and throw tear gas back at police.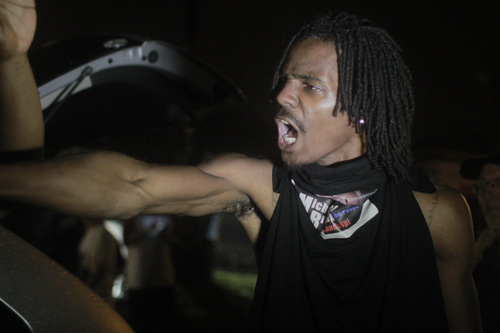 "I am Mike Brown. I could be next," one protester shout at a community organizer. (Photo by Dave Gershgorn)
"I am Mike Brown. I could be next," one young black man shouted at a community organizer, trying to disperse a past-curfew crowd Saturday night.
Citizens and community leaders have begun flocking to press conferences to ask questions of their local police and state government. Many have children about to enter school, and some have questions about how their families can trust local police.
"I'm a father of seven children who are scared to death, because they don't know if they can trust the police to protect them," one local business owner told Capt. Ron Johnson of the Missouri State Highway Patrol at a Friday press conference. "I'm scared to death for my children, to explain to my son why his friend, Mike Mike, isn't here anymore."
"That bothers me as a parent," the local barber said, "it doesn't matter what color you are."
Until Friday night, when violence started to reappear between protesters and law enforcement, Johnson had been seen as a shining light to the people of Ferguson, as someone the community feels comfortable attempting a dialogue with.
"Our intent means nothing if those are your feelings," Capt. Johnson replied to the local barber. "That means we need to do a better job. But I can tell you today whenever we walk away from this, and these cameras are gone, this is our opportunity to show you that you can trust us."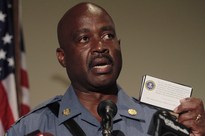 Johnson's command came days after initial riots and tenuous relations between the citizens and police, and yet the situation has returned to that state. His repeated message of accountability in law enforcement, coupled with community relations seems to have community support.
Tamar Hodges, a nurse who went to McCluer South-Berkeley High School and current law student at Univ. of Missouri, came to the press conference Friday with her young son, Jake, looking for answers from state and local officials.
"While the St.Louis police department and Ferguson police department investigation is being mishandled, I feel like there are a lot of holes and a lot of questions not being answered, but I do sincerely feel Capt. Johnson and Governor Nixon are trying to fill that void and mend it," Hodges said.
However, Johnson's presence in the community during the day has waned--Thursday he marched with protesters, yet each successive day he has spent more time away from the streets, in either bureaucratic or tactical conferences.
He is becoming defined by his quick and grim 2:30 a.m. press conferences, where he tallies damages to property and arrests by police.
No matter Johnson's words and personal actions, residents of Ferguson who have seen their town overrun by military trucks and littered with tear gas canisters cry out for long-term change to their community--and justice for Mike Brown.
All photos by Dave Gershgorn. For more coverage from Ferguson, Mo., check DaveGershgorn.com/blog