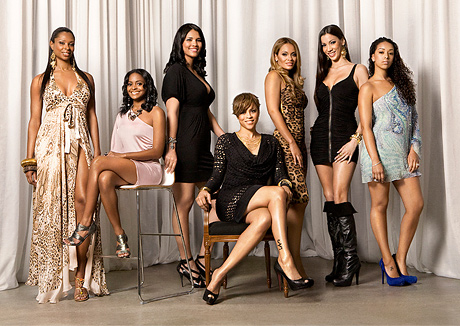 It's NBA Playoff time. "Win or Go Home." Charles Barkley, Kenny the Jet and Ernie Johnson. Endless promotional spots on all Time Warner Networks. Keep an eye on the Dallas Mavericks. Since their mid-season 7-player swap the Mark Cubanos have been hotter than an open carry advocate drinking straight black at a Deep Ellum Starbucks. To check the pulse of the Southwest Division champs, I spoke with their physically imposing small forward Caron Butler. Kobe, Dirk Nowitzki and Jerry Tarkanian all get named name-dropped in this revealing Q&A...
Before you arrived in Dallas, the Mavericks were a struggling, middling NBA team. You get there, the team loses a game and then goes on 13-game win-streak, becoming the new Western Conference "it" team. What did you do?
I came over with two other guys (Brendan Haywood, DeShawn Stevenson) who bring the same disposition that I bring. We'd been out of the playoff picture for two years. We just wanted to come over and bring extra energy and toughness that was needed. Me personally, I bring a lot of versatility, a tough edge and type of swagger that can really help this team.
Statistics geeks, cynics and a lot of people who never played the game don't believe in team chemistry. I do believe in it. What about you?
It's very, very important. You can't fill a team with a whole bunch of guys that want the ball all the time. You gotta have the proper components. You gotta have guys who are really honing in on the defense. You gotta have offensive specialists. You gotta have a guy that really knows how to facilitate. You gotta have a floor general who can balance the floor. You gotta have role players; set-up shooters, physical rebounders. You gotta have all of it.
What about the importance of little off-the-court stuff in the locker room and on the road and guys just being generally cool to each other?
You always have the good savvy vets and guys who make the atmosphere for basketball fun. That comes with this having a good core group, let them come up together and create something special. Looking in this locker room you got Jason Kidd and Dirk (Nowitzki) -- two hall of famers. I think everything from there on down just rubs off on everybody. The Dallas Mavericks is a great basketball atmosphere.
What do you know about Dirk Nowitzki teammate that you didn't know about Dirk Nowitzki opponent?
He's truly an unselfish superstar.
I want to talk to you about something that happened earlier in the season -- -a controversial potentially dangerous incident that had league-wide ramifications. I'm talking of course about the NBA ordering you to stop chewing on straws during games. How has that affected you personally and professionally?

It hasn't affected me, really. It was something I'd been doing for years -- eight years -- and all of sudden t they come down so hard on me. I mean, I understand. A lot of kids watch and you don't want someone playing basketball and accidentally swallowing a straw.
Yeah, right. Who has ever swallowed a straw playing basketball?

It happened to me. I got hit pretty hard on a pick and I swallowed it. I kept moving and kept playing. Hopefully it digested.
Is there any proof that's it out?
It's crazy. It was a couple years ago. Hopefully I'm okay by now.
During the straw drama, how quickly did you reach out to U.L. Washington, the old Kansas City Royals shortstop who played his entire career with a toothpick in his mouth?
I never knew someone played his whole career with a toothpick in his mouth.
Well then, keeping in the realm of basketball, did you talk to Jerry Tarkanian about how he got over biting the towel during games?
I haven't talked to him about this withdrawal. I know that was tough.
Where was the Player's Union with your right to chew a straw?
They stepped in, but I told them I had no problem with it. I mean, whatever I wanted they probably would've went to the distance.
Playoffs: Who guards Kobe?
I would love to.
Will you draw the assignment?
It will be a group effort. Mostly it will be me, Shawn Marion and DeShawn Stevenson.
What the plan?
You can't stop him. You can slow him down, try to make it difficult for him. In this league, no one person can stop a single great player. You might make it difficult for him for a couple possessions but the league is just too talented for one person to stop one person.
But exactly what do you do to "slow him down?"
Make sure he takes difficult shots. Try to lean on him. Keep a body one him at all times. But he's such a great player. He makes it tough because once you try to make him into a facilitator he does an excellent job of getting other guys off. Pau Gasol and Lamar Odom can pick up the scoring slack. It's a difficult task all the way around. But you just want to make it harder with different looks night in and night out.
The talk you always hear around this time of year is how NBA teams play at a different level for the playoffs. But how will be able to keep your focus when every week there will be fresh new episode of Basketball Wives on VH-1?

I don't think I'm going to tune in to that. I got no interest in it. It's business right now.
Follow Dave on Twitter: www.twitter.com/DaveAHollander
Become Dave's Fan on Facebook: www.facebook.com/daveahollander