The Mets made Wally Backman the new manager of their popular single-A affiliate, the Brooklyn Cyclones.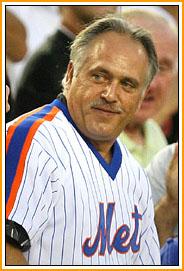 Like Napolean in exile, Backman, a former minor league manage of the year and one of several active cynosures of the 1986 Mets glory, has been toiling in exile from the major league system since 2004 after pulling a Bernie Kerik four days into his tenure as manager of the Arizona Diamondbacks.
Before that, as NY Times David Waldstein reports, Backman weaved another tangled web in major league managerial ranks; one that's a bit more relevant to our discussion:
He was a rising star in the White Sox organization but was fired for campaigning for Jerry Manuel's job in 2003 while Manuel was still there. Backman will again be working a few rungs down from Manuel, who is the Mets' manager.
And, that's the "fruity bit" as my one of friends across the pond would put it. Wasn't it Jerry Manuel, aided and abetted by the now completely unhinged Tony Bernazard, who was accused of doing the exact same thing to Willie Randolph?
Or was it "The Kid" -- Gary Carter?
Many vociferously argue we should look at any and all 1986 alumni including deposed Orioles manager Lee Mazzilli?
Any change means that the Wilpons would have to eat Manuel's contract, but maybe they can afford it given that they barely (suspiciously?) lost money in the Madoff scandal. What's happening with that investigation anyway?
You got enough to work with here? Please call WFAN and discuss.