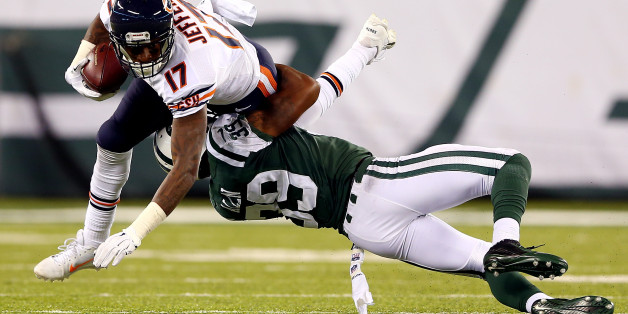 I love football. I play football, I watch football, I do fantasy football. I particularly love the NFL, which is why these past couple of weeks have gotten me really pissed off. Pissed at the carelessness, pissed at the ignorance and really pissed at one of the largest and most influential forward-facing companies in the world for not changing the perception of major social issues. I'm angry at how the NFL hasn't taken a stand against a flawed legal system. If I hear the words "due process" from the NFL or an NFL organization one more time, I'm going to throw something, and it's not gonna be a football.
The difficult and obvious question I keep asking myself is, "Could I really have handled this better than Roger Goodell, the NFL's commissioner and a man who reportedly brought in almost $45 million last year to do his job?" Well, my answer is yes. I could have.
But before I put my two cents into these matters, let's take a look at me, shall we? Who am I? Why do I matter?
I'm a brother to five sisters and the son of two loving parents with more than 37 years of marriage under their belts. I drink Dunkin' Donuts (not Starbucks), I love my girlfriend, and I'm crazy about the German Shepherd I do not yet have :(. I'm a Toyota 4Runner-owning, beer-drinking, beach-going former high school quarterback proud to be from the state of Maryland. I am the NFL's audience.
I'm also the director of sales for an e-commerce tech start-up in Baltimore called OpiaTalk. I work hard, I like what I do, and I like who I work with. That said, I still count the days until those glorious Sundays when sweatpants, chicken wings and beer are the norm. I love football.
And here's what I would say if I were the NFL spokesperson:
"The NFL does not tolerate violence of any kind against women, children, friends, or family.

Period. Football is a violent sport, but we only accept men into our league who willfully know the difference between right and wrong, inside and outside the white lines.

The last two weeks have been an embarrassment to the National Football League, and we apologize. Not to our sponsors, not to our teams and not to our players, but to our fans. To the ones who look to escape everyday life for approximately three hours every Sunday, Monday and Thursday. We're honestly, truly sorry.

Our promise to you is to move forward with dignity and honor to prove to you that these are no longer the actions of NFL football players. You hold us to the highest standards possible and we accept the challenge. Effective immediately, we are reevaluating the personal conduct policies put in place that have clearly failed. Playing in the NFL is a privilege that will be taken away from any player who disrespects our shield.

We will do whatever it takes to make it right. You will be proud of our men and women moving forward.
Is that too much to ask for?
No.
As fans, as Americans, as human beings, we shouldn't be afraid to have expectations of decency and respect and moral rightness from the companies and institutions to which we look up.
Will it happen? Probably not, but one can surely hope.
It sure made me feel better writing it.