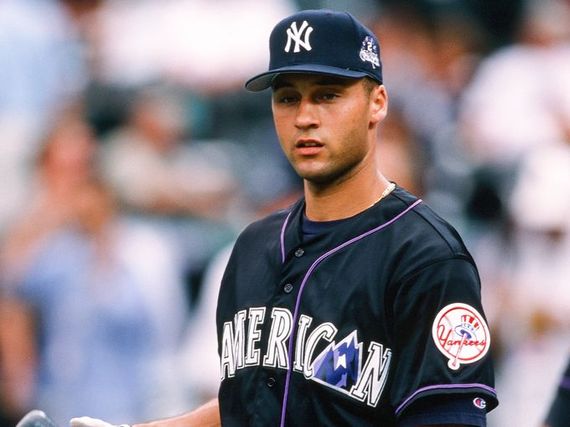 The Sporting News via Getty Images

Let me just get this out of the way immediately: Yes, I am a Yankees fan. Yes, I do have a New York bias at times. And yes, I was raised on Derek Jeter and I love him as my childhood idol. But in any case, no matter whether it is coming from a true hardcore New York Yankees fan like me, or a fan of any baseball team throughout this country, you should believe that the Captain deserves a spot in this year's All-Star game.
So what are Jeter's critics saying?
They say that Jeter is not the best shortstop in the American League, that his batting average is mediocre, that his fielding is poor.
Well you know what? These criticisms are true. I'm a die-hard Yankee fan and I recognize it. You'd have to be fairly oblivious not to.
And yes, I'll acknowledge, statistically Erick Aybar or Alexi Ramirez deserve the starting spot in Minnesota over Jeter.
But you know what? The All-Star game is the fans' game. They vote for who will take the field, and it's not always the players with the best stats. Yes, this can be frustrating at times, but democracy is a beautiful thing.
Not to take anything away from their baseball skill -- but neither Aybar or Ramirez have a shred of the impact that the great Number Two has had on the legacy of the game. Not only is Jeter renowned for skillful excellence on the diamond, but also outstanding character off the field. He to this day embodies the ideal athlete, one who keeps himself out of trouble and his head down in the face of the press.
And unless you have been living under a rock without ESPN access, you probably know that 2014 is the Captain's final season. And this fact, in conjunction with his iconicism, is enough to earn him a starting place in this year's All-Star game in Minnesota, no matter how disappointing or lackluster his 2014 stats may be.
Don't buy it?
Well, Jeter wouldn't be the first to have an honorary spot in the All-Star game in his final season.
In 1973, Willie Mays made the All-Star game in his final season. He was batting .214 going into the big midseason classic. He only played 66 games and hit six home runs that year.
In 1968, Mickey Mantle made the All-Star game in his final season. He was batting just .233.
And the list continues... Lou Gehrig, Stan Musial, Mike Schmidt, Carl Yastrzemski, Al Kaline, Johnny Bench, and perhaps most similar to Jeter, Cal Ripken Jr.
History tells us that Mr. Jeter has earned his spot to take the field on Tuesday evening, so please, let him have it. Enjoy the moment, because you and I may never see an ambassador for baseball like the Captain ever again.
Do you think Jeter deserves his spot in the All-Star game? Why or why not? The comments section is just below.