This article originally appeared on PSFK.com.
While 2008 left nearly every other automaker stranded on the side of the road, Audi managed to record its best year of sales ever. The company earned $42 billion in revenue during 2008, a 4.1 percent increase from a year earlier. More Audis were exported to China in 2008 than any place else in the world. Audi plans to share $407 million in bonuses with its German factory workers.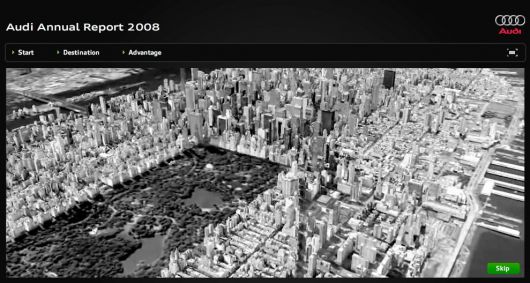 Audi announced these figures today. But if you think the report went all charts and graphs crazy, have a look at their 2008 annual report online. Audi created a site that allows you to fly around the world and see what the company has been up to. Featuring everything from unconventional Audi dealers in China to a special Audi service center in Russia to the TDI clean diesel road trip right across the United States, the content is far more exciting than your typical annual, the creation of a team of renowned writers and photographers from around the world.

To continue reading this story, please visit PSFK.com.