I won't be with my family at home watching the ball drop in Times Square this year. But I am still going to be surrounded by people I care for. I'm ushering in 2012 alongside members of the US Military serving overseas. I've come with a rag-tag bunch of self-proclaimed 'B-listers', as I have for much of the last decade, to volunteer and perform stand-up for the Armed Forces abroad this Holiday season. Another midnight of belly-laughs and heart-felt hopes for a year filled with peace.
I wouldn't know the people I'm ringing in the new year with without reading dog tags hanging from chains or the names velcro'd to uniforms. There's not a familiar face in the crowd. But the flag on each flack-jacket, helmet, or ACU's creates an instant bond. We're brothers and sisters, friends and neighbors -- Americans -- looking after one another on foreign soil.
Over the years we've played all the hottest (and I do mean hottest in every sense of the word) venues in Iraq and Afghanistan. We've been from Kuwait to Germany and several points in between.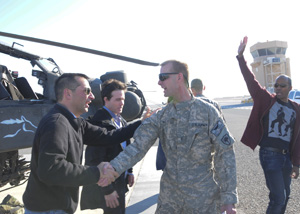 Who needs Vegas when you have great audiences in Landsthul, Baghdad, Kabul, Fallujah, Sadr City, Haditha Dam, and some of the smallest forward operating bases you've never heard of? The big shows can bring thousands of troops, the most remote performances, 10-15 people. Each one is as special as the last.
The "green room" is often just the fuselage of the dark green Black Hawk helicopter that we land in and the venues range from tents, to dining halls, to gravel parking lots lit only by glow sticks (to avoid creating a target for incoming mortar attacks). The shows are often standing room only -- but that's only because sometimes we can't round-up enough folding chairs.
People ask me if we're funny. I respond, "if we're not, where's the audience gonna' go?" Most troops I survey would rather go see someone bomb rather than spending the hour looking for one. ...But it's not really about the show. To the troops scattered around the globe during the holidays, it's just that someone remembered. Someone cared. Someone brought a brief special-delivery of "home" all the way to where they serve. Regardless of whether their mission was popular or controversial, in the headlines or out of the spotlight -- people kept them in their thoughts.
These shows allow the troops a chance to spend 60 minutes laughing -- able to forget for a short time what's happening outside "the wire". It does them good, but truth be told -- it makes those of us who perform feel even better. I know the power of a smile. The holidays are more meaningful to me because of that.
The troops in the audience are too young to have seen Bob Hope perform live in USO shows, but they are keenly aware of his efforts and are grateful for his legacy. So are those of us who travel here. For many of us, we come because he did. He taught us that you serve however you can. The people we perform for sacrifice years of their lives away from home on tours of duty. While we can't shoot and we don't fight, we can take a week and bring a laugh and a smile to a place where those assets are in short supply.
This year, it's New Years in Kuwait with soldiers who just left Iraq and are en route home, those who are finishing out deployments and those who are being re-deployed to Afghanistan. There are several thousand troops serving in Kuwait alone right now. I'm sure we'll be able to fill the house night-after- night until we come home on January 3rd.
My real career is as a broadcaster and a journalist, and as such, I keep my thoughts on the policy and politics of our military involvement firmly locked in my head. The people who serve our country however, remain firmly locked in my heart and I wear those emotions on my shirtsleave.
Every year, I find myself with a painful lump in my throat at the end of our final performance, as we head out and leave our troops behind to fight our battles and protect our freedoms. I say a prayer for their safety and I give thanks for their service. This New Years, as the Ball drops in Times Square, I hope that you will do the same.
Dave Price is the former weatherman for CBS News and has reported major weather-related stories and features for the "CBS Evening News" and "The Early Show" from around the world.