Shaolin Cowboy is a comic written and illustrated by Geof Darrow. It's main character who walks the earth in search of food and shelter, but somehow always comes across mutant biker gangs, vengeful talking crabs and swarms of the undead and giant, cave dwelling sharks. It's mix of absurdity and grand scale chaos and action won me over ever since I laid eyes on it.
Dark Horse Comics is bringing back the title, originally published by Burly Man Entertainment with a four issue mini-series. I got to talk to Darrow about the new series. I cannot recommend the book enough.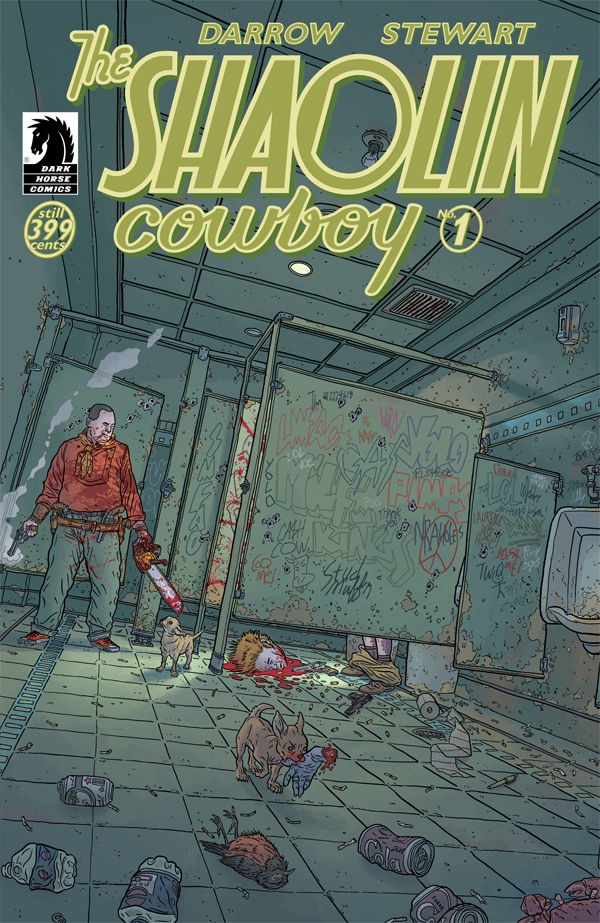 All Images Courtesy of Dark Horse Comics
Tell us a little bit about yourself and Shaolin Cowboy?
I'm nothing like Shaolin Cowboy. He's a much nicer guy than me and he can jump higher. I'm taller though.
Since a lot of time has passed since the original Shaolin Cowboy series was originally published by Burly Man, creatively have you changed your process with the book and how you approached his story?
No.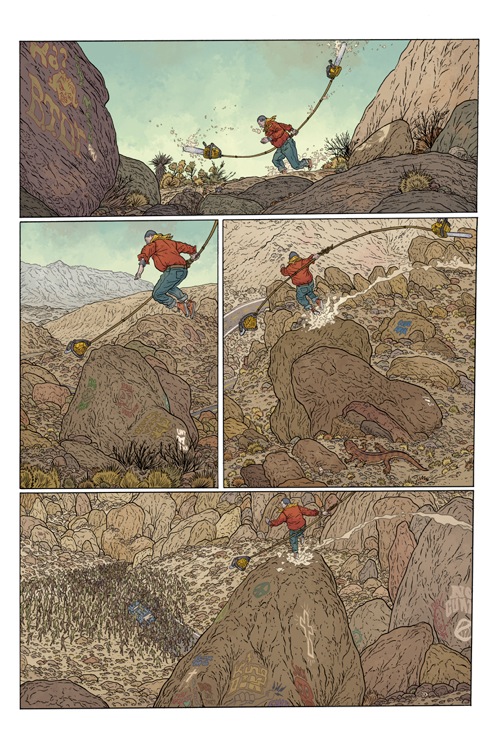 Obviously your work is very detailed and has such a huge, grand scale to it and you probably get this question a lot, but how long does it take you to finish an issue of Shaolin Cowboy?

I think everyone who works in the field gets asked this. What does it matter how little or long it takes to do anything. If I did a page in an hour would that make me better or worse? If it takes me two weeks does that make me better or an idiot for taking so much time. The only thing that really matters is the result I would say.
What's it been like working with Dark Horse and bringing back the series with a different company? Creatively, I feel like it's a perfect match with everything they've done and have been doing lately..
Probably harder for them than for me.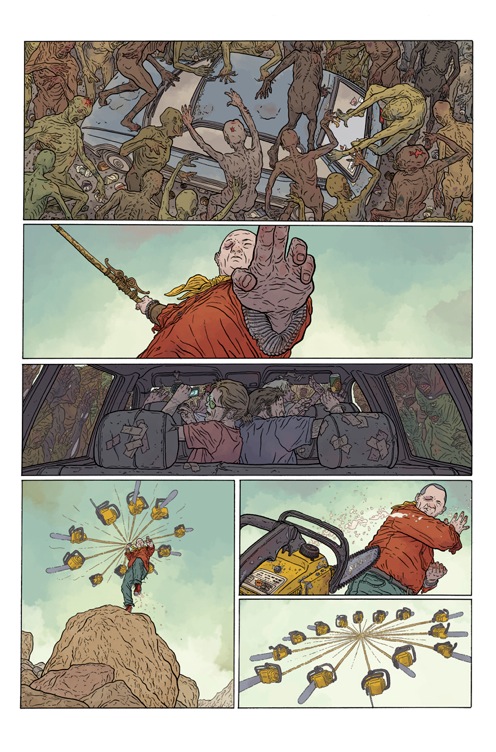 Any thoughts of modern comics? Any recent books or creators that you really dig?
I like a lot of comics from every part of the world. I love Prison Pit by Johnny Ryan, Mike Mignola's anything, Prophet from Brendan Graham and Simon Roy and others, 47 Ronin by Sakai and Richardson, Jim Woodring's anything, Battling Boy by Paul Pope, Jupiter's Legacy by Quietly, Doherty and Millar to name a few. Drawn and Quarterly published Shigeru Mizuki's Kitaro and other works by this amazing mangaka. Higanjima, Vagabond, Blade of the Immortal in Japan. Bouncer by Jodoworsky and Francois Boucq in France. Tex by anybody in Italy...I could go on forever.
Moebius is dead and that leaves a big, big hole for me. I looked forward to new inspiration from him every year. I'm still very sad.
I know you're a huge Miyazaki fan, how do you feel about his retirement? As an artist and creator yourself, Do you think there will ever be a time where you feel satisfied enough with everything you've done creatively and put your pencils down?
He has retired after nearly every film and I'll believe he has really retired if 3 years from now, he isn't working on another film.
Why would anyone want to stop drawing if they could? I like drawing and working out my frustrations on paper. It keeps me out of the nut house, So far at least. They'll have to tear the pencil out of my dying hands if I can help it.
Anything else you'd like to talk about?
Yeah. Go to Protect.Org and help make the world a better place. I know it is easier for most Americans to complain and occasionally put a bumper sticker on their cars, but be proactive and help make the world a better place for everyone. I'm feeling a little dizzy now from being up so high on my soapbox so I better get down. Thanks for the opportunity and the questions