Last year, I asked some of my favorite comic creators in the industry what they enjoyed listening to while they made comics.
To me it was a cool, introspective look into what can help or inspire their creative process.
You can take a look at last years Comic Creator Mixtape here.
We're back with a whole new batch of creators and awesome playlists that you should check out, and maybe it will inspire you to create something as well!
Ryan Stegman just concluded his great run on Superior Spider-Man and will soon be the regular artist on Wolverine.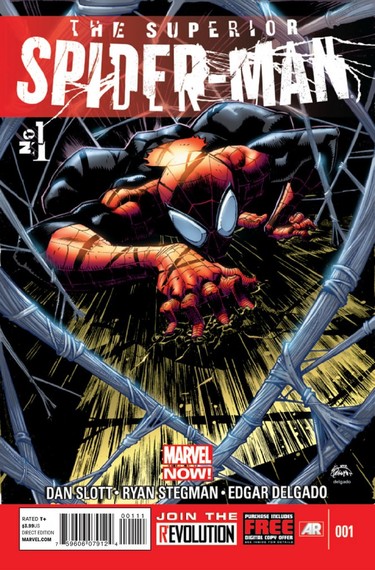 Image Courtesy of Marvel Comics
Ryan Stegman
Here goes:

I guess when I'm choosing music to listen to while working it depends on a lot of factors. Like if it's first thing in the morning I'll usually go for something heavy and driving to wake me up. Like Fucked Up. And then when I'm good and lathered up (gross) I listen to a lot of hip hop.

I guess it changes a lot too. I am always worried that I'm going to end up like my dad (sorry dad) and have the same playlist of 50 songs that I listen to for 30 years, so I try to make sure I'm mixing in new stuff all the time. So I GUESS I'll just give you a playlist that I've been hitting up a lot lately.

The Weeknd- "House of Balloons/Glass Table Girls"- I'm not going to write a blurb about each song, but I just wanted to say that this singer of the Weeknd is SO UPSET about how much sex he has to have. It must be tough for him.

Kendrick Lamar- "Money Trees"
Kendrick Lamar- "good kid"
Rolling Stones- "Loving Cup"
Frank Ocean- "Pilot Jones"
Schoolboy Q- "Hands on the Wheel"
Odd Future- "Forest Green"
Fucked Up- "The Other Shoe"
The Walkmen- "In the New Year"
Big K.R.I.T.- "Money On the Floor"
Fucked Up- "Turn the Season"
David Bowie-"Life on Mars"
U.N.K.L.E. - "Guns Blazing"
The Walkmen- "The Rat"

Okay, that's it. This list is pretty stupid. I guess these things just arise organically where you add a song to the playlist and then it just grows. And I guess that all that's really happening is I'm adding songs that get me going so that I can stay focused on work. I kind of like to be wrapped in sound like a blanket. Like if I play the music loud enough I'll forget that there's anything outside of my head and I'll go into super warp-focus.
Mike Norton, creator of the webcomic Battlepug, and currently the artist of Image Comic's wildly successful Revival along with writer Tim Seeley, among other projects --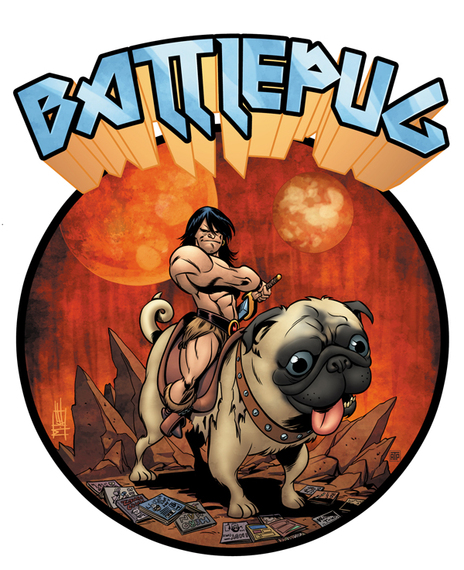 Image Courtesy of Mike Norton
This is a pretty random set list from my iTunes and a good representation of my music collection. Its all over the map but almost always equal parts power pop, rap, old college rock, hair metal, and game soundtracks. I have no music loyalties.

Reptile - The Church
The Ghost at No.1 - Jellyfish
Baby Come Back - Player
James Connolly - Black 47
I Still Believe - Frank Turner
Tears - Health
She Lives (In a Time of Her Own) - Judybats
I Go To Work - Kool Moe Dee
Spicy Peeñ - Mike Mictlan
Alex Chilton - The Replacements
I Wanna Be Your Man - Zapp & Roger
Let's Away - The Shazam
Weight - Sims
The Boys Are Back In Town - Thin Lizzy
Michael Moreci Is the co-creator of Hoax Hunters along with Steve Seeley who also just launched a new series Prime 8's through Monkeybrain Comics as well and a new series Cursed by Boom Studios.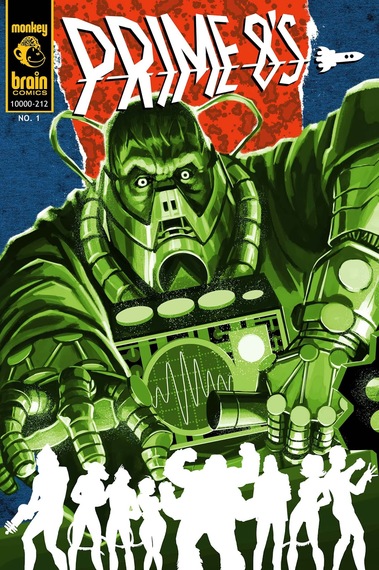 Image Courtesy of Monkeybrain Comics
Michael Moreci
I actually don't listen to too much music when I write. I more listen to music when I brainstorm and am in the plotting phase of my process. At this point, I'm usually trying to really find a mood, something that strikes a chord in me and sparks some sort of emotional response. If not that, I'm just trying to find some relaxing music that helps focus my brain.

Thelonius Monk Quartet with John Coltrane (the Carnegie Hall album)
Inception soundtrack
Deerhunter, Halycon Digest
The Assassination of Jesse James by the Coward Robert Ford soundtrack
Blade Runner soundtrack
Explosions in the Sky, The Earth is Not a Cold Dead Place
Anything Deftones
Washed Out, Within and Without
Miles Davis, Porgy and Bess
Bruce Springsteen, Nebraska
Pearl Jam, No Code
Arcade Fire, The Suburbs
Gattaca soundtrack
Frank Barbiere is the writer and co-creator of Five Ghosts by Image Comics as well as White Suits by Dark Horse Comics and Black Out.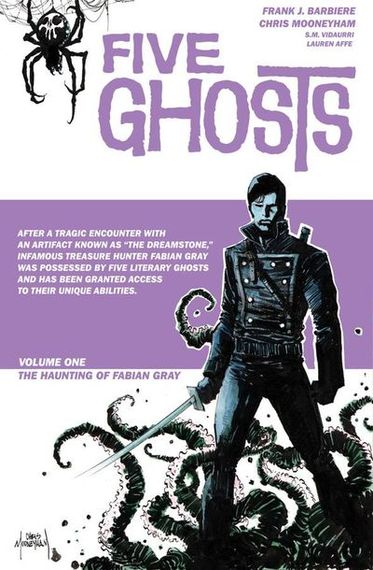 Image Courtesy of Image Comics
Frank Barbiere
Music was a huge part of my life growing up as I was in bands and it was my main creative outlet. I'm still a huge fan, but I'm definitely envious of writers who can listen to full-on songs while writing; for me, it has to be instrumental or I get distracted. What follows is a list of stuff that gets me in the zone these days (and may give you a hint of the type of stuff I've been writing):

Indiana Jones & pretty much all John Williams soundtracks (duh!)
Prometheus Soundtrack
Drive Soundtrack
Cowboys & Aliens Soundtrack
Mogwai
Explosions in the Sky
Blade Runner Soundtrack
The Minibosses
Hanz Zimmer Batman film Soundtracks

Sometimes if I get crazy, I'll listen to Jets to Brazil.
Steve Seeley is the co-creator of Hoax Hunters along with Michael Moreci and the newly launched Prime 8's from Monkeybrain Comics as well as being a freelance illustrator.
Image Courtesy of Image Comics
Albatross by Corrosion of Conformity -
My favorite song of all time, off my favorite album (Deliverance) by my favorite band (that's a lot of favorites!). Seriously, though, I try listening to the whole album at least weekly and have done since I bought it way back in 1994.
Lamb of God - Another band I listen to all the time. Their entire discography is amazing, but I cant recommend enough their first official release New American Gospel. The Burn the Priest days are pretty incredible as well.
We Butter the Bread with Butter- A German deathcore band. I can't understand a damn word of it, but its a great listen-to nonetheless.
Beak - A brilliant current Chicago metal band. Their first EP Eyrie is fantastic. Their song Men at Arms is easily one the best new songs I've heard in years.
POS - Besides metal, I do love me some hip-hop. and ya can't beat the Minneapolis/ Midwest sound from the Rhymesayers crew. All of POS's records are excellent.
And speaking of Rhymesayers, I also highly recommend Dessa, Doomtree and Paper Tiger.
Hum- Hum's another one of those bands from the 90s that will always have a place in whatever listening device the future holds. Downward is Heavenward is still one of my favorite albums. You'd Prefer an Astronaut isn't far behind.
I also listen to a lot embarrassing music, or "guilty pleasures" if you may. Justin Timberlake is a genius and his music has given me a permanent man crush on him. Luckily Nicki Minaj balances that out. In fact I'm listening to Pink Friday as I type this. And lastly, and definitely most damaging, I dig Miley Cyrus. No irony here. I swear. Bangerz is actually pretty solid. Sigh, goodbye cred.
Gabe Bautista is the illustrator of Albert The Alien from Thrillbent Comics and also the artist on an upcoming book from Oni Press written by Josh Fialkov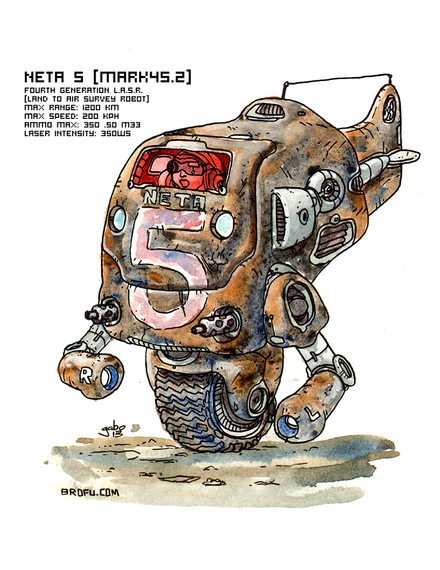 Image Courtesy of Gabe Bautista
Being a first generation Mexican meant that I grew up with big band music, and super soft rock Mexican bands with organs singing about heartache. It wasn't till my early teens that I got my own boombox and had the opportunity to change the station without getting a chancla to the head (Google it, chancla, trust me.) This also means that I didn't grow up with American rock; no Van Halen, no Metallica, hell not even Frank Sinatra. Beatles -- people can't comprehend how or why I don't know any of their songs by heart. Instead, I have gigs of Mexican music ya'll have never and will probably never hear.

I present a list of songs that wakes my soul up, as I slave away at an endless sea of comix:

DJ SHADOW - You Can't Go Home Again
Prince - Purple Rain
Emarosa - The Past Should Stay Dead
Pretty Lights - Still Night
El Guincho - Bombay
White Town - Your Woman
Stevie B - Dreamin of Love
Coheed and Cambria - Far
Neutral Milk Hotel - Holland, 1945
Misfits - Pumpkinhead
Everything But the Girl - wrong
Mindless Self Indulgence - Bring the Pain (new wave mix)
Bjork - The Rocketeer
David Bowie - Five Years
Destroyer - Kaputt
Enjambre - Visita
Crystal Fighters - Solar System
Wu-Tang - Wu-Revolution
DIE ANTWOORD - Never Le Nkemise
Foxy Shazam -
Juanes - No Creo En El Jamas
Lupe Fiasco - 1st and 15th mixtape volume 3 (ALL OF IT.)
Washed Out - Get Up
Billy Idol - Eyes Without A Face
Kay Kayser - Jingle Jangle Jingle
BLADE RUNNER OST- ALL OF IT. YES.
Kanye West - Last Call
Cafe Tacvba - La Pinta
Deltron 3030 - State of the nation, followed immediately by 3030.
Supreme Cuts - 18th
Victimas Del Doctor Cerebro - Yo Se Bien
Oblivion OST by M83 - all of it.
First Aid Kit - This Old Routine
Maldita Vecindad - Pachuco
Molotov - No Manches Mi Vida
Janelle Monae - Primetime
Diamond Rings - Hand Over My Heart
Black Star - Respiration
Phedre - Love Ablaze
Daft Punk - Da Funk
Los Bukis - Yo Te Necesito
Tyler Crook is the current artist of BPRD from Dark Horse Comics as well as creator of the original graphic novel Petrograd from Oni Press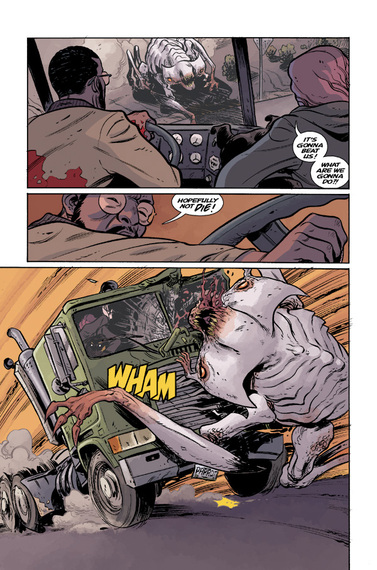 Bonny Prince Billy - The last few years This guy has been my go-to for constantly good music that will keep me calm and focused. Lots of nice acoustic tunes with fun and occasionally disturbing lyrics.
Hurray for The Riffraff - When I'm feeling kinda bugged out and I really need to calm down I really like these guys. The lead singer has a really pretty voice and lots of slow banjo pluckin'.
Begushkin - This band is a recent find and I really dig them They are kind of a folk rock version of the misfits only with more role playing. Favorite rhyme from their song "Joy Is Gone": Druids marching in their hoods / Bare-ass witches in the woods"
Listener - These guys are rad. Al lot of poetry-slam type singing (It's WAY better than you might imagine) shouted out through an epic mustache.
Jacques Dutronc - This is an old 60s French dude. Imagine The Animals only through a french filter. I don't understand the language but that's one of the main things I like about it.
Neutral Milk Hotel - In the Aeroplane Over the Sea is one of the greatest albums ever made. Kind of a Low-Fi sound but still amazing.
Then there are the classics: Tom Waits, Iggy Pop, Elvis Costello, Eno, Fugazi, Sex Pistols.