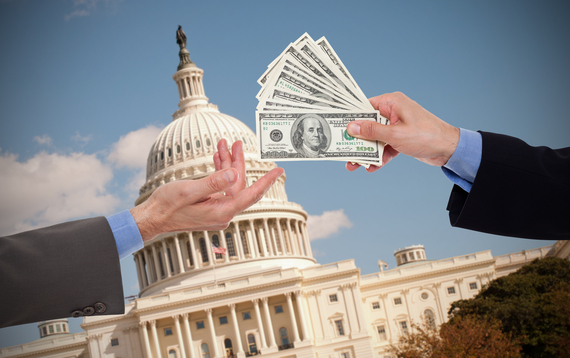 While money can't buy you love, it can certainly help win you an election and even more so, enact or defeat legislation.
While a lot of people talk about the influence of wealthy individuals and Super PACS on political races, just as significant a story is the effect that lobbying money has on Congress. There has been a revolving door of both elected officials and high-level Congressional staffers over to K Street, home to many of the largest lobbying businesses. Some people even refer to these "émigrés" as the Third Seat of Congress.
According to a report by Open Secrets in 2014, corporations, labor unions and other organizations spent over 3.14 billion dollars on lobbying. This is 13 times as much as they contribute to political campaigns and it's the best investment they'll ever make because in exchange for those billions, they have literally reaped trillions of dollars of tax breaks and benefits. Supporting lobbyists is a bargain because they bring the potent combination of money, expertise and access to members of Congress. That's the secret formula for getting things done (or not done) in Washington.
The Sunlight Foundation reports that the number of active contract lobbyists with reported prior government experience nearly quadrupled from 482 in 1998 to 1,846 in 2012. And the number of active lobbyists who served in Congress increased from 90 in 1998 to 128 in 2012. Taken together, this means that the share of active contract lobbyists with reported government experience has increased from 17.8 percent to 44.0 percent. And lobbyists with government experience earn substantially more than those without government experience.
Former politicians are scoring the biggest paydays. Take someone like Bill Paxon, an up and coming Republican Congressman from 1989-1999. While in the House, he served as chair of the House Leadership and was a member of the following committees: Energy and Commerce, Banking, Budget, Small Business and Veterans Affairs. So many people were surprised when he left office, but just a few years later, Paxon was one of the top lobbyists in the country, another one-time elected official practically running Congress from the outside.
Then there's Congressman Billy Tauzin of Louisiana. Two months before resigning as chair of The House Committee on Energy and Commerce which maintains principal responsibility for legislative oversight relating to consumer protection and food and drug safety, Tauzin played a key role in shepherding through Congress the Medicare Prescription Drug Bill that prohibited the federal government's Veterans Affairs agency from negotiating lower drug prices and banned the importation of identical, cheaper, drugs from Canada and elsewhere. Tauzin left Congress the following year and guess what his next job was? The President and CEO of PhRMA, a pharmaceutical lobby group. There is something seriously wrong with this picture.
Right now, Congressmen only have to wait a one year "cooling off period" before becoming a consultant or lobbyist. For Senators, it's two years. I believe they should have to wait a minimum of three years and five would be even better. Then, at least they have more downtime before they can get back in the game; issues and policies might have changed and their influence may have waned. But a year is way too short. And in addition, there must be more stringent enforcement of the Lobbying Disclosure Act (LDA) to bring more transparency to the business.
I agree with the Sunlight Foundation's recommendations for
Lobbying Disclosure Guidelines
, with registered organizations being required to include the following:
Name of the organization.
Address and contact information.
Names of all active lobbyists working on behalf of the organization.
Lobbying goals and objectives and issues or legislation lobbied on.
Lobbying expenditures, on a per client basis, including spending on efforts to support lobbying and political contributions.
The hard truth is that the unofficial currencies fueling Washington today are campaign financing (which I will explore in another blog in detail), lobbying dollars and personal and professional connections. Just like campaign finance, the lobbying business needs to come out of the shadows and become transparent, so the people of this country know whether our government is actually for sale.
What can we do to change the system? Let's Talk Money.