This is a historic week for the United States and Africa. For the first time ever, leaders from African nations have gathered in Washington, D.C., for a groundbreaking U.S.-Africa Leaders Summit. This summit has been, above all else, a celebration of the encouraging economic success of sub-Saharan Africa and of the shift in the U.S.-Africa relationship toward what President Obama calls "a new partnership rooted in equality and shared interests."
Africa is a dynamic, rapidly growing continent with tremendous possibility. Its population is also the youngest in the world. Nearly one-third of Africans are between the ages of 10 and 24, and about 60 percent of the entire population is younger than 35. It should also come as no surprise that, over the last decade, 10 of the world's fastest-growing economies have been in Africa.
Despite remarkable growth rates, however, hunger and poverty remain a big challenge in many African nations. More than 29 percent of the world's 842 million hungry people live in Africa.
These issues are not isolated to the continent of Africa. Hunger and poverty in the United States -- though on a different scale -- are surprisingly alarming. We have higher hunger and poverty rates than any other industrialized country and have not managed to lower these figures since 1990.
Thus the summit, aptly themed "Investing in the Next Generation," comes at a pivotal point in history--one at which global leaders have the option of building on past achievements to accelerate progress against hunger and poverty, or turning a blind eye to these ongoing challenges.
It's time our leaders make ending hunger and poverty a priority -- on a national and international scale. There are signs of encouragement. As John Podesta, counselor to President Obama, recently said at Bread for the World's 40th anniversary celebration, the president remains committed to the goal of ending extreme poverty and hunger in the world. He also affirmed that we should also aim to end extreme poverty in the United States.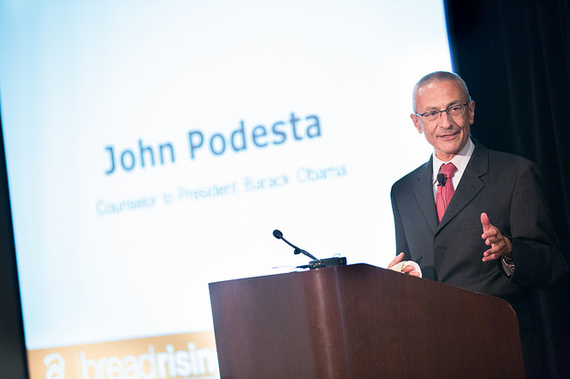 John Podesta speaks at Bread for the World's 2014 National Gathering. Photo courtesy of Bread for the World.
I second that notion, and find hope in African achievement. What African nations have done to overcome huge challenges demonstrates the feasibility of economic progress for the rest of the world. It helps to restore our belief in a world without hunger. The United States can support this type of growth and spur lasting change by redoubling its efforts in this fight.
We are starting to do that through current and pending legislation -- legislation Congress must act on now to maintain momentum. The recently introduced Corker-Coons bill (S.2421), for example, marks the first time our food aid program will be extensively reformed to be more effective and efficient in meeting the needs of people experiencing a humanitarian crisis. Through several changes in this bill, we can provide assistance to millions more of the world's most desperate people at no extra cost.
There's also the Feed the Future program -- the U.S. bilateral agricultural assistance program that has played a leadership role in enabling smallholder farmers in Africa and developing nations around the world to grow more food. Launched in 2010, it is a successful program, but its durability beyond the current administration depends on Congress signing this program into law.
Up for reauthorization, the African Growth and Opportunity Act (AGOA), which Bread helped to pass in 2000, is another crucial piece of the legislative puzzle. We urge lawmakers to reauthorize this successful program next year as part of a comprehensive package to make our food aid more effective, help African farmers grow their own food, and give them access to the opportunities of international trade.
Among other success stories, growth and sustainability in Africa are a testament to the fact that targeted foreign assistance works. The sub-Saharan African countries that received the most assistance in the past 10 years have made, on average, twice as much progress in areas like health and literacy as the continent overall.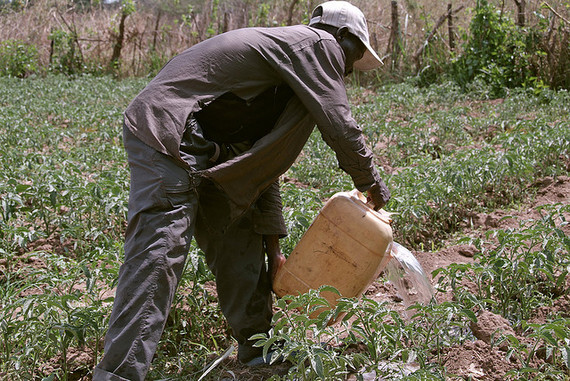 Robson Mauzeni, 62, hand waters his crops in rural Zambia. Photo by Margaret W. Nea/Bread for the World.
We have much to learn and benefit from Africa as well, so it is crucial that we change the rhetoric. This summit is a great first step to a multi-year commitment to Africa, and to ourselves as a nation. Shifting from a donor-recipient relationship with Africa to a mutually advantageous business relationship is not only good for Africa; it makes good sense for America too.