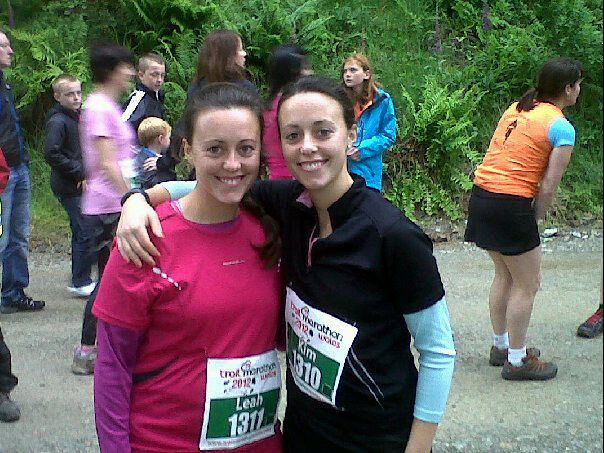 "I love seeing that light in somebody's eyes, that there is still good in the world and we can make a difference every day in what we do." -- Linda Windal, volunteer coordinator for Hospice of Wichita Falls.
In this case, those eyes belong to 24-year-old Leah Roberts (pictured left, with her twin sister) who, after sustaining stress fractures in the base of her spine, arm, wrist, and foot, went on to train for a half marathon she vowed never to do. That was before a better idea occurred to her: She'd raise pledge money, run the marathon, and then donate the proceeds to the Hospice of Wichita Falls.
"I was afraid that I would injure myself... and that I would have to go through the whole experience of being in pain all over again," Ms. Roberts told me recently, from her home in Lubbock, Texas.
Roberts grew up in Wales and came to America in 2007 on a tennis scholarship at Texas Tech. Tennis was her life. Her undefeated high school record even earned her a stint working on the Wimbledon Courts. Her tennis future looked bright.
Then her body broke down, incrementally, during her college career. The young star who previously couldn't imagine life without tennis had arrived at a great change. A change that served up unexpected clarity. Not to be outmatched, Roberts returned that serve.
Ms. Roberts, like so many others who are moved to support a cause, says that she had never imagined a career in hospice work but found this new vision of her life through contemplation of death; in her senior year in college, she took a death and dying class, one she was reluctant to take but the only course that'd fit into her schedule.
"It is the one class where I feel like there is work that I can do to make a difference," she says. "I have never experienced a sense of calling before, but I feel this is what I want to do. This is where I should be."
And it may just be the next hot employment sector. According to the Department of Health and Human Services Administration on Aging, 20 percent of our population will be 65 or older by 2040. That percentage will have climbed significantly from the 13 percent it is today. Yet, for Roberts, this isn't so much a practical career decision as it is one that comes from the heart.
Soon, she found herself volunteering for the Texas Non-Profit Hospice Alliance, an organization whose mission is to enhance the availability of non-profit hospice throughout Texas. Now, she wants you to know that anyone can get involved as a volunteer, and that even small things can make a big difference: whatever your age, education, area of interest -- whenever you have time, during the day, after work, or on the weekends. From the Hospice Foundation website:
The 468,000 plus hospice volunteers at work in hospices throughout the U.S. are an essential part of the hospice philosophy of care which recognizes that dying is not just a medical event but a personal one as well. These volunteers are important members of an interdisciplinary team working to "de-institutionalize" the dying experience and provide a more humane system of care for the dying and their families. In fact, federal law requires that at least 5% of patient care hours be provided by volunteers (if the hospice receives Medicare and Medicaid reimbursement.)
Or, in Ms. Roberts's words:
A little goes a really long way. It's amazing how your life can be altered so dramatically just by involving yourself a little in the things around you. Just by meeting the staff at Hospice I have made a group of new, wonderful and truly inspiring friends. I have been made aware about the work that they do and how it truly affects people. I have found a new direction and career path in life! If you could just give a little of something -- your time, a donation -- anything it goes such a long way into changing yourself, but more importantly others... you really can do anything you put your mind to!
For more by David Beem, click here.
For more on death and dying, click here.