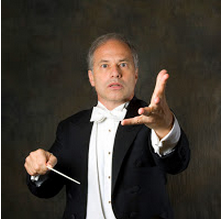 On Saturday, I ventured out to Manhattan's 54 Below, site of several memorable performances in recent months, for the inaugural performance of Classical Concerts for Classy Kids. Your intrepid reporter is a staunch defender and advocate of music for kids, having studied music education as a callow youth, being a supporter of efforts like Education Through Music and VH1's Save the Music, and now in supporting efforts like Saturday's concert. Glen Roven, Emmy-winning composer, producer of quite a few successful recordings on GPR records (including several I've featured in the pages of Taminophile), and pretty darn astute businessman, has seen a market for this kind of event. Overall I think it's a great idea -- give kids (and the rest of us) listening tools for any piece of music, let alone a piece from classical music's Common Practice Era (roughly 1600-1900) -- and it was pretty well executed.
(Right: Glen Roven. Photo © Ahron R. Foster, used with permission)
The format was pretty simple:
A class of about a half hour in what to listen for, using the first and last movements of Mr. Mozart's String Quartet No. 21 (K. 575, for those keeping track), quite capably demonstrated by the GPR Festival String Quartet, in casual attire
Lunch
A formal performance of the excerpts discussed, performed in concert attire by the same ensemble
In the lesson, Mr. Roven compared the conventions of Common Practice Era to modern sitcoms -- you always know what's going to happen. Bringing in figures from sitcoms and even modern life to identify themes, he alternated between calling the primary theme the Kaiser Friedrich Wilhelm (of Prussia, who commissioned this quartet) and the Peter Griffin (of TV's
The Family Guy
) theme. Mr. Roven also introduced clever images to add character to the themes, especially images having to do with Kaiser Friedrich, who was a cellist and presumed to be the cellist for the work's first performance. (One very amusing image was the thought of Kaiser Friedrich humming to himself "I'm the king! I'm the king!" to the martial tune of the second half of the first theme. Hubby and I made great use of that one all weekend long.) The secondary themes were named for the wives of the primary themes' honorees. In the development section, after the primary themes had been introduced, and when a composer can do just about anything he wants with the themes, or fragments of them, the couples/themes were dancing. (I thought of Peter and Lois Griffin arguing, but dancing worked better in the end.)
The biggest lesson of the day was this: listen for the themes and what happens to them. All the great music commentators, from Anna Russell to Andy Griffith, say the same thing!
I would like to have seen more people in the audience, but it wasn't a bad house. The crowd was roughly 50 percent kids, ranging in age from toddlers to about 12 or 13, with the greatest numbers (in my unscientific estimation) at about age 10. Very near me were a boy who looked to be about six, who caught my attention by discussing Gershwin's sad end, and a toddler of maybe 18 months whose mother said he adores opera. I rather think all the underage audience are fortunate kids (and they'd have to be very fortunate indeed, considering the ticket prices for this event) who were blessed with music interest and lessons from a young age. During the lecture, most of the kids -- and parents -- paid close attention to the lesson, and at one point when the quartet played the entire exposition of the movement we were discussing, they enjoyed the challenge of making appropriate gestures for themes A (or Peter Griffin) and B (or Lois Griffin), as well as transitionary material between the themes. During the "concert" portion, I enjoyed seeing kids make the same gestures, and enjoyed even more seeing parents smile with pride when that happened.
I do hope Mr. Roven has the opportunity to present these concerts/lectures again. He has an entire series envisioned. My suggestions? Very few. Have a structured play time after lunch but before the concert, so the kids can burn up some energy. Have a planned period when the kids can approach the performers directly with questions. Focus only on the one movement of a multi-movement work. Do programs that include singers (no surprise coming from me). And as he does more and more of these, I know Mr. Roven will relax more in his presentation skills. But these are tiny things.
I call this program a success. I would happily support this effort, and I hope the opportunity is there for more of these concerts.