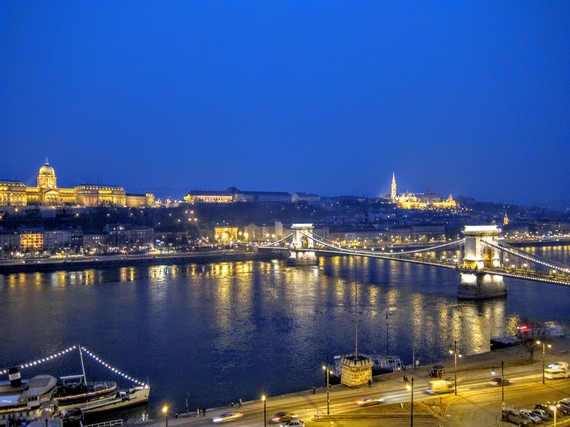 A dinner party. When arriving in a new country, who wouldn't love to be invited to a dinner party with locals?
Suzie Goldbach and her parents serve the only home-cooked meals that actually beat out the fancy restaurants to rank in Budapest's Top 10 eateries on Trip Advisor. In their homey little apartment, Suzie's mother cooks, her father chooses the wines, and Suzie hosts a fabulous introduction to Hungarian cuisine and hospitality. I wish the other 80 countries I've visited had these same local dinners.
I made friends with fellow travelers from England, Spain, Italy, and Ireland, and we all had that warm, smug feeling that we were sampling a local slice-of-life that is not available to most tourists. It's funny: when we talk about travel, we articulate our trips in terms of flights and sights and bites, but deep-down what really matters to us is the human contact. It's the people we meet and the stories we hear that are the true adventures of travel.
Suzie and her family personify that human contact at its best, and they have a gift for showing Hungary's slice-of-life to others. They also lead Food & Wine Tours to the Hungarian countryside.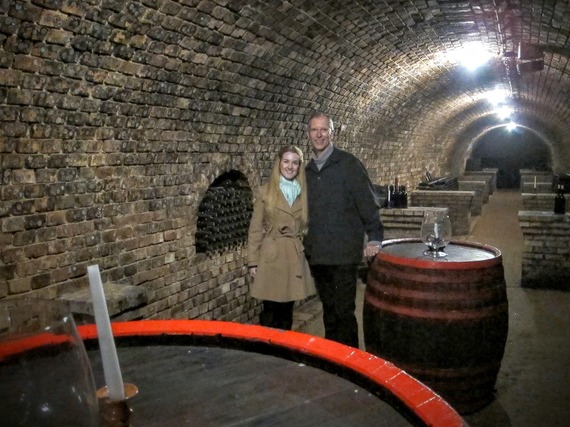 Just outside of Budapest we saw several palaces of a grandeur similar to Vienna, but they have yet to be renovated so they maintain their charming, Old World patina of decadence that I much prefer, compared to shiny, perfect Vienna. We also ate roast goose at a local game hunter's house, toured a vintner that specializes in cute little jars of wine jellies that my wife loved, and went shopping at their supermarket. It was a slice-of-life we never could have found on our own.
Suzie's aunt Mariann can host guests in four apartments she designed herself, and she won a Superhost Award on Airbnb because she cares for her guests like your own aunt (I mean your cool aunt who you actually like). Her whole family exudes warmth and fun -- the kind of friends you want to hang out with when you arrive in a new country.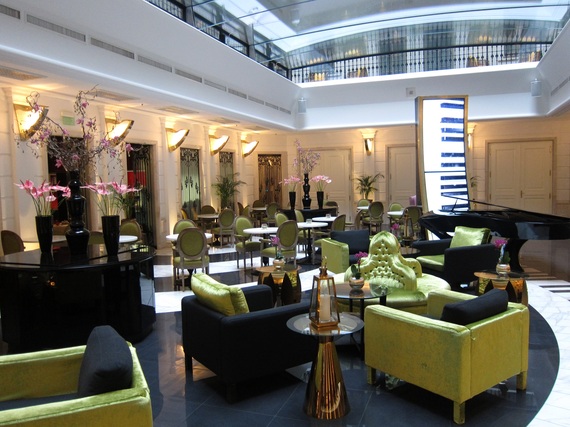 Speaking of friends, my wife and I met a lovely Italian couple at the daily wine and cheese socials in the lobby of the Aria Hotel Budapest, pictured above. Created by the owner of The Library Hotel in New York City, the Aria's colors are vivid and the decor is exuberant, attracting music lovers to meet and greet in style. I would rarely describe a hotel as "energizing" or "fun." This one was, and again it was largely because of the opportunities for social contact, like their beautiful spa: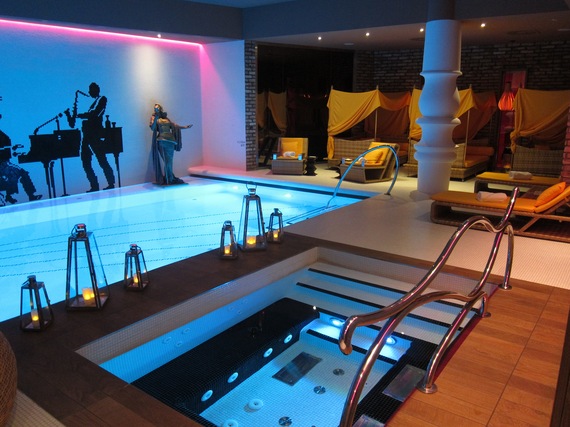 The Corinthia Hotel was grand in the Old Europe sense, but its staff were also very warm and friendly.
Corinthia's rooms were elegant and cozy -- the perfect combination of comfort and good taste: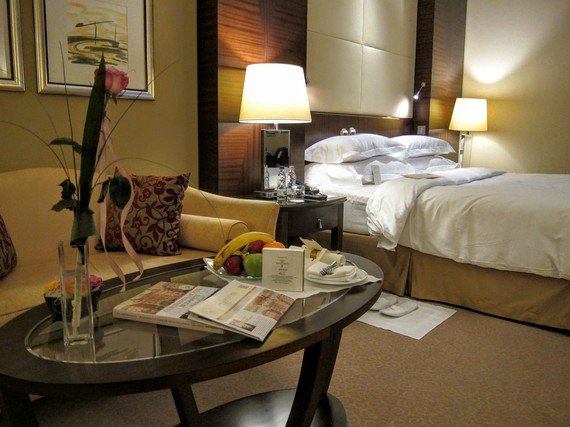 The best meal I had in Hungary was in the tiny Cafe Spinoza, in the Jewish Quarter. They served up stuffed cabbage rolls for lunch, paired with a perfect house red: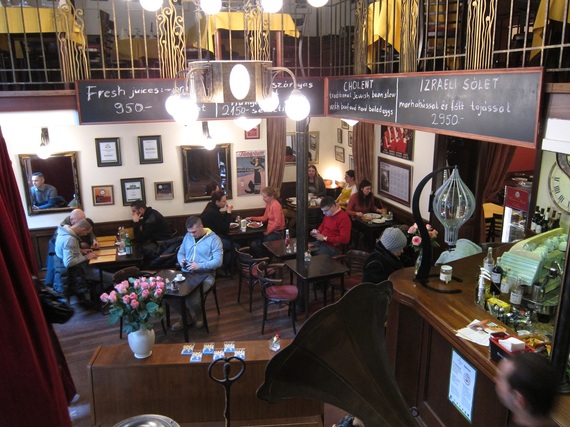 Another delight was the KonyvBar, whose decor is based on themes from well-known classic books: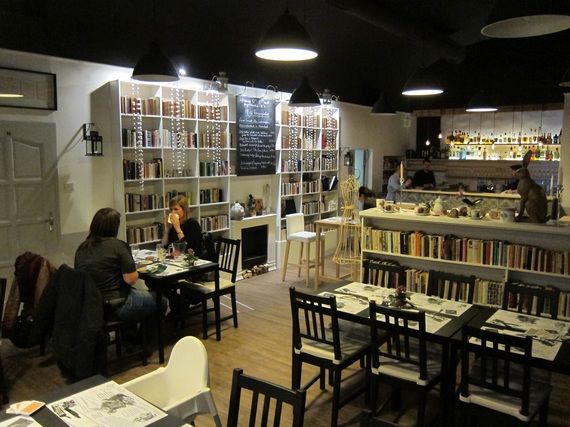 The food is great, and you feel as though you're dining in someone's private library.
Or, if you prefer a palatial library, then you'll be impressed by this public library below, which was part of a palace taken over by the City of Budapest: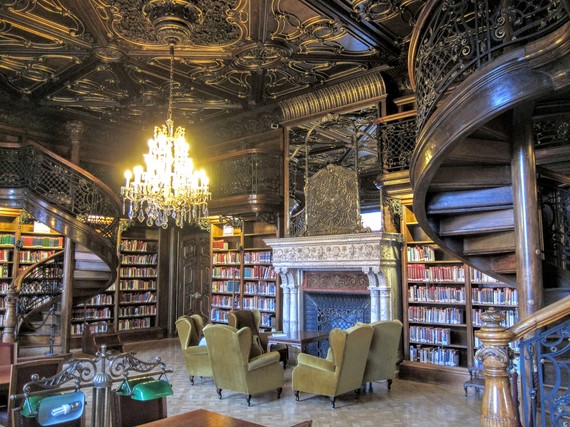 This functioning public library is one of several hidden gems we saw on a walking tour entitled "Barons of Budapest" with Context Travel. Our guide Eniko Bekes has a PhD in art history, and she clearly loves her job.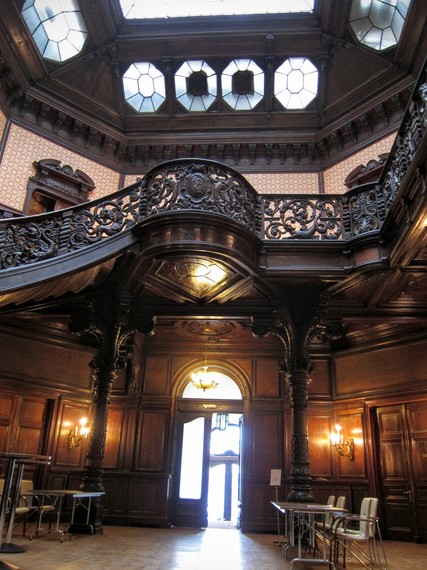 The beauty of her tour is the private access to government and private buildings that are not usually open to the public. By coincidence, a Budapest orchestra was rehearsing Beethoven at the same time we were viewing the above, and the music combined with this beautiful interior was absolutely magical.
Dining in Budapest is incredibly good. I'm a huge Francophile, but I have to say Budapest is the New Paris. Of the many restaurants we sampled, I've chosen to mention only those that were phenomenal, like Borkonyha Wine Kitchen: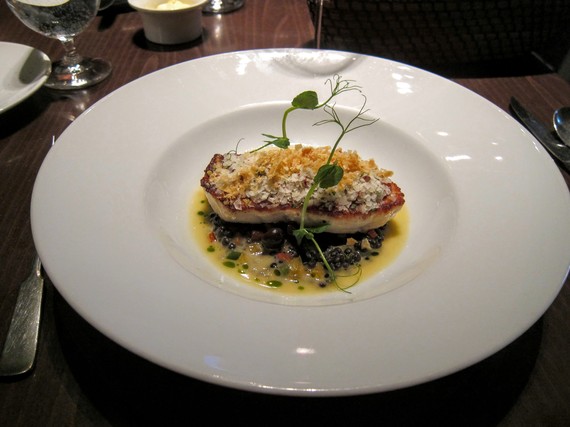 My wife loved this fresh fish with beluga lentils and parmesan. The staff were both intimate and humorous, as if we were sharing an inside joke, and the wine pairings were the best I tasted in the city.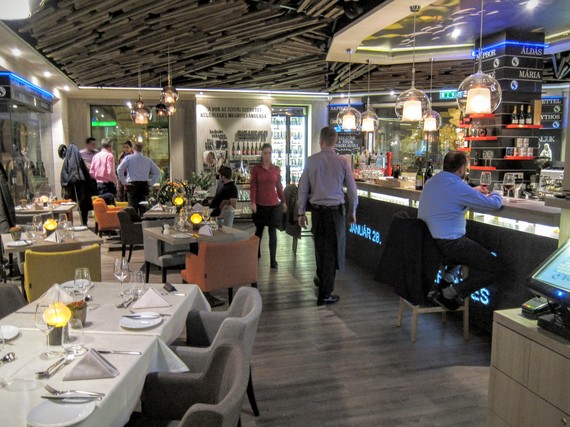 St. Andrea Wine & Gourmet Bar was the only place where we just had to meet the chef. He created a vegetarian miracle out of chopped parsnip and a black root vegetable that my wife and I still talk about. And the lamb was melt-in-your-mouth good, with the perfect wine pairings from Oswan, their somnelier.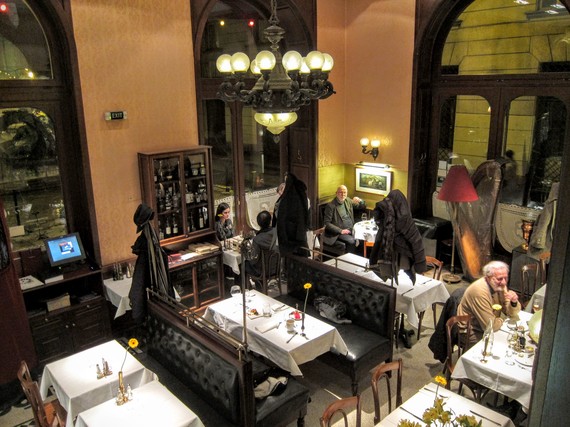 Gerloczy is a romantic spot, with good food, an incredible location and lovely outdoor tables, as well as 19 beautifully preserved rooms that make you feel like you're back in The Old World.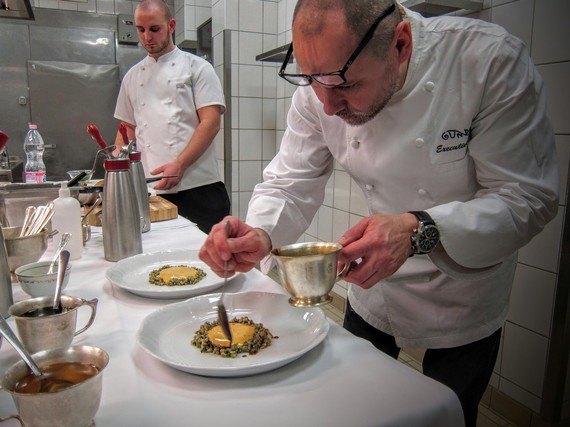 It was a real treat to go behind-the-scenes at Gundel, Budapest's most famous and historic restaurant. Executive Chef Gabor Merczi took us on a VIP tour of his kitchen, where he seated us beside his stove and narrated his way through the creation of over 10 courses for us, paired with incredible wines. Part chef and part performance artist, Gabor dazzled us both and we have fond memories of our afternoon with him and his staff.
I'd like to tell you it was my brilliant connections that got us inside that famous restaurant kitchen, but I've got to give credit where credit is due: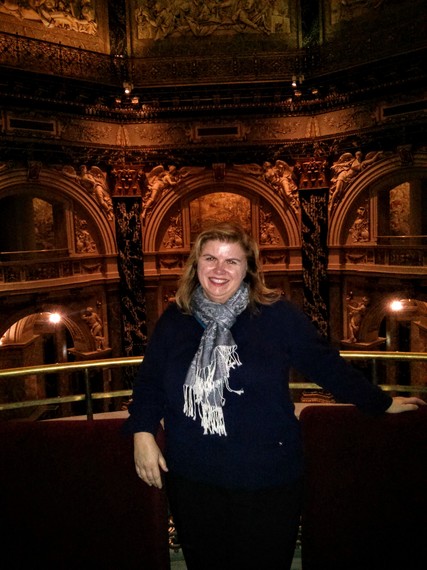 Gwen Kozlowski of Exeter Travel is the Queen of Connections, and she organized both our Gundel kitchen show and our local walking tours with the World's Greatest Guide, Julie. Julie gave us an entertaining crash course in Hungarian history as she whisked us from the Parliament Building to the Matthias Church on the other side of the Danube, with a hidden art nouveau gallery and a farm-fresh market thrown in, just for good measure.
It was also Gwen who gave us editorial on which shows to see, and they both were gems: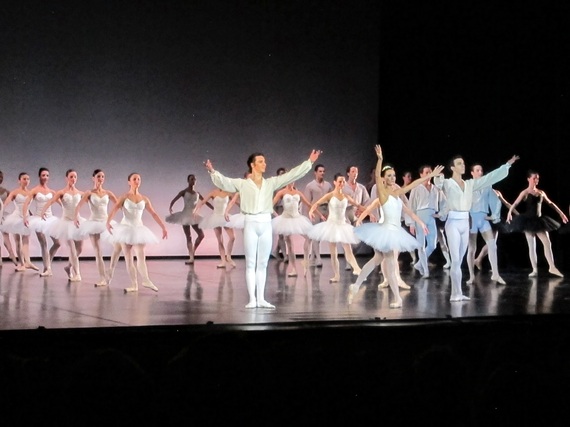 The Hungarian National Ballet performed at the Erkel Theater, and their refinement reminded me of Old School Russian ballerinas, who could land a jump without the slightest noise from their pointe shoes.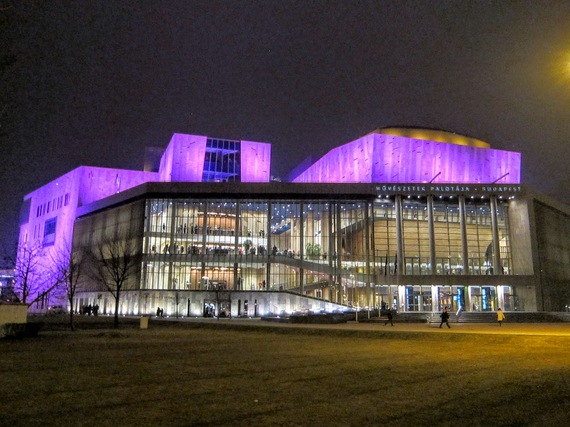 The MUPA Budapest Palace of the Arts, in addition to being a stunning edifice, hosted an evening of traditional Hungarian Folk Music, including some enthralling dancing, plaintive ballads, and the hammered dulcimer often associated with Gypsy music.
Budapest has the great cuisine of Paris without the attitude and the cost. Not only is it a Foodie's paradise, but it's also a very walkable city, with a movable feast of architecture on every boulevard. But the award for friendliest and most fun has to go to the Hungarian people. My wife and I loved these people, and that's why we loved this place.