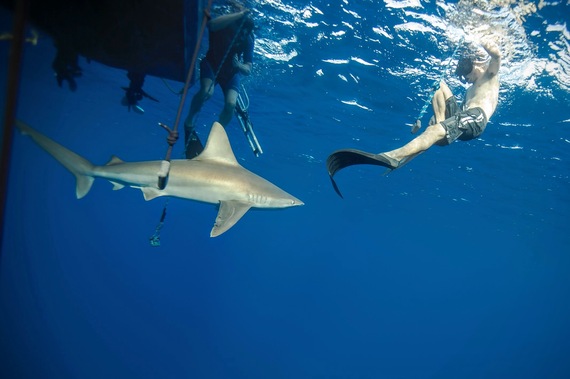 We swam with the sharks. Literally. No protective cage.
On a gorgeous, sunny morning, my 16 year-old son Josh and I joined 5 others to board a boat with shark expert Juan Oliphant (he took our photo above) for a much bigger adventure than we realized. One Ocean Diving is fast becoming famous for its cageless dives with very real sharks.
As we motored towards the sharks' deep-sea home, Juan carefully explained to us how to swim safely among sharks, including "dominance behavior" and what to do (and not do) in order to win respect from sharks. When the boat stopped we donned our snorkel gear and slipped into a neighborhood rarely visited by humans.
I'd be lying if I told you I wasn't afraid. I've read and watched the same media you have. But Juan made a compelling case that the danger is over-hyped, so I'm glad I found the courage to get in the water. Swimming with wild sharks in their natural habitat was a fine line between exciting and scary. As you can see in the photo above, my son and I were quite "up close and personal." I'm glad we did it, but I also acknowledge this activity is not for everyone.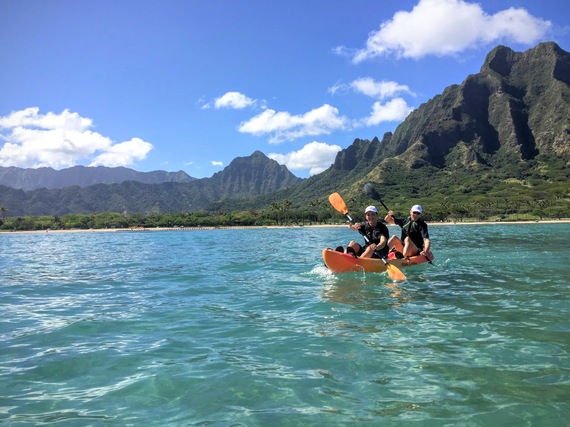 That afternoon we did something a little more comfortable: sea-kayaking to the island of Mokoli'i. Mike Gulden of Active Oahu Tours led us on a fantastic paddle and a climb to the top of the island's peak, where the views were phenomenal. We finished the day with snorkeling in what felt like our own private beach near Kahana Bay, with vividly colorful fish swimming among beautiful corals. Mike was the ideal guide: friendly, trustworthy and fun-loving all at the same time, and he offers activities such as surf lessons, standup paddleboarding, guided hikes and even rentals with free delivery.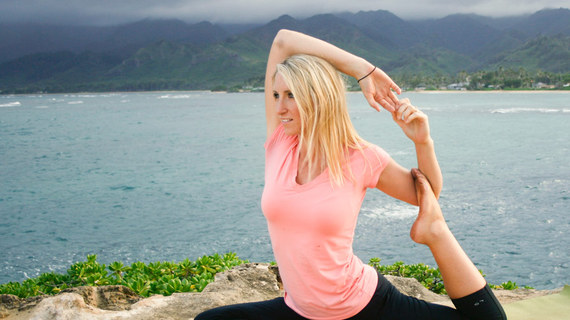 Becca Gulden, Mike's wife, teaches yoga for the company and creates a unique experience for guests by taking them outdoors, practicing mindfulness on the beach or in the mountains.

We chose to avoid the crowds around Honolulu, so we stayed on Oahu's North Shore in a small apartment right on the beach (a special shout-out to our hosts Louise, Nan, Sidney, Jennifer, Ryan and their families!). Staying up North will save you tons of time from heavy traffic, and the vibe is more local and less commercial here.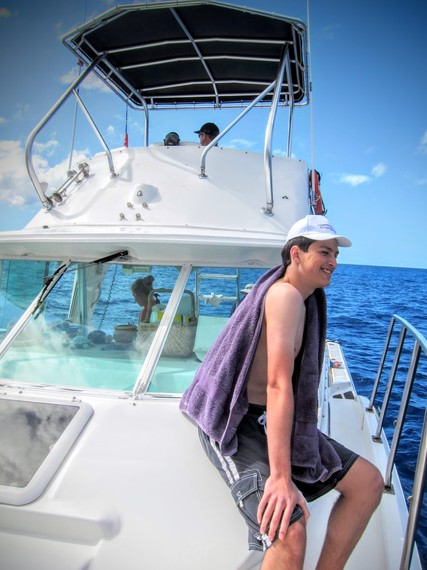 The next morning we drove to Waianae Boat Harbor to board another boat, but this one led us to a pod of dolphins and sea turtles. Marine biologist Kimberly Clouse of Wild Side Specialty Tours was an excellent teacher about these beautiful animals, and their beauty is not over-hyped. It feels both exquisite and surreal to be swimming among these families of dolphins as they go about their day.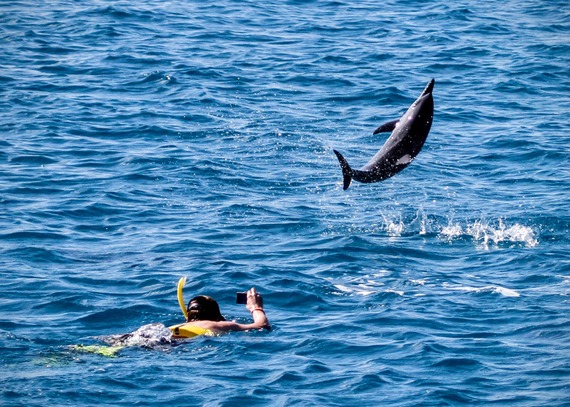 And the baby green sea turtle I was following seemed to fly languidly through the water as it flapped its wing-shaped front fins beneath its vivid, colorful shell. Nature at its best: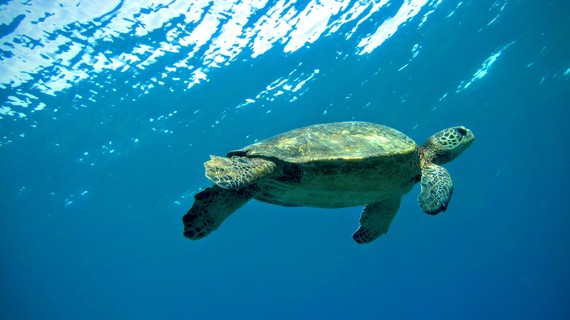 We also saw several humpback whales and even witnessed a Hawaiian monk seal eating an octopus.
In the afternoon we tried standup paddleboarding for the first time. Christiana of Rainbow Watersports took us up a gentle river full of lush, tropical foliage. We knelt on the boards at first until we got more confidence in our balance, and then we stood up. My son absolutely loved it, and quickly learned all the paddling and turning techniques.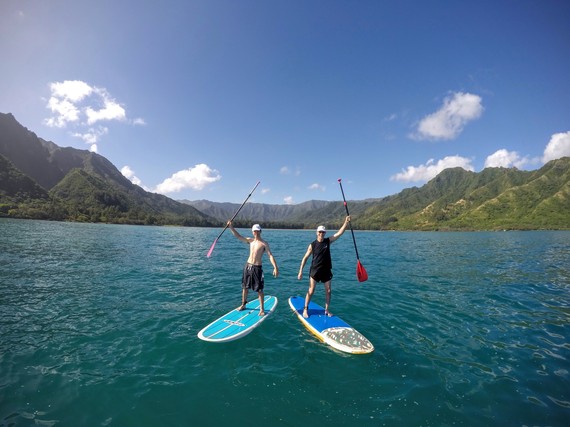 On our final morning we joined Ryan of Mahina Hawaii Tours for an absolutely stunning paddleboard journey up the Kahana River on the east side of Oahu Island.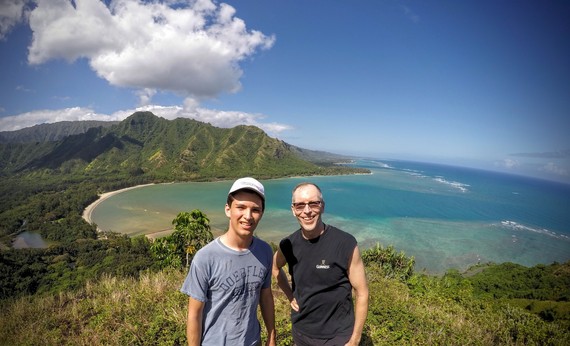 Ryan took great photos of us to commemorate our trip, and then he led us on a rigorous hiking trail up the Pu'u Manamana Peak (also known as Crouching Lion) to the most spectacular vista we saw during our entire trip. Ryan and his wife Beccy lead both yoga retreats and full-day adventures, and I recommend them most highly.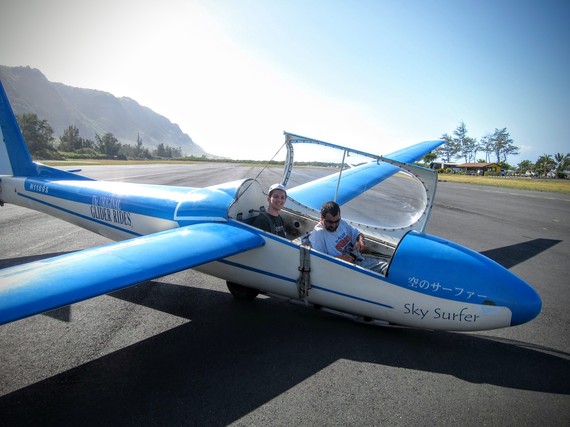 That afternoon I took my son on his first glider ride with Honolulu Soaring at Dillingham Airfield. "Mr. Bill" is a local icon who has been offering glider rides for 46 years. To fly without noisy motors is a beautiful thing, and to view the Hawaiian coastline from the air is sublime. The winds were unfavorable for acrobatics when we were there, but we were dying to try the barrel rolls and loops that Mr. Bill offers.
We got a great deal on car rental through Autoslash.com, and you must try it if you never have. Check Google Maps for a convenient gas station to refuel your rental car before you return it, because there are no stations near the rental agencies.
We had a fantastic father-son adventure on Hawaii's island of Oahu, and I hope some of the above gems serve you as well as they did us.