At over 10,000 feet in elevation, the altitude of Cusco, Peru leaves you puffing after even brushing your teeth vigorously, but Cusco is the gateway to Machu Picchu. In the airport my family met the folks of Kuoda Tours, the local company handling our trip, and they shuttled us to our CouchSurfing host, Iyohn ("John").

John's family's house was a Spanish Mission-style beauty with a sunny inner courtyard, lost in time from 80 years ago, and John's mother was the consummate old-school hostess.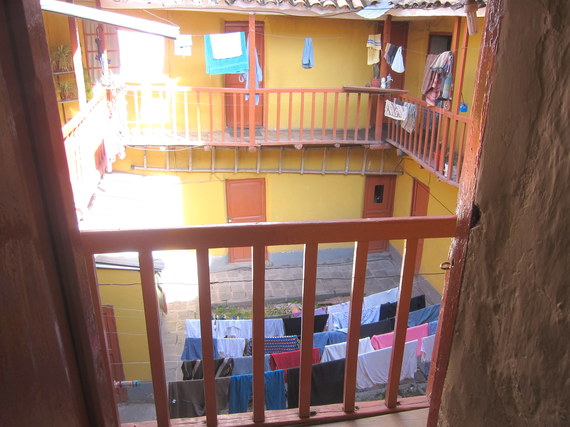 After we bid farewell to our host family, we traveled to Machu Picchu, one of the 7 modern Wonders of the World. Constructed in about 1450, Machu Picchu was an Inca palace that was built into the side of a mountain, with terraced fields all around and a river surrounding it on three sides, so the backdrop is stunning.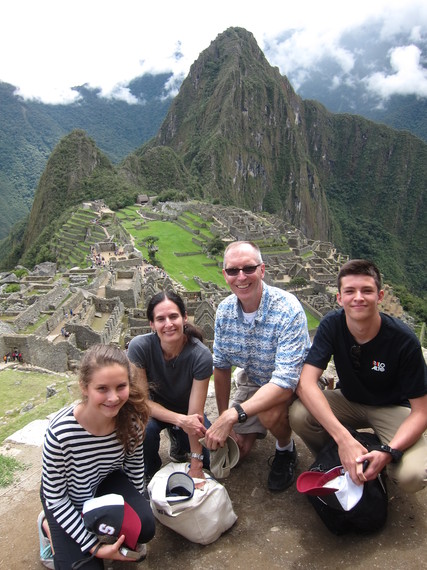 Yet Machu Picchu was abandoned only a century after its construction, perhaps due to a drought, and it is truly a blessing that this lost city was forgotten. During the Spanish colonial conquests, the Spaniards sought to wipe out every aspect of native culture in their bid to convert all Peruvians to Catholicism, and the only reason Machu Picchu remains unscathed is that only a few mountain terrace farmers knew of its existence.

Those who love Indiana Jones movies may not know that his character was modeled on the life of Hiram Bingham, a Yale archaeologist who re-discovered this lost Inca city in 1911. His first photos showed thick jungle undergrowth over stone walls so perfectly engineered that they had no mortar between the stones, and survived centuries of earthquakes. What makes Machu Picchu so striking is this juxtaposition of uber-advanced engineering merged perfectly with Nature's most ravishing natural beauty.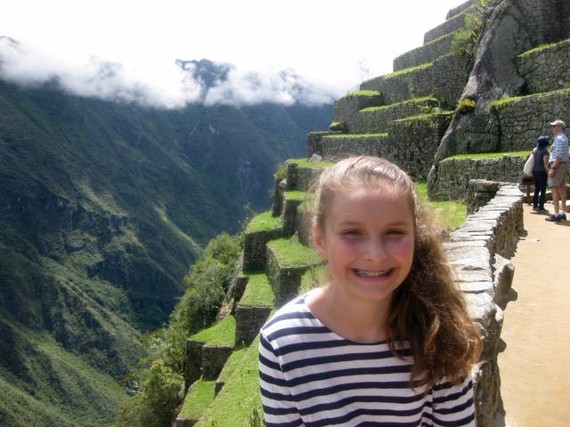 Here's the tip-of-the-century for tourists: almost every visitor to Machu Picchu gets up before 5 am to stand in line for the first buses in order to see the sunrise over Machu Picchu and to avoid the tour bus crowds who start arriving about 10 am. What few people realize is that the misty clouds are so thick in the morning that one cannot see the sun, so these bleary-eyed, pushy tourists are wasting their time.

According to our Kuoda guide Hilda, who has toured Machu Picchu literally hundreds of times, the best time to visit is around 2 or 3 pm, after the Early Birds and the tour buses have long-since departed. The mist has burned off, the diffuse late-afternoon sunlight is perfect for photos, and we felt as though we had Machu Picchu as our own, private Inca temple.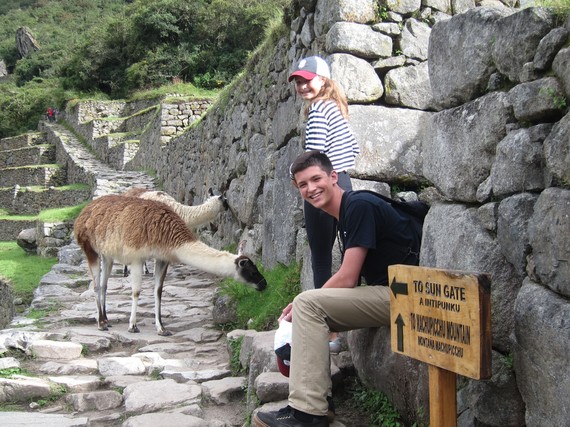 Another valuable tip: don't spend spend tons of time and money hiking the Inca Trail up to Machu Picchu in order to get "the Authentic Inca Experience." Even if the ghosts of the Inca spirits do indeed remain on the trail, you'll have trouble communing with them as literally hundreds of pasty tourists huff-and-puff their way past you on the crowded trail. I'm all for communing with Nature and with God, but the two are hard to combine on the Inca Trail. You'd be much better off hiking in Banff Canada and then taking a plane to Machu Picchu (and it would probably end up being cheaper).

It is truly sad how much of Peru's tourism industry is owned by foreign companies, but Mery Calderon, female owner of Kuoda Tours, is a shining exception. Mery is everything I want to give my travel dollars to: growing up poor as the eldest of five girls, Mery worked her way through tourism school while helping her mother sell knick-knacks in the streets of Cusco, like the girl pictured here: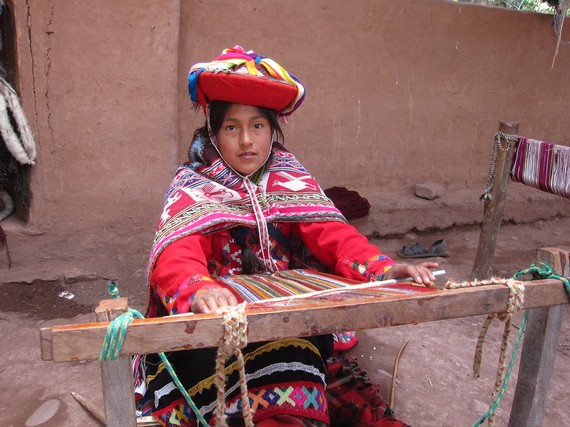 Her lucky break came when she was hired by the International travel boutique Belmond, and then she boldly started her own business in a very macho country. Mery manages to keep a smile on her face while she plows through the chaos that is travel in Peru, and she deserves credit where credit is due.

From the mountains of Cusco we then boarded a plane for the Amazon Jungle, landing in Puerto Maldonado, where we were picked up by Rainforest Expeditions and taken to the Refugio Amazonas lodge.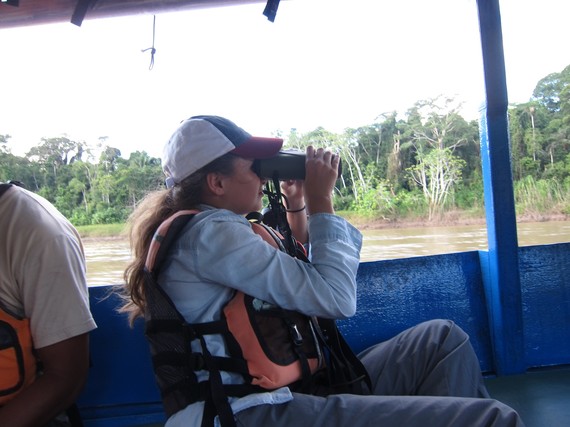 The most striking thing about the Refugio Amazonas is the esthetic of the place. My wife was blown away by the natural beauty of the wood-and-thatch construction, which blended into the environment like Frank Lloyd Wright's architecture. Just being in this place made my family feel good. And the lovely boat ride up a tributary of the Amazon made my wife really feel like she could leave her high-stress job behind and totally unwind.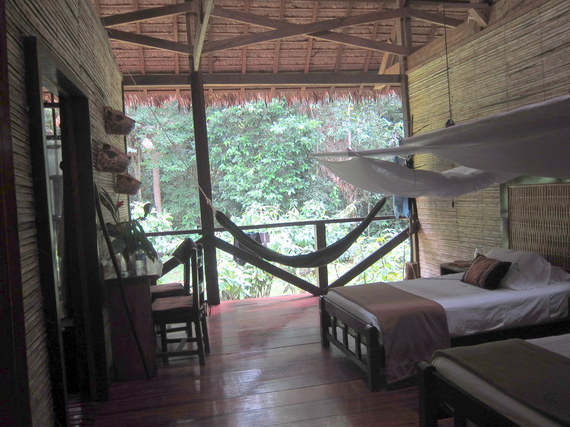 On one of our jungle hikes, our super-passionate, native guide Manuel Mori Marquez explained to us how to "feel" the soul of a huge, 400 year-old Kapok tree, and my wife stood quietly for a moment with her hands against its massive trunk and...burst into tears. She later had trouble describing what happened, but the words, "spiritual cleansing" and "catharsis" were the best she could find.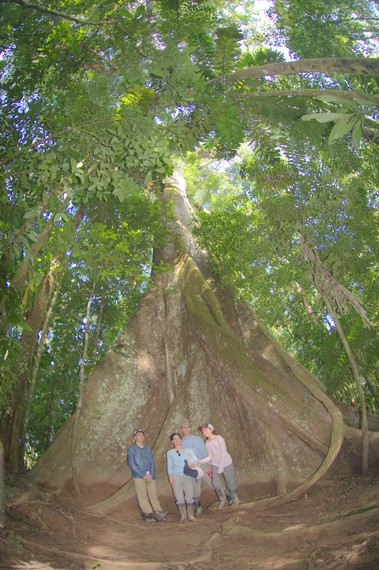 Exploring Peru is more like adventure-travel than it is relaxing-travel, but these few tips can save you a ton of money and aggravation: don't hike the Inca Trail, visit Machu Picchu in the late afternoon, and leave Peru's complex logistics to Kuoda Travel and Rainforest Expeditions.