For those of us in the throes of World Cup fever -- dutifully waking for morning matches, even those featuring the woeful French -- is there a more joyful sight in sport than Lionel Messi? Messi, the Argentinian maestro is a marvel that never ceases to amaze: he dashes with the ball and keeps control in the face of defenses designed specifically to stop him. He passes with vision, shoots with accuracy, and never stops moving. In a sport with wide open spaces and many moving parts he focuses your attention.
Messi, who turns 23 on June 24, is 5'7", in no way resembles a world class athlete. More than that, he dominates men taller, more cynical, more experienced. He's the hardest working man on the pitch and his teammates uniformly love him.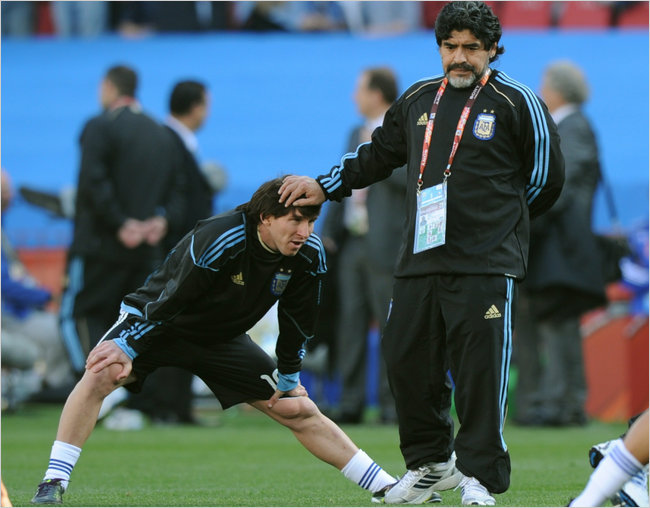 There was a picture on the front of the Times the other day of Argentinian coach and all-time legendary player Maradona with his hand resting on Messi's head in a training session. Was it an act of affection? Was it out of sympathy for Messi's skill? Whatever the purpose, it was oddly sweet -- Messi seems boyish, unguarded, focused on the task at hand, not the next endorsement.
Of course, Maradona himself, greatness aside, offers a sharp contrast with Messi. That would be the Maradona of the drug addiction and stapled stomach, of profane outbursts and shocking narcissism. If Messi seems genuinely likable, ask his opponents to describe the dread they feel as he comes running at them. Like great athletes his competitiveness is not personal, he's engaged with his own potential excellence, on a higher plane.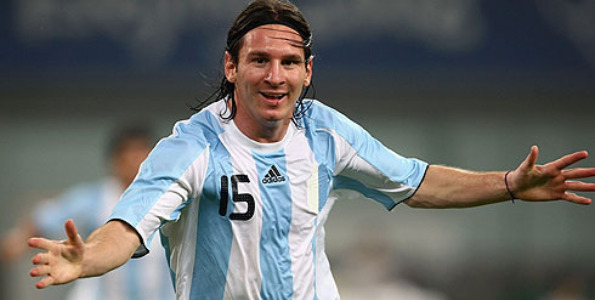 To watch sports, far too often, is to compromise your affection. Kobe Bryant has outrageous skills but you appreciate his talent more than you admire him, his success is about his determination but it also reflects his need to satisfy his own outsize self-regard. He plays brilliantly, but he doesn't convey a sheer sense of joy. There aren't enough athletes like Rafael Nadal who play like the game's the thing, what they can't live without, what they would do for nothing. Messi understands that his lifetime of dedication is not enough, he has to reinvent his artistry every time he plays.