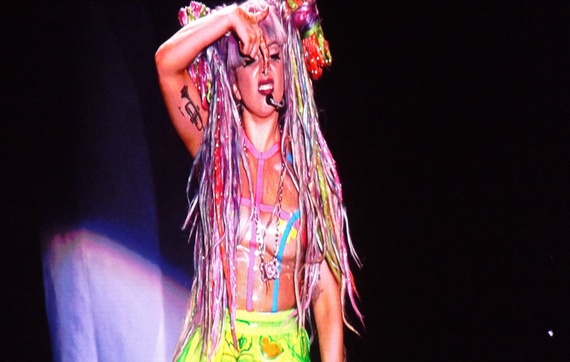 After a controversial direct flight on a private jet with an entourage of 100 from Dubai, Lady Gaga arrived to Tel Aviv and headed directly for the Ritz Carlton where she stayed in the penthouse suite, following the lead of Justin Timberlake, the most recent pop superstar to perform in Israel. Over the summer, with Operation Protective Edge underway, scheduled acts Lana Del Rey and Neil Young canceled their performances as fighting with Gaza continued. Despite the potential danger, Gaga refused to cancel her show. The "ArtRave: The ArtPop Ball" sold just over 23,000 tickets and was held at Yarkon Park, an outdoor venue with the capacity to accommodate double the audience that attended the show on Saturday night.
Fans began to enter the park at 6 p.m. and patiently waited for the pop diva to take the stage. Starting about 15 minutes to 10 p.m., Gaga took the massive stage and delivered a non-stop performance of hit after hit. She proclaimed her love for Israel and its people throughout the show but didn't deliver any controversial comments with reference to Gaza or the current ceasefire that most recently began. Having just performed in Dubai, with what had to have been a less provocative performance, Gaga didn't hold back for her Israeli fans. At one point mid show, the outrageous performer did a costume change on stage, potentially showing a naked top half to the audience.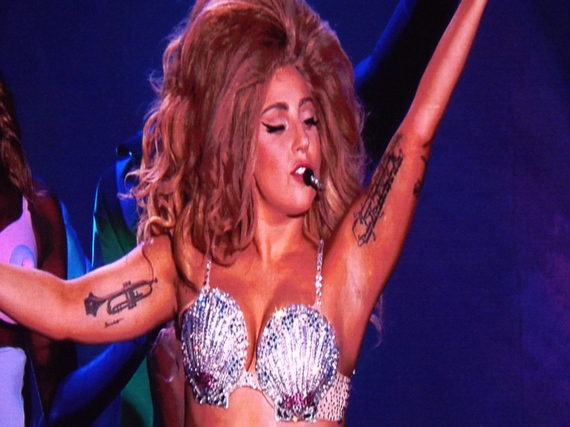 She preached self-love and acceptance and reminded fans to love and respect not only everyone else, but themselves, a gentle reminder of Gaga's genuine love for her "little monsters." During the piano solo performance of "Born This Way," the singer asked the crowd to sing a verse and to her surprise, the audience continued on for several verses before she took over once again. The sex filled show paused for a moment to welcome special guest Tony Bennett to the stage so that the two superstars could sing together, an obvious promotion for their newest collaboration album. Some younger fans in Yarkon Park where left dumbfounded as to who Tony Bennett was, but quickly continued to jump and dance the moment Gaga's electro music returned. For some others, especially mega fans who knew of the new duet album, having Bennett on stage for one song was a very special moment.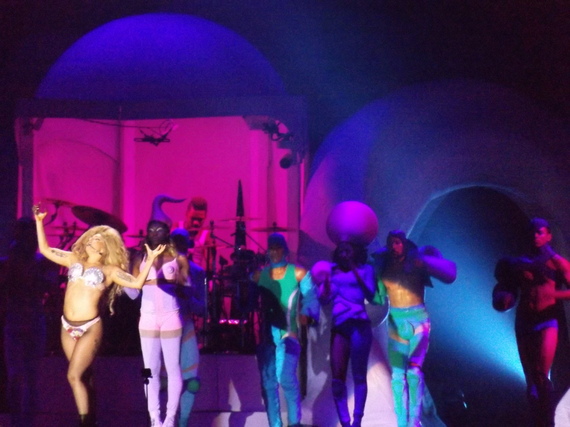 Although the actual stage show wasn't as elaborate as some might have anticipated, the lights and sound, in addition to Gaga's energy was enough to keep the crowd on their feet for the entire set. Security into the park was interestingly basic for a country known for having some of the best security in the world. It's possible that although the entrance was perceived to be a simple process, Israeli police and military were in complete control of the situation. Tel Aviv is unlike any other city within Israel, known for being extremely liberal in a very conservative and religious country. Tel Aviv appears to continue to thrive as a bustling cosmopolitan city, unaffected by the most recent conflict in Gaza.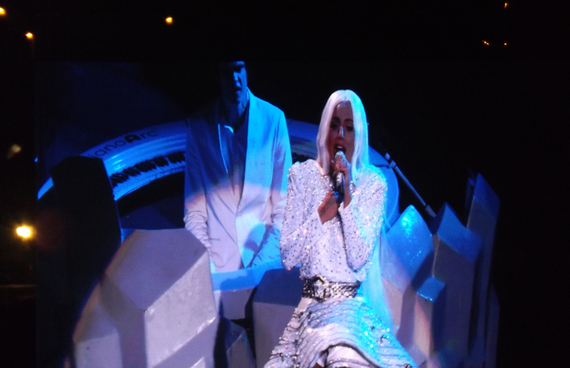 Lady Gaga's setlist for her Tel Aviv performance follows:
artRAVE Intro
ARTPOP
G.U.Y.
Donatella
Venus intro
Venus
MANiCURE
Just Dance
Poker Face
Telephone
surprise guest appearance
I Can't Give You Anything But Love
(with Tony Bennett)
Partynauseous
Paparazzi
Do What U Want
Yoü And I
Born This Way
(Acoustic Version)
Jewels N' Drugs
The Edge of Glory
(Acapella Snippet)
Judas
Aura
Sexxx Dreams
Alejandro
Ratchet
Bad Romance
Applause
Swine
Encore:
Gypsy
All images were taken at the Tel Aviv performance on 9/13/2014 by David Duran.