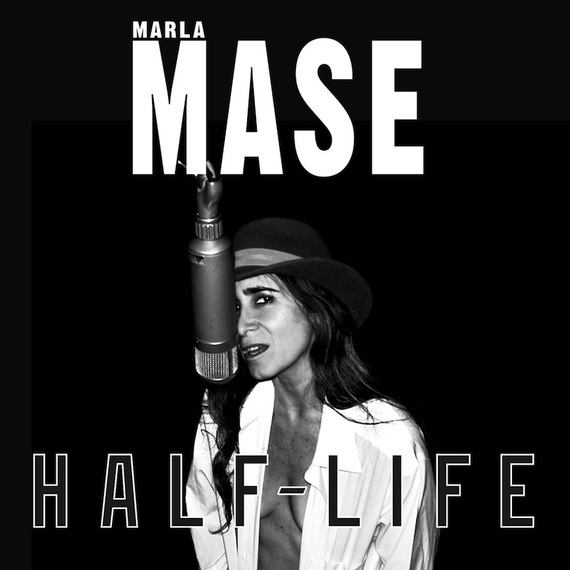 At first listen, the EP is an odd mix of music styles. An eclectic funk, rock and experimental fusion. There is an almost spoken-word sound to parts of the tracks, in addition to an interesting use of instruments and sounds. Rock and roll, strange lyrics and truth. The lyrics sound to be very straightforward, and at times almost comical in some tracks like "Drown in Blue".
"Hold Fast Your Dreams" is the closing track, and probably the sweetest of them all. More of this sound would have been welcomed.
Having just recently released her last full-length release SPEAK Deluxe, Marla Mase has now signed with True Groove Records and, along with her label mates, signed a worldwide major distribution deal with The Orchard. At once confrontational, and completely vulnerable, the EP's name was taken from an incredible quote by Junot Diaz: "The half-life of love is forever." Her new EP, Half Life is due out on February 25, 2014.
"I wanted to go back to the personal. They say you can find the universal in the personal," says Marla of the new release.
Marla Mase is a writer/performer/producer/singer/songwriter from New York City. Mase is known for her provocative, raw performance style and intelligent lyrics. She is backed by the Tomás Doncker Band. When touring in China, Marla was invited by Friends of the UN to perform for UN Global Peace Day in Linzhou City, where she was given an honorary "Messenger of Peace" award for her visionary work as a songwriter and performing artist. The Huffington Post covered her in 2013, saying: "Her feisty message of peace and perhaps wake up the beast in all of us."
Mase released SPEAK Deluxe on February 28, 2013, a 16 track CD containing human rights and feminist perspectives on tracks like "Piece of Peace," "Lioness," "Scream" and "AnnaRexia," a reggae track featuring Garrison Hawk from Bill Laswell's Method of Defiance.
"AnnaRexia" is spearheading the StayImperfect Project, or Love Your Butt Campaign, which Marla created to empower women to love themselves and their bodies. Proceeds from "AnnaRexia" go towards theprojectheal.org, a non-profit founded by two teenage eating disorder survivors, that raises funds for girls whose families cannot afford to send them to treatment.
Her debut album, the rock opera, A Brief Night Out (BNO), tells the story of a woman, having an affair, breaking-down, obsessing on war and re-assessing her life. It is also the soundtrack to a theatrical version of the same story that has been performed in New York City with Broadway Veteran Martin Vidnovic playing all the male roles and also as a one-woman show directed by Sara Berg.
Highs for Mase are that her EP proves she is a true artist. Her mix of styles, sounds and words makes for an extremely interesting listening experience. Her music leads the listener to believe that she is a true performer. Without knowing who she is and what to expect, at first listen, it's confusing. She knows how to make each track style sound great, but it would have been nice to have more fluidity between tracks and not jump from rock to a softer, spoken word track.
To preview the EP, click here.