Richard Noble reflects on his journey of being the first "out" gay man to walk across the country, covering 10 states and more than 2,700 miles in 15 months. When I was asked to cover this story for another publication, I honestly had no idea who Richard was or why he chose to walk across the country. In my compelling interview with him, he tells me how little support he received from the LGBT community. He opens up and shares his struggles as well as amazing accomplishments during his 15-month trek across the country. Our conversation is below. Take the time to read this man's words and appreciate what he has done.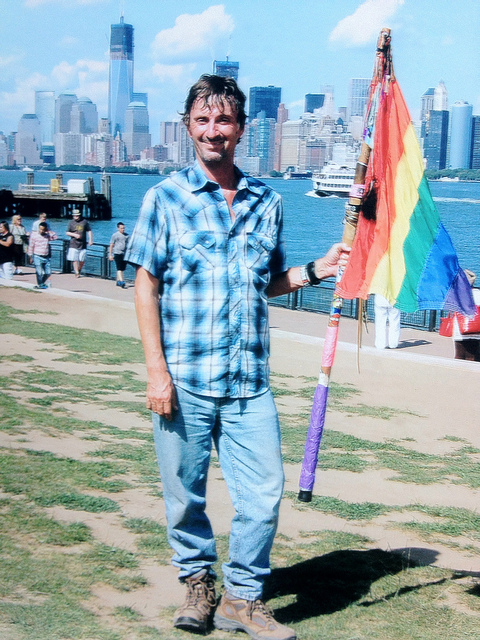 What's your background? What were you doing before you decided to take this journey?

I am a Danville native. After high school I went to Santa Monica College for several years and became a photographer in Los Angeles. During the HIV crisis in the '80s and '90s, we splintered off from ACT-UP and started Queer Nation Los Angeles and vigorously fought the television and film industry in our Hollywood Homophobia campaigns doing kiss-ins at the Academy Awards and crashing movies premiers and politicians demanding fair and accurate portrayal of our lives in the industry. We were very successful.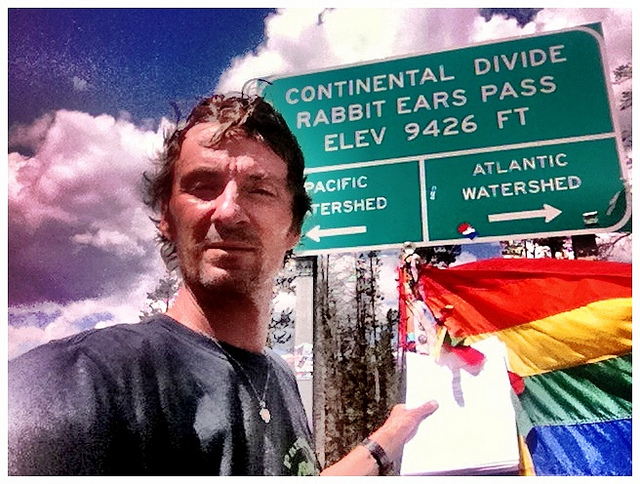 In the months prior to this journey I was working at the Palm Springs International Film Festival. During the LGBT youth suicide crisis and on the brink of the repeal of DADT, I marched 72 miles across the desert from Palm Springs to the 29 Palms Marine Air Combat Center with both the American and Rainbow PRIDE flags. Just shortly after that I went on a nine-day public fast, bringing attention to bullying that caused it. My conscience would not let me go to work or play. I found myself in a 24/7 response to the national crisis. My life as an Equality Activist spans 25 years, the history vast and long.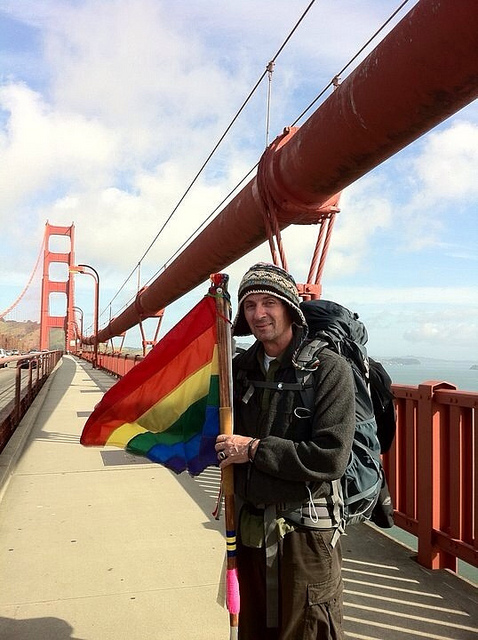 What prompted you to do this?

After reading the daily emails from The Advocate on hate crimes, global homophobia, youth suicides, gender identity and sexual orientation discrimination, especially youth suicides -- the national conference calls with activists around the country were at an all time high. I chimed in on the discussions and decided it was high time to do something radical. The pain was all too familiar and real. Quite honestly, I meditated and prayed a lot to a picture of a guru in India, Sai Baba and from that this great inspiration surrounded me and went through me. I just kept hearing this voice, "Walk the Rainbow flag across America." It was too sweet and the inspiration so beautiful and peaceful and full of love and free spirited, I wanted to do it. I wanted to do it more than anything. So I did.

I know you were speaking at various locations along your route -- can you tell me more about this and how you were received?
I walked with both the Rainbow flag and The American Equality Bill and addressed community leaders, city councils, state, federal and local officials about full federal equality and civil rights. In doing so, I proclaimed LGBT Civil Rights Equality Days everywhere I could. Here's the list: West Hollywood; Oakland; Salt Lake City; Oglala Sioux Tribe of Pine Risge, South Dakota; Austin and Houston, Texas; Baton Rouge and New Orleans; Beloxi, Mobile and Birmingham, Alabama; and Tallahassee, Florida. This wide array of lists goes on and on with 38 LGBT organizational endorsements with the Pledge for Equality 2014. Civil rights laws to include sexual orientation and gender identity make perfect sense to me. Why not? I also spoke at schools about bullying and non-discrimination and ended in Washington, DC., at the launch of the Congressional Anti-Bullying Caucus with chair Representative Hondo to watch Bully and listen to three professional and amazing panels address and tackle the issues of bullying.
What was the most difficult part of this entire experience?
The most difficult part of this experience was not having support from the community when I made the announcement. The logistics of drafting resolutions and proclamations, the loneliness in the desert for 49 days without vehicle support, always looking for sponsors for new equipment as the equipment I had worn down. The mental and spiritual lows, questioning my beliefs and resolves as I was walking across America alone with the gay flag calling everyone to equality. I had no idea if I would be attacked or murdered, and I fought with the idea that nobody cared. I was very let down by organizations I sought help from the It Gets Better Project, The Human Rights Campaign, Gay and Lesbian Centers, PFLAG, GLAAD, The Advocate. It was very sad for me.
Nevertheless I was going to fight and walk. It took tremendous perseverance. There was no Lady Gaga with me. No celebrities or people with money, which I needed all the time. The elements, the animals, the dangers of the highway kept me up at night even after exhaustion. I carried a gun across Nevada. It was the extreme challenge and everything seemed to make the impossible even more impossible. Thank God for friends on Facebook, many whom I have never met, who would send me gift cards and Western Union me money when I needed it. I left with only what I needed. There was nothing fancy about what I was doing. There were no pomp and national news stories. I was on my own and I was going to make it or not.
But every day I kept close in my mind why I was doing what I was doing. I just wanted to be free of discrimination and everyone else too. And to prove that, I marched the gay flag across the country. I could not take another Matthew Shepard story, Seth Wash, or Tyler Clemente. I was over the pain and hurt and discrimination. I just couldn't take the years and years of trauma. Homophobia/transphobia hate crimes, murder, suicides -- very traumatic. ... I just had to respond. Nobody did anything wrong here. I was just not rich and famous or a celebrity and I'd be darned if that was going to stop me. The mental gymnastics of doubt and self-esteem blows were the worst because it wasn't the buzz around the celebrity circles and I felt really badly. But doing nothing about this situation was unacceptable and any excuse or voice in my head that tried to talk me out of it -- which had me crying on the side of roads sometimes all alone -- at times was very bad. I just persevered and trekked on. I would overcome. There were tricks I learned from my Native American Indian friends and used them. They worked.
Highlights?
Where does one begin explaining all the highlights of walking the Rainbow flag across the U.S.? There are so many I had never even thought of before I began. I had no idea what a magical time I was having until I literally found myself running with wild horses in Nevada. It's one thing to be paralyzed by fear and quite another to have the fear and do it anyway. I did it anyway. Watching kids play with the Rainbow staff in Oakland, meeting with community organizers in Sacramento and Contra Costa Country, trekking over the Northern Sierras. I was trekking backcountry over the Flat Top Summit in the Rockies, white water rafting the Colorado, sweat lodges with the Lakota Sioux, found myself holding a baby alligator in Louisiana, and caught my first lightening bug I had dreamed of since I was a kid. I camped with cowboys and boated the swamps with red neck swamp people, all with my Rainbow flag. It was truly an awesome adventure.
The pay-off was much greater than the struggle. Along the way I wrote Proclamations and Resolutions for LGBT Equality Days in many of the places I walked through to only find eager mayors, tribal leaders and directors of LGBT community centers ready to sign on to our ONE BILL FULL EQUALITY strategy. Besides all the amazing people out there in America were all their prayers. I had so many little gifts from people who wanted to add a trinket to the flag staff that it just became one great ornament. It's very beautiful and will be a highlight for me if I ever got a call that it could find its resting place in the LGBT History Museum in San Francisco. So, with the Rainbow flag, my fears were overcome and so many dreams came true with not one assault, not one theft. That is truly amazing. I'm very blessed. In Texas I adopted a dog named Trinity who walked 700 miles with a Rainbow bandana. She's earned her nickname The Equality Dog. I feel very blessed. Fifteen months and 2,700 miles in a short essay can barely scratch the surface.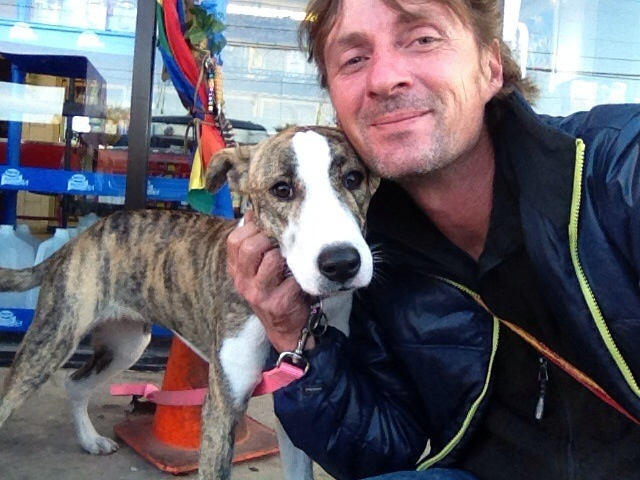 What's next for you now that you have triumphed the walk?

What's next for me is to return to Southern California and absorb the experience. I hope there will be a publisher that might show some interest in the hundreds of stories and nearly 9,000 photographs I've shot. I've begun to write the stories and want to arrange them in a timeline for a book. Returning home broke and depleted of resources I need to get back to work and write. I do have my eyes on Mt. Shasta in Northern California and am thinking about doing the three-day trek to the summit. Having spent $19,000 to do this journey I don't even have a car to return to. Everything was put in storage and I have been away for so long I want to get reacquainted with my local friends. But I can tell you I have no regrets. I knew I was walking into the seemingly impossible and had to make it possible. Isn't that the story of LGBT Equality?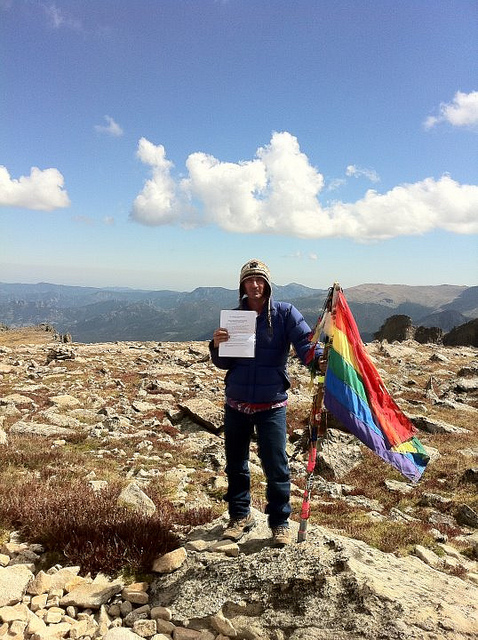 Richard Noble is a true American LGBT Hero and his story needs to have more national attention. He gave up so much and overcame an immense amount just to drop everything and walk for our freedom and rights. For more information on Richard, please visit: http://walk.usfreedomring.com/
All photos courtesy of Richard Noble