I've always been drawn to art-dominated cities, and by that I mean young art. Cities dominated by creative types, a place where you see graffiti on a wall and admire its beauty and placement, because you realize it has a purpose and a story. Where walking down a small street leads you to killer finds in shops and places to eat...a city where beards and tattoos are embraced rather than dismissed. Parts of Brooklyn, Melbourne and San Francisco still have those elements but are quickly fading into a more gentrified society and culture with extreme rents, more and more white linen dining and overpriced craft cocktails. There's only one city that currently embraces elements of all the amazingness from the above cities while allowing for those residing artists to actually survive and thrive, and that's Berlin.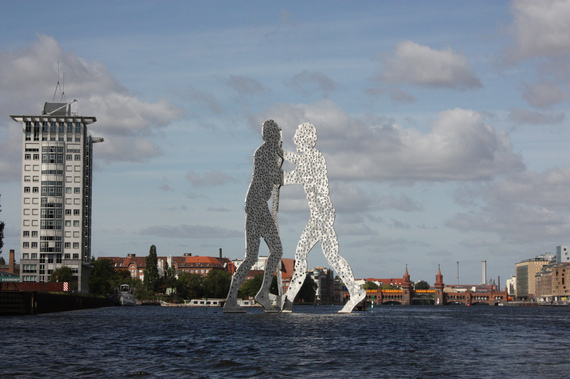 Molecule Man ©visitBerlin, Foto: Karin Willms
One of if not the least expensive metropolitan cities within Germany is Berlin, also making it one of the least expensive larger cities within Europe. What makes it so unique is that there is no sign of the traditional cycle of artist colonies being discovered and transformed to what I can only compare to the sad state of affairs of what's happened in San Francisco in the past few years. Berlin is still an affordable, hip, young city with it's inevitable outskirt colonies of the non-artist community. It's a bit bohemian, a bunch hipster and very much true to the artist mentality of living; fresh, modern and affordable.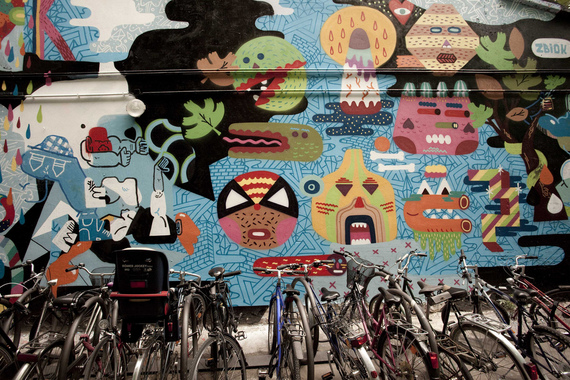 Street Art in Berlin ©visitBerlin, Foto: Günter Steffen
For visitors wanting a more local vibe and experience, there's an abundance of hotels that are 100% community approved, having the right elements to attract the like-minded person who appreciates something out of the box, and who eye rolls at the thought of staying in a typical mundane hotel with hundreds of the same, mirrored on multi-levels. The new 25 Hours Hotel Bikini in Berlin is a perfect example of creative meets hospitality. The casual lobby with an array of hammocks gives a sense of an extreme chill attitude. Located in the City West, next to the Berlin Zoo, designer Werner Aisslinger and his team envisioned a contrast of nature and culture, and have successfully executed said vision. The top floor with a 360° view from the rooftop terrace of city and a zoo is one of many reasons guests who stay here are drawn to the unique property.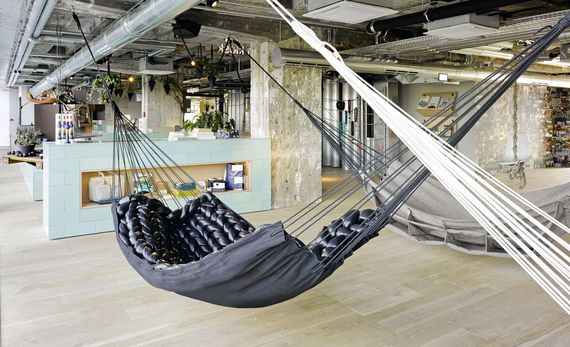 Photo courtesy of 25 Hours Hotel
But for an even more unique experience that takes one completely out of the normal hotel realm, the cities newest fad is quickly providing what private home rentals just can't, hotel service in a home environment. Located in the trendy Mitte district, a brand-new apartment rental concept, Gorki Apartments, offers 34 individually designed apartments as well as two luxury penthouses. The difference here is that guests can book one night to six months...or more. For short-term visitors on vacation, the apartment provides the option for a more intimate experience, as even from the exterior, the building just blends into the neighborhood.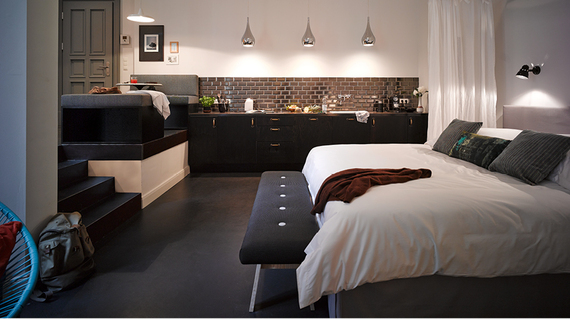 Photo courtesy of Gorki Apartments
The interiors of the apartments were styled by well-known architect and interior designer Sandra Pauquet, in collaboration with architect Kim Wang. Classic design pieces by Eiermann, Dixon, Hansen and Knoll are all mixed with vintage flea market finds and contemporary items, to represent the eclectic style the apartments give off. There are no apartment numbers on the doors, but instead are personally named, and each come with a private doorbell and mailbox, truly masking the temporary feel one might get in a proper hotel. But besides beautiful interiors, Gorki has collaborated with several outside vendors to truly set themselves apart. Exclusively designed pillow cases by German fashion label Odeeh, staff's uniforms designed by Denmark based Wood Wood, and even special bikes are made available courtesy of Finnish factory Pelago.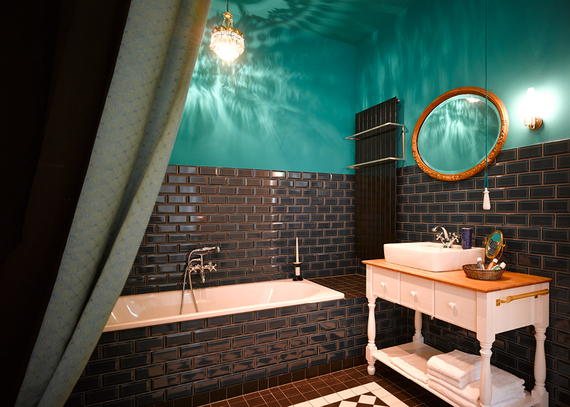 Photo courtesty of Gorki Apartments
A lot has happened, and a lot hasn't happened in Berlin since the destruction of the Berlin Wall almost 25 years ago. The fact that the city was abandoned by big industry is the reason the culture and attitude of what makes Berlin so great is present today. The city offers every type of tourist the experience they are seeking, and at budget prices. The artsy hipster scene isn't the only draw to the city, but it's high on my list of why I am attracted to the mesh of creativity living and thriving throughout Berlin.
For official information on Berlin, click here.