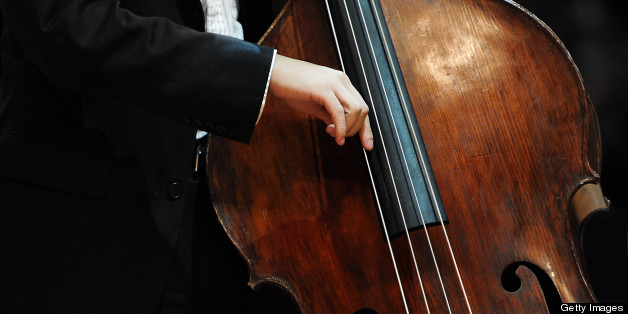 Several years ago the Emerson Quartet performed in the German town of Schwetzingen. The city is home to a distinguished annual festival. The chamber music hall, on the sprawling castle grounds, is an exquisite Rococo theater in which the child prodigy Mozart once performed. It was June; the hall was stifling, packed with intensely serious listeners; the NDR's* microphones were in our faces recording every detail for broadcast, and it all made me rather nervous.
In a simple Minuet of a Haydn quartet -- a movement with hardly two dozen notes in the cello part -- I inexplicably panicked, taking the repeat of one section four bars ahead of schedule and within moments the mighty Emerson String Quartet, hopelessly lost, came to a dead stop in front of a horrified audience. Realizing, albeit too late, that I was the culprit, I could only suggest that we begin the movement again, and we finished the joyful piece in a state of shock. It was likely the most embarrassing thing that I have ever done to myself, and to my colleagues, on stage.
But the aftermath of this disaster begins to tell the story of my long friendship and musical partnership with Eugene Drucker, Lawrence Dutton and Philip Setzer. What greeted their mortified cellist in the wings, after having caused the ultimate concert disaster, was not anger but gales of hysterical laughter and a tidal wave of empathy. Knowing that I could not possibly have felt any worse, their instinctive reaction to see the funny side of situation saved me from my own immediate self-recriminations, allowing the evening to progress through the performance and post-concert dinner in a state of amazed mirth.
Perhaps the question most often asked of the Emerson Quartet is: How have you remained friends through it all? While success and common musical goals can help, plenty of other quartets have found these factors insufficient to ensure personal harmony within an ensemble.
In a quartet of long history, the members come to know each other as deep personally as they know each other musically. One can't hope to have a normal existence -- especially if the group is playing nearly a hundred concerts a year, traveling and dining together, and having innumerable conversations about everything from music to baseball -- if one avoids that human familiarity. With such intensity of contact, the success of the group relationship rests on one simple factor: the quality of character of each individual. And I find myself the most blessed of musicians to have journeyed with colleagues that possess the sensitivity, decency, intelligence and integrity of Gene, Larry and Phil.
It's said that a quartet is like a four-way marriage, and there is some truth to that. In fact, if one leaves out the falling-in-love aspect, practically all the habits of a happy marriage are also essential for a healthy quartet relationship. Showing mutual respect, having a supportive attitude, giving each other space, agreeing to disagree sometimes and keeping an open mind are all qualities of a happy quartet. And the measure of those attributes is most obviously revealed when the chips are down, as they were for me that night in Schwetzingen. It's under those kinds of circumstances that a group's ability to see the big picture, to put the past to bed and get on with it, is truly tested.
The four of us have been through a lot together over the years. We've shared the news of our childrens' births and of the passing of our parents. We've survived a couple of divorces and celebrated remarriages. We've faced daunting challenges and pressures together, and depended on each other's talents and determination to succeed. Each of us has known without question that his colleagues would be giving one hundred percent in every concert, on every stage big or small, in service of the music and with the goal of improving the quartet. We have collaborated to perform much of the profoundest music ever composed, moving thousands of listeners and ourselves at the same time. And we have had a hell of a lot of fun. These life experiences, both personal and professional, have made us a family that will not be broken by my departure on May 11, 2013. A family separated by location or circumstance is still a family, and the Emerson Quartet and the incomparable guys in it -- including the new one -- will never be far from my thoughts and good wishes.
____
* Norddeutscher Rundfunk, German Radio