I've occasionally visited soup kitchens and food pantries while reporting on a problem that never seems to go away: hunger in America. And each time, I notice a certain look in the eyes of some of the patrons who get in line for food. It's the look of shame.
That impression is confirmed by staff members who operate these facilities. In interviews with me, they often relate stories of hungry people feeling embarrassed by their plight.
The predicament of hunger cries out for basic decency and compassion. It's an impulse that arises from humble awareness that an abrupt reversal of fortune (a job lost in the recession, a foreclosed home, a family crisis, a devastating hurricane) could suddenly land almost any one of us in that same food line.
And it cries out for commitment -- a willingness to stay unwaveringly focused on addressing this most fundamental of human needs. That's what led me recently to produce a "Humankind" public radio program with Kathleen DiChiara in Hillside, NJ.
Given her down-to-earth manner, it would be easy to underestimate Kathleen. She communicates quite clearly, but her style is less polished and more from the heart. And that helps explain the enormous growth of the Community FoodBank of New Jersey, the charity she founded. Last year, it provided food to more than 900,000 people (including some who were displaced by Hurricane Sandy).
The Great Recession has heightened the need for such organizations. The latest USDA study, released last fall, calculates that 17.9 million American homes are "food insecure" (had difficulty during the year providing enough food for the family); 6.8 million households experienced this condition at least seven months of the year.
More than 50 million Americans now live in food insecure households, encompassing about 34 million adults -- including the working poor -- and 17 million children.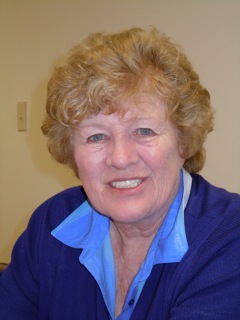 KATHLEEN DiCHIARA, founder of Community FoodBank of NJ
Kathleen DiChiara's activism in this cause began in the 1970s, when her sister, a nun, related horror stories of people in Bangladesh dying from hunger in droves. Conscience-stricken about world hunger, Kathleen and her husband, who lived in the affluent community of Summit, N.J., decided that year to forego exchanging Christmas gifts and instead donate to hunger relief efforts.

But she then had an insight: "You know what? Where my feet are planted is part of this world. I ought to be looking to see who might be hungry here." She proceeded to place flyers asking for food donations from members of her church. One of the priests asked, "Who are you going to give it to?" And Kathleen replied, "I don't know, but I know I can figure it out."
She then put the word out to a local hospital, the welfare department and others. "If you know of anybody going hungry, tell them to call me." Eventually the phone started ringing, but not from hungry people themselves. "There was an embarrassment on the part of people who were suffering from hunger to step forward," recalls Kathleen.
One call came from a local grocer, who noticed that a particular elderly woman made a weekly trip to his store to make a single purchase of a package of three chicken wings for soup. He suspected she could afford no other food (which turned out to be the case).
Kathleen showed up at the time the woman typically frequented the store, "accidentally" bumped into her, struck up a conversation, then arranged to visit the woman at home -- and to bring along a generous bag of food. Kathleen befriended other people in this way, always managing to visit their homes and leave a supply of groceries behind.
As her food collections and distribution spread, the local diocese provided Kathleen administrative space. One donor called to offer a whole tractor-trailer full of food, which was distributed in a parking lot. Kathleen later learned about a concept known as "food banks," which collect whole warehouses-full of food. It's then disseminated to local meal sites and hunger agencies.
The Community FoodBank of New Jersey today operates two huge centers, supported by individuals, corporations and foundations. The warehouse where I visited Kathleen is the size of seven football fields. It disseminates a wide variety of food, including canned products, fresh and frozen items. Last year, they moved about 40 million pounds of food.
The FoodBank also works to alleviate the causes of hunger and, among other programs, operates a food service training academy. Its students include people who've emerged from incarceration and drug rehab, and who need to cultivate marketable skills.
"When I first started," Kathleen told me, "people were dealing with situational hunger -- an illness, a loss of a job, something catastrophic in their life. And it was clearly an emergency. That's why they were called 'emergency pantries,' and then there were soup kitchens in the major urban areas. They were rescue missions dealing with maybe an on-the-street alcoholic population.
"And now there are soup kitchens in the suburbs, in the country, they don't call them that. They have other nice names for them, but they are seeing families. ... So much of the low income has been concentrated in densely populated urban areas, but it is the suburbs where it's taking two incomes to make a mortgage payment or a rent. The recession has tumbled people into going without food, people who never experienced that before, people who were donors to programs like this are now struggling."
For many of those facing hard economic times, the challenge is not just material deprivation. Anyone who has lost a job knows the blow that can it deal to feelings of self-worth. And so part of Kathleen DiChiara's mission is to increase awareness that being needy is basic to the human condition.
"The people who, even today, are at pantries often cry in their line because they are so embarrassed. And so we have to accept that what they've given up in terms of their pride and their vulnerability is the gift that's being given and we who help are the receivers."