Memorialized in a Bob Dylan song and later in Denzel Washington's spellbinding, Academy Award-nominated portrayal on screen, Rubin Carter, who died in Toronto Sunday at age 76, was a force of nature.
He was nicknamed "The Hurricane," for the potency with which he overwhelmed opponents in the professional boxing ring in the 1960s. But a powerful emotional storm swirled around Rubin Carter much of his life, including the nineteen years he spent in prison for a triple homicide he did not commit.
The charges were eventually dismissed and Carter was freed in 1985, based on a federal judge's review of the case. The judge, H. Lee Sarokin (now retired), later told me for our Humankind public radio profile of Rubin Carter: "A very blatantly racist argument had been made to the jury that I thought was outrageous." He also found that "exculpatory" evidence (tending to prove the defendant's innocence) had been withheld by the prosecution.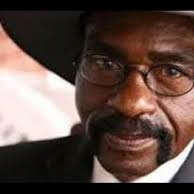 I visited Rubin at his home in Toronto a couple of years ago. I had finally gotten around to reading his powerful memoir, Eye of the Hurricane (2011), which chronicled the boxer's legal vindication, but also the profound spiritual transformation he had undergone.
Rubin steadfastly maintained that the night in June 1966 when three patrons were murdered at the Lafayette Bar and Grille in Patterson, New Jersey, he was not present and was totally uninvolved.
The main witness against him was a criminal who was in the neighborhood committing his own crime; he gave at least three different versions of the events that night, and later recanted his testimony. But Rubin and a co-defendant, John Artis, both black, were convicted. The jury, prosecutors and judge were all white.
Bob Dylan, Muhammad Ali and numerous other celebrities protested Rubin's continued incarceration. A group of community activists in Canada eventually took up the cause and helped build the legal case that led to his release. A team of attorneys, convinced that a miscarriage of justice had been committed, donated over a million dollars worth of legal time to win Rubin's freedom.
"For the first ten years of my imprisonment," Rubin told me during an interview in his kitchen, "I hated everything that moved. I hated everything and everybody. And finally it began to manifest itself on me, when I saw myself in the mirror one day. I said, 'Oh, my God! That can't be me.' I mean, I was full of hate, and that hate was all over my face, was in my eyes, in my mouth, in my teeth, the way I walked...
"I knew that I was not only in a physical prison, but I was also in an emotional prison. I was also in a psychological prison. I even imprisoned myself within the prison, and I knew that something's got to change here, because that's not me."
So, how does one get past animosity after doing nineteen years in prison for a crime of which you're innocent? For Rubin Carter, it meant abandoning the concept of being a victim.
In one sense, of course, it's hard not to view a person who's incarcerated for a criminal act he did not commit as being the ultimate victim. But accepting the label of a victim, Rubin said, sets up an emotional trap, that may justify angry emotions, but doesn't bring personal peace.
"The way out of that," he told me, "is to wake up and realize what this universe really is. To look at our home and see where we are, see where we come from, see where we're going, and see that everybody is a victim, because we -- none of us asked to come here. None of us asked to be born to the parents that we were born to. None of us asked, you know, for that. Whether our parents are rich or poor, you're black or white, yellow, or green, none of us asked for that. So we are all 'victims,' and we have to stop being a victim. We have to realize who we are.
"I want to be an awakened, enlightened soul, where I can walk on this earth and see everybody on this earth as the beautiful flower that they really are. Then I have no opposition to anyone."
Since being released from prison, Rubin Carter devoted many years to advocating for the rights of others who were wrongly locked up. One case he championed was that of David McCallum, a prisoner who's been incarcerated on murder charges since the year Rubin was emancipated. Two months ago, the New York Daily News published an opinion article by Rubin calling for McCallum's release.
No one knows the precise number of Americans doing time for crimes they did not commit. Estimates of the incidence of wrongful convictions -- sometimes discovered through DNA testing, sometimes the result of plea bargains -- range from 4 - 10% of the total prison population. And certainly justice calls for their immediate release.
But Rubin Carter, through conditions no one would choose, found another way to become free, one that allowed him to escape from the inner jail cell in which he was at one time held captive.