A conceptual revolution swept through the arts during the late 1950s and early '60s, as radical young innovators changed the subjects, methods, and often the materials of their disciplines. Jack Kerouac published On the Road in 1957. Jean–Luc Godard's Breathless exploded on the film world in 1960; Bob Dylan's "Like a Rolling Stone" did the same for popular music in 1965, followed by The Beatles' Rubber Soul and Revolver. Robert Rauschenberg began making combines in 1954, and Andy Warhol began to make silkscreened canvases in 1962.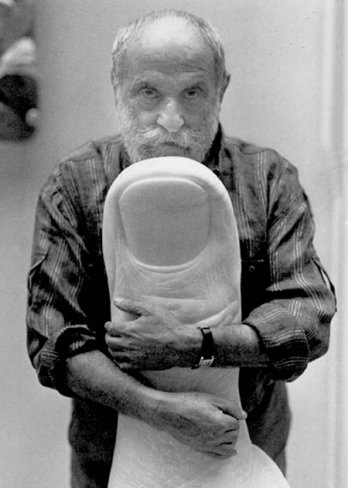 César Baldaccini with sculpture (undated photograph). Image courtesy of the Musée Maillol, Paris.

In Paris, in 1960 the critic Pierre Restany launched a movement that he named Le Nouveau Réalisme, that included Yves Klein, Arman, Daniel Spoerri, and Jean Tinguely. Restany's manifesto declared "the exhaustion and sclerosis of all established vocabularies, of all languages, of all styles." One of the members of the new group was the sculptor César (César Baldaccini), who had already shocked Paris' art world by exhibiting his "Compressions" – automobiles that he had crushed, using a hydraulic pressing machine. During the 1950s, rejecting the traditional materials of sculpture, César had begun assembling iron scraps into sculptures by spot welding; in the 1960s, he further expanded his repertoire by using colored resins to make works he called "Expansions." A current exhibition in Paris displays more than 40 sculptures by César from the '50s through the '90s, made from a wide variety of materials, including gold, and perhaps even more sacredly, a piece of the Eiffel Tower.
César, Le Centaure (1983-85). Image courtesy of Wikimedia Commons.

César's art contains a fundamental irony, parallel to that of fellow New Realist Yves Klein, which may have arisen from the same impulse. As young artists in the 1950s, both were profoundly affected by experimental art - Klein by the gestural abstractions of the Abstract Expressionists and the Tachistes, César by the sculptures of Giacometti. Yet because Klein and César were committed to conceptual approaches to art, they could not directly follow the methods of their experimental predecessors, whose touch was a primary source of their products - the trademark personal brushstrokes of tachisme, and the myriad nervous touches that created the distinctive surface textures of Giacometti's sculptures. The revolutionary young New Realists rejected these material and tactile approaches: Klein declared that "True 'painters and poets' don't paint and don't write poems," and César wrote that "When I was young, I thought sculpture was a guy with a chisel and a hammer banging on a stone; but above all it's a way of saying certain things, with any material." Both Klein and César responded by creating new means of making art, that yielded works comparable to those of their predecessors without the direct touch of the artist. Klein famously made nude female models into "living brushes," by having them cover themselves with paint and then press their bodies against canvases tacked to the wall or laid on the floor, but he also drove his car on a highway with canvases covered with wet paint tied to the roof, and scorched patterns into canvases with blow torches. César made cars into sculptures by crushing them, but he also used many other techniques and materials, as demonstrated in this exhibition. What this exhibition also reveals is that César shared another trait with Klein, for both clearly loved beauty - unlike many of their conceptual peers - and consistently made unlikely materials into elegant works of art.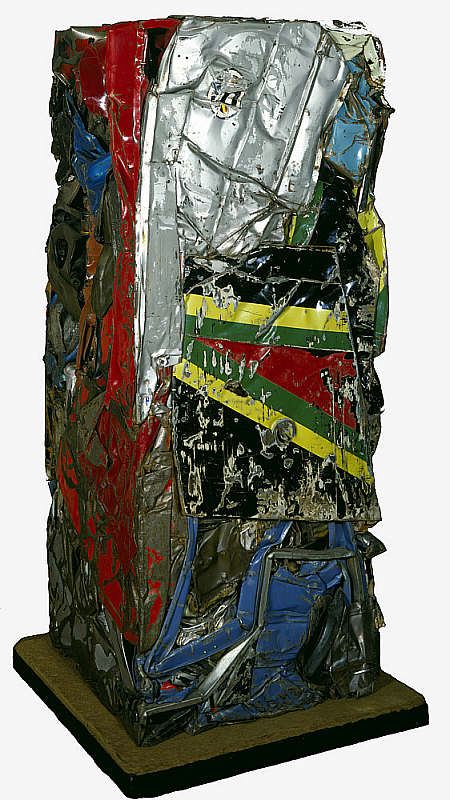 César, Compression (1966). Image courtesy of the National Galleries of Scotland, Edinburgh.

César's sculptures show us what Giacometti's work might have looked like if he had been locked in a junk yard with a spot welder. Whatever the material or method, whether figurative or abstract, the sculptures of César share a concern with surface texture - like Giacometti's sculpture, we feel them by seeing them. As if to emphasize this, one of César's trademarks was a series of sculptures made from plaster casts of his thumb; this show contains one in crystal, 30 centimeters high, but others are larger - a bronze example at Paris' La Defense is 12 meters high.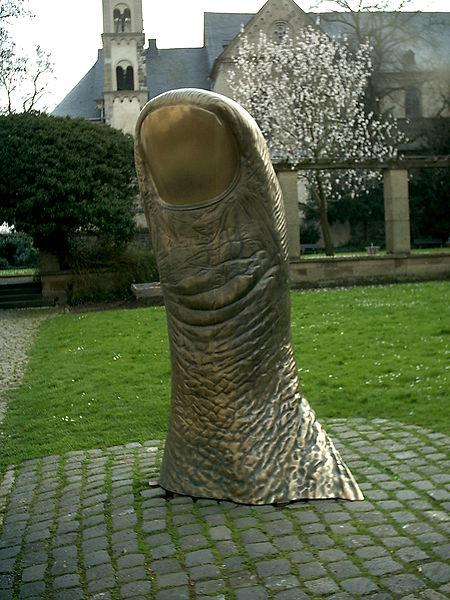 César, Le Pouce. Image courtesy of Wikimedia Commons.

In this exhibition, the sculptures are dramatically presented, spotlighted in a darkened room with black walls. The effect is to make even humble materials into jewels, and to heighten the impact of their worked surfaces. A curious aspect of the exhibition, at the improbably named Éléphant Paname, is that all the works are from private collections, and all the lenders are anonymous. Is a dealer trying to inflate César's market? If so, this show is unlikely to have much impact: although its location is convenient, just a short walk from the Madeleine, the venue is obscure, and attendance was slight when I visited recently. But if the show is not likely to make anyone rich, its location and contents make it an attractive destination for anyone visiting Paris who is interested in the conceptual art of the 1960s.
An additional note: one of Cesar's most exotic compressions, made of Coca–Cola bottles melted together, is currently on display in the Maillol Museum's exhibition of Murano Glass. It is beautiful and imaginative, like many of his works in metal.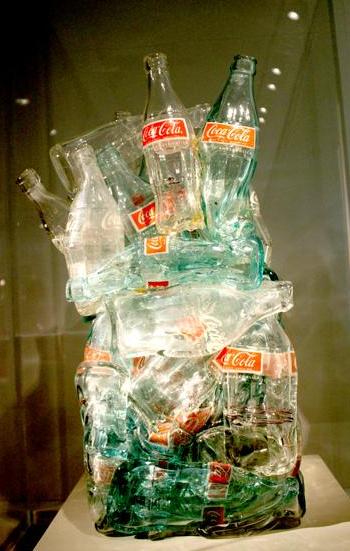 César, Compression Coca-Cola (1992). Image courtesy of the Musée Maillol, Paris.