In 2004, the American Film Institute announced its members had voted "Over the Rainbow" the greatest movie song of all time, ahead of "As Time Goes By," "Singin' in the Rain," "Moon River," "White Christmas," and "Mrs. Robinson." "Over the Rainbow" has been recorded by scores of famous singers since it first appeared in The Wizard of Oz in 1939. But it has remained indelibly associated with Judy Garland, who sang it in the film.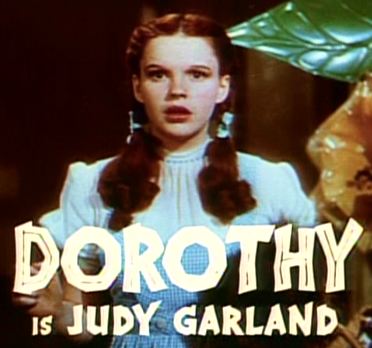 Judy Garland in the role of Dorothy Gale, from the 1939 film trailer for The Wizard of Oz, image courtesy of Wikimedia Commons.

That Judy Garland and "Over the Rainbow -- were a classic combination was not an accident, but a product of the superb craftsmanship of the two men who wrote the song, the composer Harold Arlen and the lyricist E.Y. (Yip) Harburg. When they wrote one of the greatest children's songs ever recorded, Arlen was 34, Harburg 42.
That Harburg and Arlen were both over 30 when they wrote what may be their greatest song was typical of songwriters of the Golden Era of popular song. Thus George Gershwin was 37 when he wrote "Summertime," Irving Berlin 54 when he wrote "White Christmas," Jerome Kern and Otto Harbach 48 and 60, respectively, when they wrote "Smoke Gets in Your Eyes," Cole Porter 40 when he wrote "Night and Day," Richard Rodgers and Lorenz Hart 32 and 39, respectively, when they wrote "Blue Moon," and Kern and Dorothy Fields 51 and 31 respectively, when they wrote "The Way You Look Tonight." These ages may surprise fans of more recent vintages of popular music, for since the early 1960s, the greatest popular songs have almost invariably been written by 20-somethings. Bob Dylan, Lennon and McCartney, and Brian Wilson initiated this regime in the '60s, and it was continued by Marvin Gaye and Bruce Springsteen in the '70s, The Clash, U2, and Public Enemy in the '80s, Nirvana and Radiohead in the '90s, and Kanye West and Jack and Meg White in the '00s.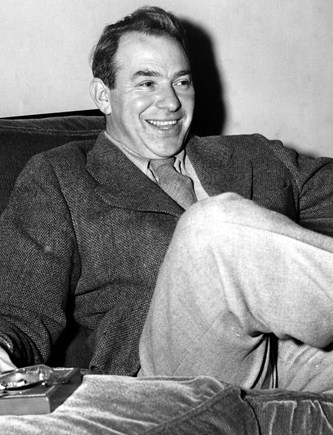 E.Y. "Yip" Harburg (ca. 1950), image courtesy of Wikimedia Commons.

The considerable difference in age distributions of popular songwriters before and after the '60s is a result of the conceptual revolution in popular music. The great songwriters of the Golden Era -- from the '20s through the '50s -- were experimental Old Masters; those of the '60s and beyond conceptual Young Geniuses. For anyone who doubts this distinction, or just wants to see how popular music used to be made, a new biography of Yip Harburg based on his interviews offers an excellent self-portrait of a great experimental songwriter.

Film poster for The Wizard of Oz, image courtesy of Wikimedia Commons.

In the Golden Era, popular songs were not independent works, but were written for musical comedies. Because their songs were generally created in response to the needs of scripts that had already been written, the great songwriters did not consider themselves inspired artists, but rather skilled craftsmen who subordinated their own interests to the needs of the production as a whole. Yip Harburg explained that he had a job to do: "I am a blacksmith or carpenter, excepting that... instead of with nails, I do it with words." The craftsmanship required was considerable, because the job was complicated: "in good musicals, each song is a whole scene; you need to soak yourself in character, motivation, mood, tempo, everything. You're advancing plot, you're extending dialogue, using music and lyrics to make the statement explosive and emotional. Each song has a different problem... each one has to be fitted, guided, placed. And the work should be done so skillfully that the art would disappear: The lyric must be an integrated part of the dialogue. In other words, you do not know where the dialogue ends and the where the song begins." And as so with all experimental art, a constant goal was to make a true statement: "behind the tricks, behind the artifice, is... the art of honesty, the art of being responsible for your craft."
Yip Harburg was a master songwriter of the Golden Era, and the standards were high: "our tribe of songwriters always wrote for our peers. We were very much ashamed of ourselves if we wrote anything clichéd, or took an idea from another person. By 'our tribe,' I'm talking about Cole Porter, Ira Gershwin, Lorenz Hart, Howard Dietz, all those people who got together every week...and we would more or less compare the things we were working on."
Harburg's hits included "Brother, Can You Spare a Dime?," "April in Paris," "It's Only a Paper Moon," and "Old Devil Moon." But perhaps his greatest achievement was "Over the Rainbow." The experienced craftsman created a beautiful song for a little girl to sing. "The writer has to put himself into the character he's writing for. And I put myself into the shoes of this little girl and into her heart and in her soul and she was not a mean little girl. She didn't know much about love, where is love, why don't people love me." And Harburg felt for Judy Garland, who was always being pushed by a typical stage mother: "there was no childhood. There was no real fun." Garland also had enormous talent: "She never had to be directed...She could do anything. But her yearning for something which she never had...she never achieved."
Arlen and Harburg needed a ballad for the Wizard, "but you always have trouble writing a ballad — how to say 'I love you' in another way after it's been said how many thousands of times." So they invented a rainbow, which hadn't been part of Frank Baum's original story, to symbolize the beauty that didn't exist on the plains of Kansas: "all we were thinking about was a little girl who...wanted to run away, and knowing that somewhere, someplace there was a colorful land that wasn't the arid flat plain of Kansas. She remembered a little verse from her childhood that mentioned a colorful place where bluebirds fly. The only thing she'd probably ever seen that was colorful was the rainbow."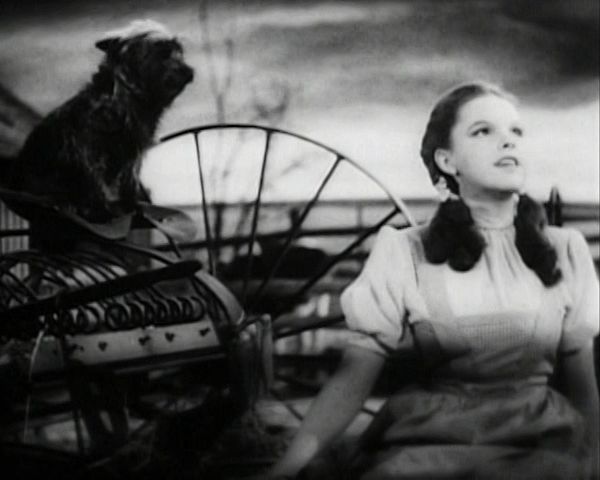 Judy Garland singing "Over the Rainbow" in the film The Wizard of Oz, image courtesy of Wikimedia Commons.

Irving Berlin once explained that his goal was always to write as simply as possible, "as simple as writing a telegram." Yip Harburg's triumph in "Over the Rainbow" was to write just this simply, restricting himself to the vocabulary of a 12-year old. His craftsmanship included the creation of a metaphor that a child could recognize: "Where troubles melt like lemon drops/Away above the chimney tops/That's where you'll find me." Harburg wrote a sophisticated song that a child could not have written, but one a child could sing as if she had written it. The critic Peter Keough observed that "Dorothy's rendition of 'Over the Rainbow' echoes over the years as a stirring reproach to false optimism and lost illusions. The miracle of Judy Garland's performance lies in her utter lack, not only of makeup and superficial beauty, but of irony." Yip Harburg's triumph was to make "Over the Rainbow" a song that Garland could sing without irony, and that she could sing with genuine emotion for the rest of her life.
In addition to the excellence of Arlen's composition, Harburg explained the success of "Over the Rainbow" as a product of having a good movie, and Judy Garland, "One of the great voices of the century... She had an emotional quality that few, very few voices ever had. The whole world seemed to have an empathy with her, not only because of the way she sang that song but because her own life was the epitome of it."
Like Irving Berlin and the other Golden Era songwriters who survived into the 1960s, Yip Harburg mourned the death of the craftsmanship of the Golden Era, and scorned the conceptual songs of the '60s and beyond. In 1977 he explained, "I can sing back any of the songs of Porter or Gershwin, Kern. 'Old man river, that old man river.' Or 'A foggy day in London town, had me low and had me down.' I can sing any of those songs whenever I need it to comfort me but I cannot sing the songs of today." Late in his life, appropriately, he made his lament into lyrics, that he sang to the tune of "Where Have All the Flowers Gone":
Where have all the sweet songs gone,

Long time passing.

Where have all the good songs gone,

Long time ago.

Who are they that dare to spurn

Gershwin, Porter, Rodgers, Kern?

When will they ever learn,

When will they ever learn?