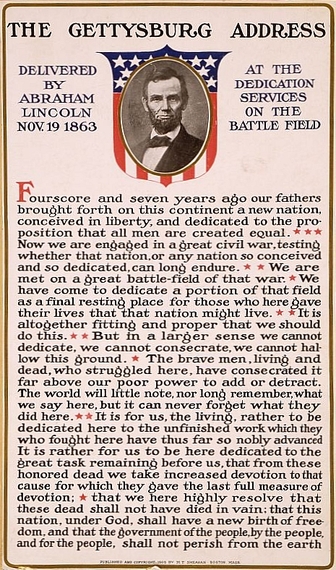 As I understand it Memorial Day began out of the conflict of the Civil War. An effort to acknowledge the sacrifice of all those who perished in what was, at the time, the costliest loss of American life to war. To this day one of the most moving and just tributes to the fallen is President Lincoln's Gettysburg address.
At a time when speeches by politicians ran into the hours, this one ran but a few minutes. But in that short span of time the president was able to convey the honor to which we hold the fallen and, perhaps more importantly, the inability of mere words to convey gratitude.
I am proud to say my dad served his country. Many talk of the service the family also endures, and I can remember the struggles my mother had while my dad was in the military. It wasn't just that he was gone for months and months at a stretch, but the fact that oftentimes he was in a part of the world that was in terrible conflict.
Of course we were fortunate. My dad got to come home to a welcoming and relieved family. But so many families weren't and still aren't able to say that. For them their loved ones made the ultimate sacrifice, and I can't imagine how painful that must be. I do know, however, that on Memorial Day we can offer solace and comfort to those left behind and gratitude to those who answered the call of duty with the full measure of their being.
Some years back I worked on a project that took me out into the Pacific Ocean on an aircraft carrier. For two weeks I marveled at how kids barely out of high school were tasked with some of the most amazing duties. Late one night I got to watch a refueling maneuver. The red lights cast everything and everyone in an eerie glow. The sea wasn't very calm that night, but those in charge sure were. They handled their tasks professionally, with skill and fortitude. It was really quite an event to watch.
Sometimes afterward Steve, one of the sailors I befriended, spent time talking about military life. As the night got later and later we talked more about the sacrifice families also make with loved ones in the service. And he talked about his father who had also served, however his stories all centered on when Steve was a child. I understood why after Steve told me his father was killed in Vietnam when he was still quite young. I didn't know what to say. And to be honest, other than offer my condolences, I don't think we said much after that.
My time on the aircraft carrier was before 9/11 and seemed to be a rare quiet time in the world. A year later I would be troubled to learn that carrier was called to Middle East. It was about that time that I went to Washington DC for some reason I don't recall now. But I made a point of going to The Wall; the Vietnam War Memorial. It's a sobering thing to experience made even more so when watching loved ones caress the etched names in granite.
I remember Steve telling me the year his father had died, and looking through the thousands of names I found it. I could see his name clearly engraved, and the only surname that matched by friend. But I could also see my reflection. The wall is created in such a way that it brings an immediate and personal connection with those who it honors. Sadly, words really can't convey the emotion I felt looking at the name of the father of my friend. And so I reached out and touched it for him.
And for me.
And for everyone who lives in this great country of ours. So on this Memorial Day I can only offer feeble words but heartfelt words none-the-less; thank you Captain M. and all the others who gave their lives in the service of their country.