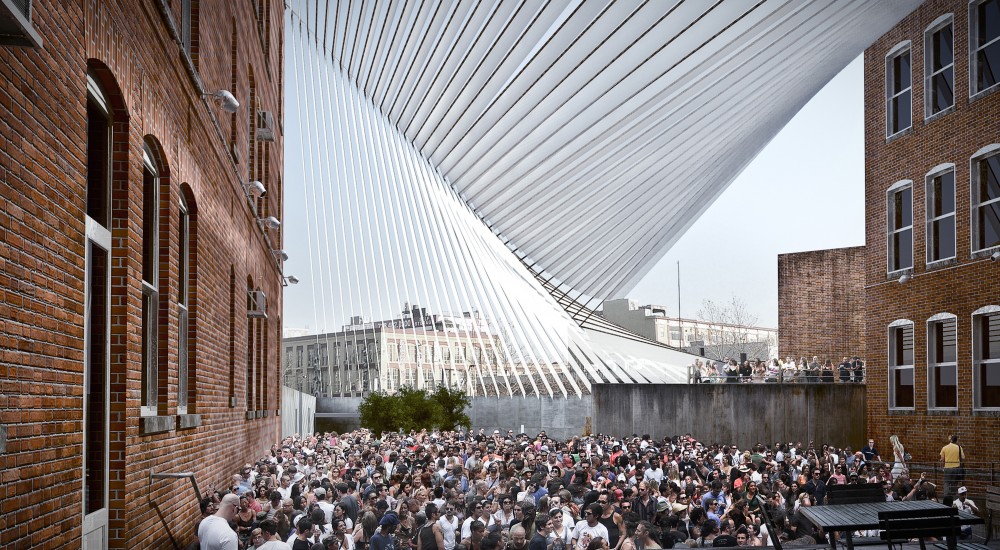 View from the entrance steps
Interboro Partners was recently announced as the winner of this year's P.S.1 Young Architect's Program. Their installation, Holding Pattern, will serve as a giant column free "outdoor room" backdrop for this summer's Warm Up concert series. Using only rope and fabric to an exuberant effect, the giant canopy will stretch from the courtyard perimeter wall, bending midway around an irregular wedge shaped terrace, and then soar upward to the former public school turned MoMA satellite museum's parapet.
Now in its twelfth year, the annual design competition has offered rare moments for architecture to play a more visceral and engaging role with an audience. Throngs of visitors arrive every summer for the art, music, or merely to witness the spectacle. Some of the most memorable projects have been successful by blurring the boundaries between art, architecture, and performance -- evoking surreal themes from sci-fi, the beach, urban farm, to prehistoric wholly mammoth hide shelters.
Viennese artist group Gelatin, populated the courtyard with water features, walk-in refrigerators, and min-golf in 1998 -- transforming the sculpture garden from a serious space for contemplating art to one of play. In 1999, Phillip Johnson's pavilion incorporated a stage with a dance floor and bleachers. He imagined a "disco of the 21st century" as an anachronistic "mash-up" of medieval and sci-fi elements (colorful banners and aluminum mesh clad scaffolding). Though formally the five towers appeared a sterile ode to 60's modernism, it was Johnson's notoriety, and grand scale celebrating large crowds that raised the profile of this burgeoning tradition. The following year the Young Architects Program was founded, and a new tone was set with an inaugural installation by SHoP architects.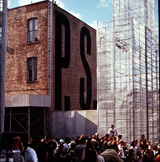 1999 - Untitled by Phillip Johnson
With the competition limited to architects under 35, the entries have progressively become more attuned to a younger audience of concert goers seeking interactive experiences. All entrants must work within the constraints of a modest budget (originally $50,000, now $70,000 adjusted for inflation).
It's fascinating to observe how the same challenge has been interpreted year after year. Each of these jury selected winners (and runners up) have tended to mirror a particular ethos of their respective moment in time -- so that tracing a line through a recent history of installations can be an interesting way to chart changing trends within the broader design community. Here are a few of the standouts:
PHOTO GALLERY
Best of P.S.1's Young Architects Program
Interboro Partner's installation follows in the footsteps of projects like Narchitect's bamboo spans, or the 2007 Liquid Sky project, but goes further to envelope the entire courtyard, and lighten its material presence as a completely tensile structure. They depart from past attempts to infuse interactive or sustainable features into an all in one gesture (SHoP or WORK), by completely decoupling their two big ideas. The tensioned structure doesn't touch down at oasis pools or incorporate mist jets -- it's just a very cool canopy. It is by way of thoughtfully selected "props" that their proposal relates to the community and promotes a very unique approach to recycling.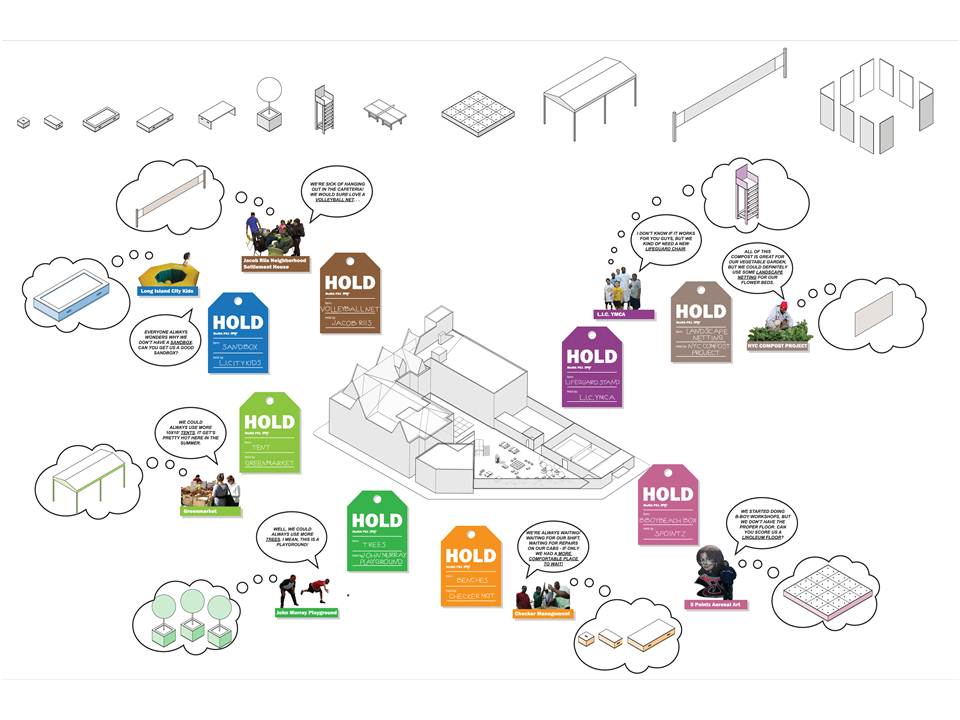 The installation's title might poetically infer lines "held" in place, and the "pattern" they create -- but literally, every bench, tent, and tree has a "hold" on it, and will be donated to a specific group within the local community after the two month installation draws to a close.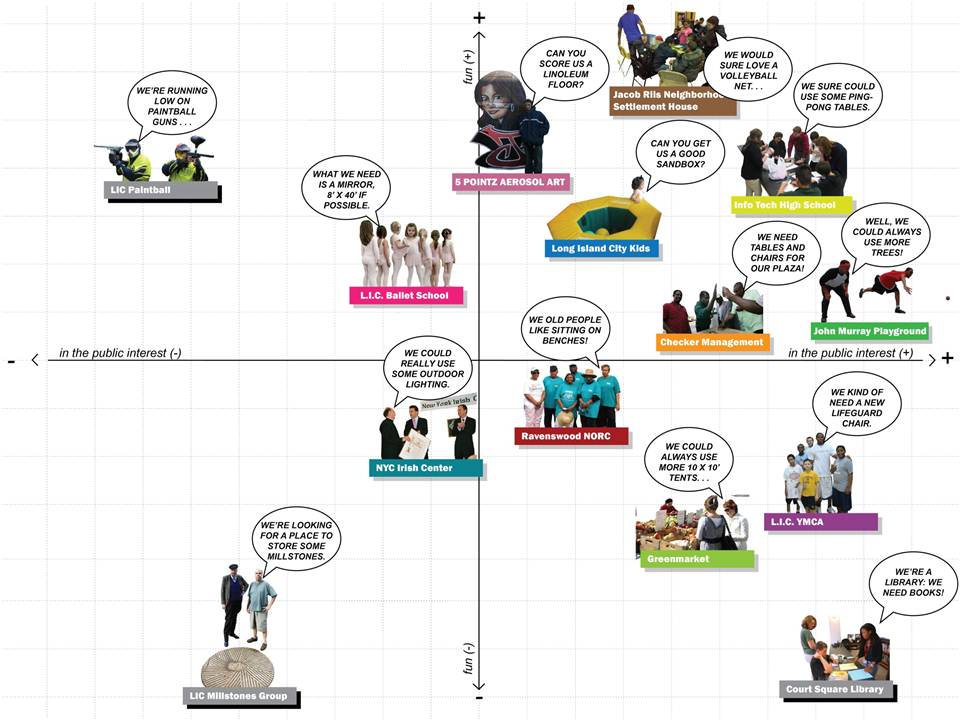 Interboro reached out to local organizations as a way to inform decisions on populating the courtyard based upon an object's potential re-use value. By disconnecting form and function they were able to think more broadly to incorporate an intriguing combination of volleyball nets, sandboxes, floodlights, and a forty foot long mirror.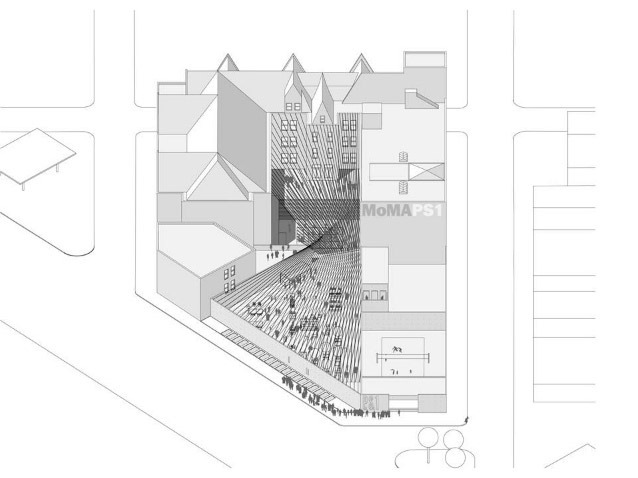 Plan Elevation Drawing by Interboro Partners
The canopy shape may have nothing to do with the programmatic elements, but employs a similar attitude of deferring to the local context for cues. Simply by inscribing the perimeter of the seven sided polygon courtyard -- Interboro has created a striking form that "draws" attention to the interesting idiosyncrasies of the space already there.