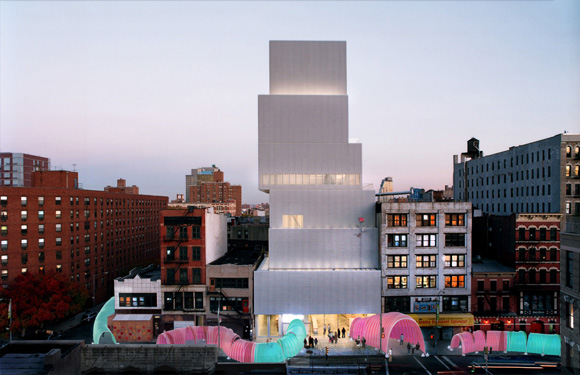 The famous Hell, Yes! rainbow was removed for a 30 foot tall steel rose to bloom... now another flamboyant installation has marked the entrance of the New Museum in the form of neon pink and cyan fabric arches. Designed by Family and Playlab, "The Worms" are the adopted iconography of the Festival of Ideas for the New City. From May 4th - 8th, this major collaboration among universities and arts organizations challenged artists, writers, architects, planners, and political leaders to imagine future possibilities for the city.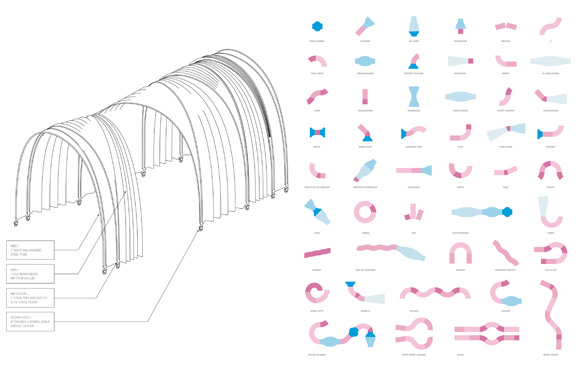 The festival kicked off at NYU with a keynote address by Rem Koolhaas -- and followed with a three day symposium, performances, and installations hosted by an array of institutions. Free and easily accessible to the public -- Saturday's StreetFest was the most excitingly visible component. An open air expo of information kiosks and vendors demonstrating model practices, and innovative products spilled out around the New Museum. Roll-down shutters were painted with murals, and Family and Playlab's creature-like tents marched down sidewalks in various coiled configurations redirecting flows of pedestrians, and culminating at the doorstep of the downtown art scene's new cultural anchor.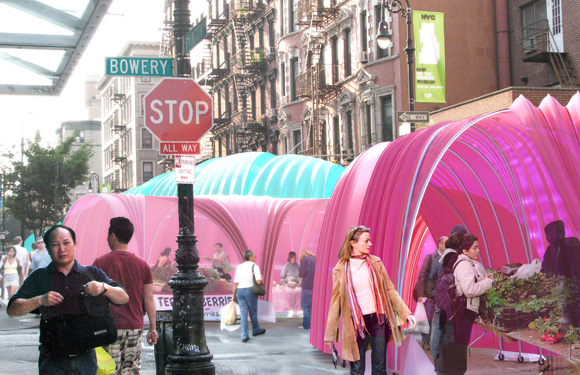 This storied stretch of the Bowery may have lost some of the edge from its grittier days, but this past weekend -- it re-asserted itself as an incubator for urban change. The weirdness of neon "worms" is befitting of a neighborhood home to the birth of punk rock and the wild eccentricities of its famed bohemian artists and poets. The brightly colored archways added another contrasting element to the backdrop of iconic shifted white boxes, and hodgepodge of neighboring buildings -- setting the tone for a festival that was fun and informal -- welcoming storytelling booths, cooking lessons, urban farming, to beekeeping; yet serious enough to host a mayoral panel discussion.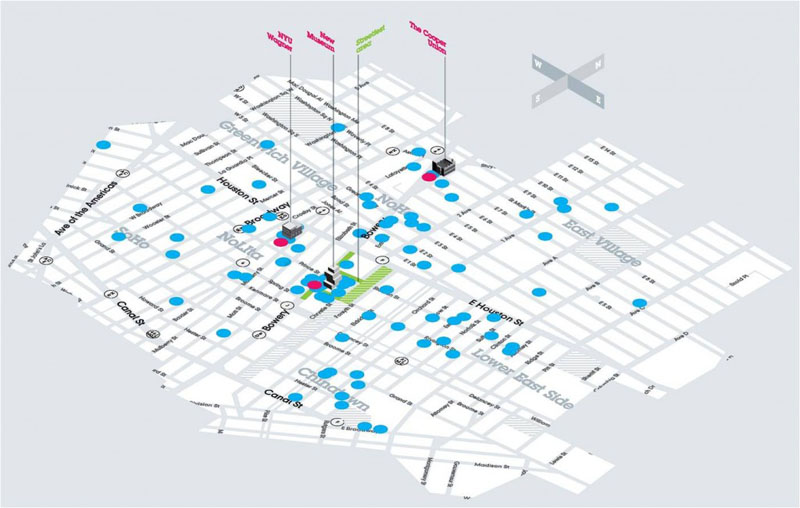 Despite disappointing setbacks to high speed rail, a stalled energy policy, across the board cuts to the arts, and bike lane backlash -- the fact business, political, and design leaders were having discussions about urban heterogeneity and sustainability rekindles a flicker of optimism. The festival itself was a compelling example of the potential to mobilize diverse groups around big ideas. While academics speculated at NYU and Cooper Union panel discussions, Streetfest and over one hundred programs scattered throughout lower Manhattan were putting urban experiments into practice.
Biking, sustainability, stronger connections to local agriculture, and D.I.Y. skills sharing communities seemed to be getting the most attention. For a festival so concerned with the future, many of the topics bringing people together were surprisingly low tech. Even the headliner himself, Rem Koolhaas, architect of grand post-modernist gestures charged to transform the new museum's lobby -- curiously chose an installation on preservation. These exhibits that drastically adjusted expectations might be the thing to start people thinking differently about new ideas. Maybe they don't always have to look completely different from things we've seen before? Instead of flying cars, gleaming towers in the park, or gadgets to fix everything -- one of the most prevalent messages that recurred throughout the festival lineup: is that some of the best "new" ideas can be old ideas, like farming, but re-imagined on rooftops.
Images Courtesy of the New Museum
For more information: http://www.festivalofideasnyc.com/
Event Photos: http://www.flickr.com/photos/festivalofideasnyc/