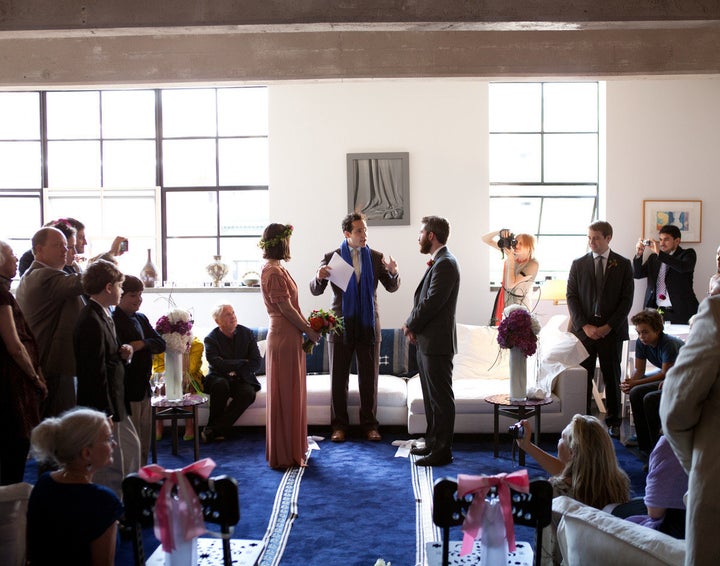 Standing on a bright blue carpet, my indigo blue Berber scarf indicating some modicum of holiness, and my brown pin stripe suit indicating something like sanctimoniousness, I place one hand on my friend Nick's shoulder and the other on my friend Sophie's. They wrestle back, then give into, their tears. He and she have been standing, looking into each other's eyes for about 20 minutes. Nick has just smashed a glass with his foot. The crowd of 50 or so in the elegant West Village apartment now applauds and hollers loudly, affirming their support of this marriage. Just before I pronounce these two close friends husband and wife, the moment we have been waiting for, I am overcome with an immense joy and an electric excitement.

(Scroll down for photos)
Nick, whom I had met at Columbia and who had been editing a short film of mine, had been staying at my Bushwick apartment the night I decided to throw an impromptu birthday party for myself. I was stuck in traffic coming back from quitting a job as a private chef, and he was home alone when my first guest arrived -- Sophie (a fellow actor friend, also from Columbia).
Within a month of their chance encounter they began dating, and within the next month, Sophie had proposed to Nick.
Not long after Nick and Sophie announced their engagement, they asked me to officiate their marriage. Honored and excited by their request, I quickly registered online with the Universal Life Church to become an ordained minister.
After receiving my papers, I walked on a brisk morning past Zuccotti Park and Liberty Square, to New York's City Hall. Out front of the hall stood two photographers displaying their wedding photographs on tattered and faded sheets. As couples came by, these photographers swarmed about offering their services.
Passing these gentlemen, I entered the grand hall. As I approached the registration window, to my right I saw an elderly man crouched low with his digital camera snapping pictures of his seeming daughter and new son-in-law. His wife, with fingers clutched, stood behind watching him frame the picture.
The clerk at the counter, who was very friendly, told me that the majority of registrants had also been ordained online. After filling out several forms, she asked what title I would like to adopt. Minister, Apostle, Priest, Bishop -- too Christian, Rabbi -- too blasphemous, Sensei -- too specific, Guru --
I signed my name in an archaic giant leather bound book that could have come from the set of a "Harry Potter" movie. Below two ministers and a bishop, I signed Guru David Henry Gerson. And poof -- I was a Guru! This newfound identity intoxicated my imagination; my mind filled with visions of marrying off my friends while wearing robes, beads, a turban, a monkey, some ox bones. The young woman then heaved the book back over the counter and told me that I was finished.

Becoming the Guru/Officiant was simple, but my new title gave me little transcendent knowledge of how to officiate a marriage. I began my research later, in a Chinese restaurant with Nick and Sophie, over a shared Peking duck, choosing to steer clear of the shark fin soup. As they spoke of their ideas for the wedding, I searched for clues -- why did they want to do this? Was there a look in their eyes, or the way they sat next to each other that could explain this strange phenomenon of wanting to get married? The tradition seemed as archaic to me as the leather book at City Hall, and yet somehow these two made it fresh and very relevant
We began speaking of other wedding traditions to include in their ceremony -- jumping the broom, feeding each other sugar, throwing dollar bills at the newly weds, the Chasidic traditions of skits -- and I knew, and insisted, that Nick would have to smash a glass -- how often do you get to shatter glass in front of a crowd? We left dinner buzzing with fun gimmicks and entertaining ways to jazz up the wedding.
Continuing my research, Sophie's father, the poet Bob Holman, who was shooting a show in Wales, and I had a Skype session. He told me of his daughter's transformation since meeting Nick, how happy the couple seemed to be together, his confidence in their union confirmed by his belief "in that stuff." He explained how he thought the act of marriage was revolutionary in this day and age not to mention Sophie's asking of Nick -- but "that's the kind of girl she is." He concluded our conversation teaching me the word, Epithalamium, and by suggesting that I wear an Elvis jumpsuit for the ceremony.
Next, I asked Nick and Sophie to send me private notes, explaining why they wanted to marry each other. Their words were so true that my planned gimmicks and tricks fell flat in the face of their love. I understood that I would need to ground this ceremony in them and not in my painstaking desire to do a show.
The procrastinator that I am, the day before the wedding I finally wove their private notes into a small speech. An outline my mother emailed me from a friends' wedding answered basic questions about the ceremony. At the rehearsal dinner, Sophie suggested that Nick smash the glass at the crescendo of everyone's cheers and applause, an audible affirmation of the marriage. The ceremony pieced together, I was ready to be a true wedding Guru.
In their notes, Nick and Sophie explained beautifully that they made each other fuller. Opened their vistas of life. Became better people as a product of each other, and wished to continue growing so. Reading their words made clear to me the freshness and relevance of marriage in today's scattered world. I was struck by how grounded they made each other.
During the service, I said a few Jewish wedding blessings, I even found a yarmulke in my pocket, and spoke about inspiring each other to see beauty. All the while, throughout their vows, and other speeches, I stood watching them, an arms length away, standing unmoving, crying before each other, staring into each other's eyes, contemplating the beginning of their journey.
To stand before two of your friends and hold a minutia of some power to bind them in a union of life and love, is an overwhelming and electric feeling.
If the opportunity presents itself, I highly recommend pronouncing your friends married.
PHOTO GALLERY
Nick + Sophie's Wedding