Dinner at Downton Abbey has gotten rowdy over the years, but it never got scary until Sunday night, when Lord Grantham projectile-vomited blood across the table and crumpled to the floor.
He survived. But as Mary said, "It knocked the stuffing out of him," along with pretty much everything else.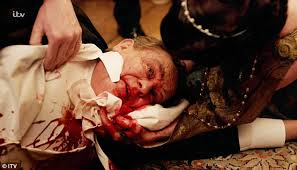 What happened was that his ulcer burst - ironically enough, right smack in the middle of the 3,000th argument over the fate of the local hospital.
We know how the ulcer felt.
Lord Grantham's volcanic eruption, the most graphic scene on Downton since the death of Lady Sybil in season three, looked to be one of this final season's game-changers.
Everyone looked at everyone else, literally and figuratively, upstairs and downstairs, and had a rolling series of come-to-Jesus moments.
Mary and Edith walked upstairs together, an occurrence as common as Mrs. Patmore ordering dinner from Kentucky Fried Chicken. Mary couldn't help making a sharp crack when Edith said she wanted to look in on the children, but Mary also said "Goodnight" in a tone that sounded cordial and comfortable.
Mary was more comfortable disposing of Mr. Pamuk's corpse than she has ever felt with Edith.
Downstairs, when Carson reported that his Lordship seemed to be resting comfortable, Evil Thomas said he was relieved and added that he surprised himself with this reaction, since "I didn't think I'd mind one way or the other.. .. I must be going soft in my old age."
The most immediate practical impact of Lord Grantham's impending recuperation, Mary said to Branson, is that the two of them must take over the running of the estate, since the stress of that task triggered Robert's ulcer in the first place.
Branson nodded and said, "Long live our own Queen Mary."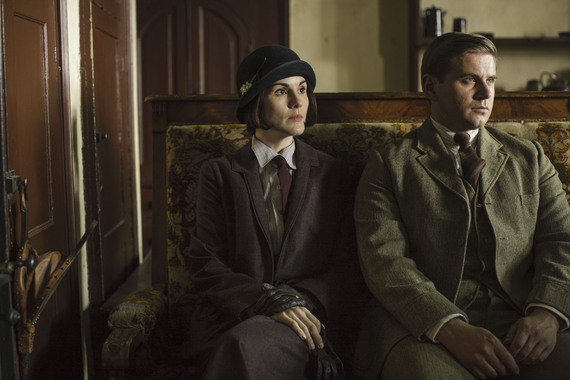 It was a remark that, from any character on the show besides Carson, would have come with a sarcastic edge. Since Branson could make "Off with her head!" sound like a friendly suggestion, perhaps we shouldn't make too much of it.
Lord Grantham's Worst Dinner Ever also stole the headlines from two other significant developments.
As he was being rushed to the hospital, Mary overheard a chance series of semi-whispers between Cora and Violet about Marigold.
We could almost see the thought balloon forming over Mary's head. Hmmm, Edith's away for nine months, Edith comes back and develops an obsession with this random foundling orphan child. Is there a dot I should have been connecting here?
The real question may not be whether Mary connects the dot, which she will, but how ticked she will be at everyone who didn't tell her before. Cora. Violet. And, yup, maybe Branson. Mary even sounded a little suspicious of Anna on Sunday, and despite the fact Anna knows nothing, innocence isn't necessarily an acceptable defense when the upstairs people are annoyed. Ask Mr. Drewe.
Sunday's other lead minidrama brought in Neville Chamberlain, best known in real-life history as the prime minister who in 1938 declared his non-aggression pact with Adolf Hitler ensured "peace in our time."
Bet he'd like a do-over on that one.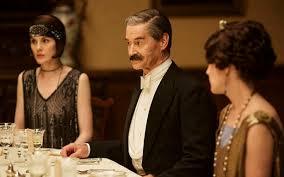 Back in 1925 Chamberlain was minister of health, which is why Violet invited him to Downton. She hoped he could, with a flick of his powerful wrist, kill the plan to have the local hospital absorbed into a regional system.
Killing this plan means more to Violet than to anyone else, including viewers, but the real point here was why Violet was so sure Chamberlain would be willing to bend to her will.
Seems that some years before, when Neville was young and less discreet, he joined some fellow pranksters in digging a ditch across Picadilly, which apparently snarled traffic from London to Calcutta.
Violet knew about it and kept quiet, preventing a scandal that could have derailed his career in its infancy.
Sunday night she called in that marker, and the price for Chamberlain also included joining the family at dinner and listening to the whole hospital argument again.
"I didn't think I was here to witness a battle royal," the poor chap said at one point, around the same time that Bates, downstairs, was musing that Chamberlain would be happy just to get out alive.
The upside of the burst ulcer was that it did cut the argument short. Chamberlain was so relieved that while he waited for his car so he could escape, he recounted the blackmail backstory to Branson, someone he had only met a few hours before. His confession was very useful to us viewers, though perhaps not the discretion we expect in a future prime minister.
As for the hospital, Cora told Chamberlain not to kill the merger plan. Even Violet sensed this was not the moment to revive the argument.
So while this turn of events probably won't put the hospital saga out of its misery, it did seem to tuck one of Violet's trump cards back into the deck.
Elsewhere, romance continued to blossom for the Crawley gals.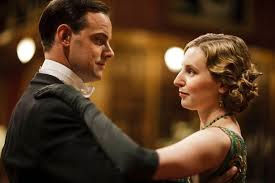 Edith, after insisting back at Downton that she wasn't having a "date" with Bertie, invited him to her London flat for a drink. They kissed. He said he feared he was being too bold. She said no. They both said they feared they were not worthy of each other.
Edith's had a tough time. She's entitled to act 14 for a while.
She also hired a young woman editor for the magazine and told Bertie she wants to spend more time in London, because "Downton is Mary's now."
Mary, meanwhile, went with Branson to a car race in which Henry Talbot drove to victory. This pleased everyone and ensured that car philosophizing will continue to be part of the Henry package.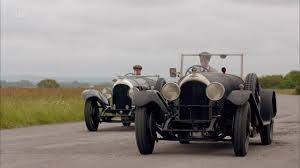 Mary earlier had told Branson she hates auto racing because it seems dangerous. She has a point. It was dangerous to Matthew even when he wasn't racing.
Branson replied that sure, it may be dangerous, but that's part of the appeal. It's a lot like love, he added, because love isn't safe, either. You're always taking a risk.
Branson must have read a lot about love on those long boat rides to and from Boston. He also explained to Mary that while he and Sybil came from different socio-economic classes, theirs was nonetheless a "marriage of equals," since they both brought the same intensity of belief.
Mary replied, "I see that now."
If Mary becomes queen of Downton, perhaps Branson can become its philosopher king.
Mary did reiterate, though, that she will not "marry down" and have more money than her husband.
Downstairs on Sunday, Mr. Mason invited Daisy to live at the farm, which he noted was a convenient 20-minute walk from the big house.
As Mr. Mason himself moved in, Mrs. Patmore and Andy joined Daisy in bringing a small welcoming tea to him. Mrs. Patmore seemed to like Mr. Mason, though Daisy said he preferred to be alone.
He had lots of company Sunday. Mary and Branson also dropped in, discreetly seeking assurance he wasn't too old to handle pigs.
That was awkward because, well, he is. But then out of the blue, Andy told Mary that he would be helping Mr. Mason with the heavy physical stuff. That satisfied Mary even as it left Mr. Mason mildly puzzled, since it was the first he'd heard of it.
Andy at the farm. Daisy at the farm. Looks like we may have another dot to connect here, assuming Daisy doesn't drop out to overthrow the system.
Andy also revealed a shorter-term issue when Mr. Mason gave him several books on pig farming. You know, a little light bedtime reading to get him started.
Evil Thomas, walking past Andy's room later, heard the sound of books being flung in frustration and correctly deduced Andy never learned to read.
Evil Thomas offered to teach him. Teach him to write, too. And when Andy realized that this didn't seem to be conditioned on any sort of sexual payback, which was the reason Andy had been shunning Thomas, Andy apologized.
And yes, this would also seem to be another step toward redemption for Evil Thomas. The question is, with only four episodes left, will he run out of time? Can redemption be fast-tracked?
Good downstairs news: Baxter's nightmare seemed to end when as Peter Coyle pled guilty and she wouldn't have to testify against him. The thoroughly smitten Molesley stood by her side throughout.
Not so good downstairs news: Denker, outraged that Dr. Clarkson had abandoned Violet's side in the hospital fight, called him names on the street.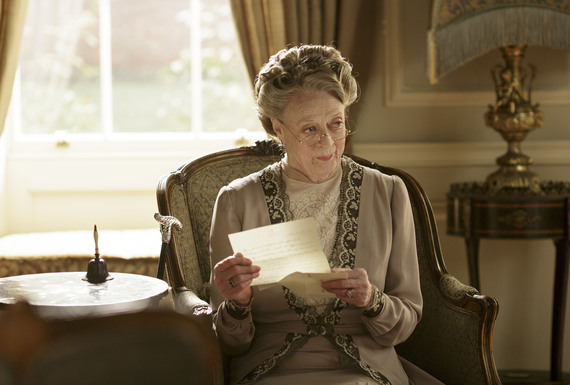 Clarkson reported this to Violet. Violet fired Denker, saying, "It is not your place to have opinions" on such matters. When Isobel said Dr. Clarkson probably didn't want Denker sacked, Violet replied, "When one unleashes the dogs of war, we must go where they take us."
Denker is more like Violet than the dowager countess realizes, however. Denker immediately turned around and blackmailed Spratt into convincing Violet to give Denker another chance.
Denker knows, we will recall, about the fugitive nephew Spratt has been aiding and abetting. When Spratt said the Violet intervention now made them even, Denker corrected him and noted this is a forever card.
Theirs was not the most amusing downstairs drama, however. That distinction fell to Mr. Carson and Mrs. Hughes.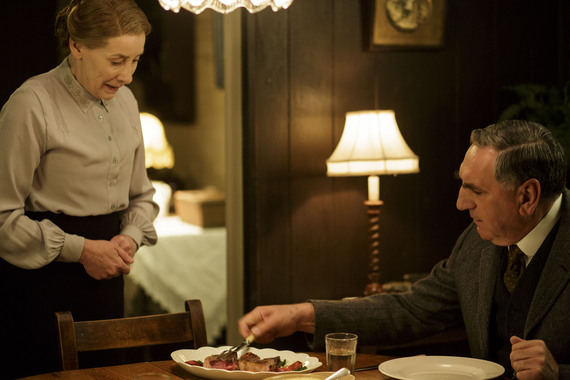 She was now cooking for him, and when she served the bubble and squeak he looked with considerable suspicion at the fact she had added lamb. When he tried to cut the meat, he diplomatically suggested the cutlery must be dull.
He later asked Mrs. Patmore if she would mind giving Mrs. Hughes a few refresher cooking lessons.
"I don't cook like his mother," Mrs. Hughes explained.
Mr. Carson's other moment Sunday was more somber, conjuring the elegiac and oddly melancholy final scene of the previous episode when he silently slid his name off the door to his old room.
As Lord Grantham was being carted to the hospital, Carson said to Mrs. Hughes, "Life is short and death is certain. That is all we know."
Bet that wasn't his slogan in the Cheerful Charlies.