An ambitious campaign by the space fundraising group Uwingu starts today that will allow participants to beam a message to Mars. Anyone, anywhere can take part in a unique "global shout out" that will beam messages to Mars on November 28, and the project is called "Beam Me to Mars."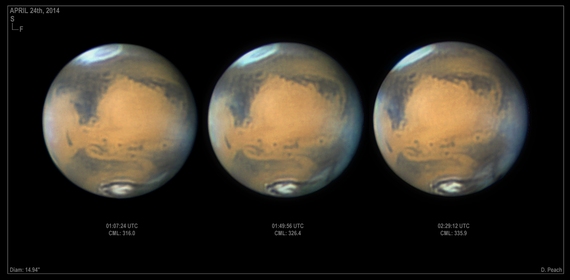 Mars imaged by Damian Peach on April 24, 2014
This program, marked by the hashtag #BeamMe2Mars, will celebrate the 50th anniversary of the beginning of human exploration of the Red Planet with the launch of NASA's Mariner 4, the first successful mission to Mars, on November 28, 1964.
The creators of Uwingu, led by planetary scientist Alan Stern, are raising funds for astronomical and space research in this way, and encourage anyone and everyone to join the message to Mars "for as little as $5, and there is no limit to the number of messages you can send." To be included in the transmission, messages and pictures must be submitted to Uwingu's website -- by November 5, 2014.
The messages to Mars will be transmitted at a rate of 1 million bits per second, by Uwingu's Beam Me partner, satellite communications provider Universal Space Network. Nothing like this has ever been done before, so it will be a unique event, with the messages arriving at Mars after only 15 minutes of travel through the inner solar system.
Beam Me to Mars is the first-ever opportunity for people on Earth to beam personal radio pictures and messages to Mars, and it will likely raise substantial monies for scientific projects, which are currently struggling for funding in the United States.
For more on the project, see www.uwingu.com.