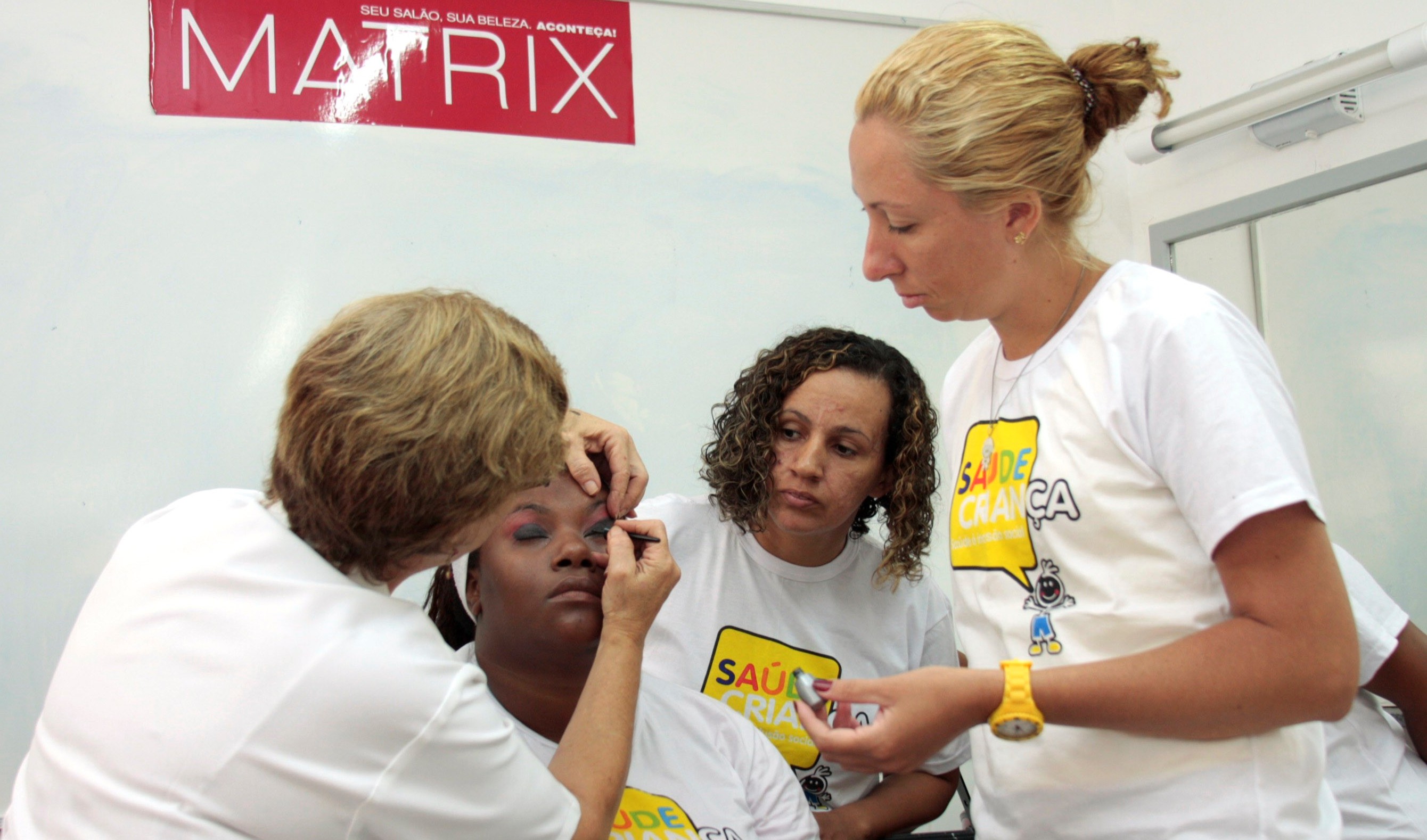 Saúde Criança offers job training classes, this one for aspiring beauticians.
RIO DE JANEIRO, Brazil -- Maria do Carmo has no husband, but has a daughter, Simone, "who is 37 but acts like she is three," she says, and is completely dependent on her. Simone was impregnated during a rape and gave birth to a son, Victor Hugo, now three, who is blind and mute, has cerebral palsy, gastroenteritis and almost died of pneumonia. This was Maria's life two years ago. The family had no government benefits even though both Maria's daughter and grandson are eligible. She wept as she told her story.
Then Saúde Crianca, a social entrepreneurial non-profit organization founded in Rio de Janeiro in 1991, came into her life. They helped her understand her rights as a citizen, and to obtain benefits for her grandson. She still needs help for her daughter but, unfortunately, the government only allows benefits for one person per family. Saúde Criança is prepared to give her job training, but Maria has no time for classes, because she has to take her grandson to the doctor everyday.
Maria is an extreme -- but not unusual -- example of the kinds of cases that Saúde Criança handles everyday in their offices in the green splendor of Parque Lage in the neighborhood of Jardim Botânico. It was created by Dr. Vera Cordeiro after several years of treating patients at Hospital da Lagoa, where she noticed that many sick children were admitted and cured only to return to the hospital later, almost always with the same disease. Dr. Cordeiro founded Saúde Criança to try to break this devastating cycle of disease-hospitalization-discharge-misery-disease.
"Poverty is not just about health," Chief Operating Officer Cristiana Velloso told me in March. "It's multi-dimensional. And the sick child is only the tip of the iceberg. So we look at the whole family.
It works like this: Through the Hospital da Lagoa, Saúde Criança (or "child health" in English) identifies children and their families living below the poverty line. Around 95 percent of these families are headed by mothers, some of whom are so depressed over their social and economic problems that they say they don't know how to do anything. They are interviewed and assessed by Saúde Criança.
Based on this information, a "family action plan" is developed for each family with objectives and indicators in five major areas: health, citizenship, housing, education and family income. To tackle these five areas, the program offers direct assistance, technical support, professional training, support programs and citizenship (with a lawyer assisting in legal issues, such as obtaining new documents, divorces, government benefits, etc.)
Every month, the mothers come into Saúde Criança headquarters for evaluations to check on the progress of the plan. Saúde Criança assists the families for about two years, an amount of time deemed necessary to solve the families' major problems and set them on a sustainable path.
Saúde Criança provides the families with tangible benefits from the start -- food, clothing, medicine, medical devices and free consultations with psychologists, psychiatrists and nutritionists. They get help in bringing their house up to minimum standards of quality, including running water, treated sewage, painted walls and a leak-proof roof. Cristiana showed me an album of before and after photos of houses Saúde Criança has fixed up that revealed stunning transformations.
However, the program demands much of the families in virtually all aspects of their lives, and some of them cannot cope. About five percent of the families drop out.
But for those who survive Saúde Criança's tough love, the rewards can be life-changing. In the 22 years of its existence, Saúde Criança has produced a 60 percent drop in hospitalizations and a 35 percent increase in family income among the 43,000 families it has helped. A new study by researchers from Georgetown University indicates that Saúde Criança families have more ideas about how to cope with illness than similar families not in the program.
Saúde Criança now has 12 public hospitals in its network and another 11 using its methodology. The city of Belo Horizonte, the capital of Minas Gerais, has adopted the methodology of Saúde Criança, and other municipalities are interested.
Saúde Criança has diversified funding that doesn't permit it to become too dependent on one or two donors. About 54 percent of its funding comes from Brazilian and international companies such as Johnson & Johnson and McKinsey & Company as well as social entrepreneur organizations like Ashoka, the Skoll Foundation and the Schwab Foundation for Social Entrepreneurship. The other 46 percent comes from individual donations.
Saúde Criança has a staff of 52 but relies heavily on volunteers -- mostly retired women or housewives from the middle and upper class. Management made a conscious decision to locate their offices in the upscale neighborhood of Jardim Botânico because it is near Hospital da Lagoa and also so Saúde Criança can ensure the wellbeing of the volunteers and give the families the chance to access a more pleasant environment outside the slums.
The focus now is on replicating the successful model in Brazil and abroad, according to this case study of Saúde Criança published by the Center for Health Market Innovations and Access International. The case study says that Saúde Criança has elaborated a replication manual that lists the seven most important guidelines for the replication process and also describes the assistance process in more detail.
Cristiana and other supporters of Saúde Criança believe that their concept can be adapted to other countries in South America and elsewhere.
The Center for Health Market Innovations has this profile of Saúde Criança on its website.