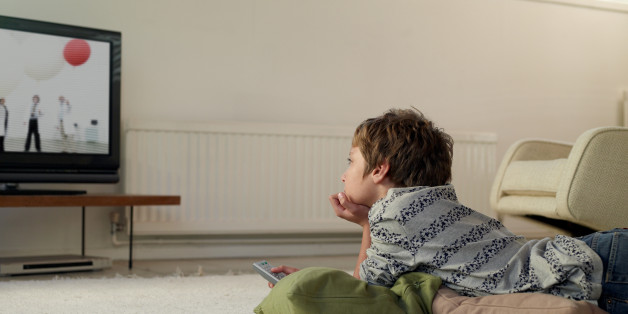 This week, the Joan Ganz Cooney Center published a fantastically rich study of children, families and media called "Learning at Home." Among other findings, it quantified something observers of the field had suspected for some time: Kids' consumption of educational content drops precipitously after age 5 (1:16 a day among 2- to 4-year-olds, :50 a day among 5- to 7-year-olds and :42 a day among 8-10-year-olds).
The research was based on parent interviews about their children's habits with TV, games, online and mobile media and "educational" was defined so as to give respondents latitude to interpret its meaning for their own families: "good for your child's learning or growth, or that teaches some type of lesson, such as an academic or social skill."
Of course, parents may misremember, or be inclined toward wishful thinking about the amount and substance of their children's time with screens. Further, the study didn't encourage parents to include learning from media beyond the explicit curriculum -- 21st Century skills like collaboration, communication, perspective-taking or lateral thinking -- or to assess the value of meta-learning -- media literacy and critical thinking skills, logical thinking, or facility with programming or technology.
It would be interesting to explore in follow-up research whether parental experience results in higher opinion of educational value for specific titles. Minecraft scored poorly, but nearly half of all parents didn't have enough experience to rate it. Video games got low marks for social skills learning; do gamer parents better see games' potential for collaboration or communication?
There are more good reasons to believe that older children are spending more time on educational media pursuits than parents realize, just not as defined by the research. As children enter the primary years, their increasing independence and broadening interests result in their pursuit of learning from media in the interest of a passion or curiosity -- resources like YouTube or Google are among kids' favorites -- supplanting consumption of packaged media designed to teach something. Interestingly, when the survey questioned parents about their own educational media use, the options provided to adults were for self-directed, connected learning -- looking up a recipe, getting health information or answering questions.
There's a further question of whether kids themselves perceive that they learn from media even when it has no educative intent. A German research institute asked 7-10 year olds which programs they learn from. Over 50% of the American boys talked about friendship and sharing lessons in "Spongebob." No one is calling that show intentionally educational, but we all make meaning from media based on our own needs.
Still, it's highly possible that older children's ratio of pure entertainment to learning media does become more skewed, especially if we look at the type of teaching content on offer to American kids. Recently, I was privileged to be a nominating juror for the international children's TV festival, PRIX JEUNESSE (full disclosure: I chair its advisory board), watching over 200 shows from around the world. I saw formats, genres and content that I'd call wildly educational, but that might not strike parents as meeting the study's definition: "good for your child's learning or growth, or that teaches some type of lesson, such as an academic or social skill."
There was a show built on videos teens made about their own lives, a series in which kids plan and build playgrounds for their communities (including using the power tools themselves), and dramas and telenovelas with embedded treatment of tweens' and teens' real concerns.
In my experience, the U.S. doesn't make shows like these. A mentor of mine -- the former head of children's programming for Danish public TV -- used to ask, "When a child turns on the TV, how do they know where they are?" How much American kids media -- whether for TV or interactive devices -- gives them any clue as to where they are, or who they are? How often do they see news or documentaries made for them?
Here's a conundrum. Most U.S. educational kids TV is curriculum-based, but in the German study I mentioned, American kids barely mentioned learning facts from TV -- the kind of educational media at the center of the Cooney Center research. German kids -- who get their own news, plus magazines and documentaries -- listed factual learning first.
When the U.S. gets anxious about children's time spent with media (and we do, more so than any other country) we pursue policies to add education, like the law requiring three hours of "educational and informational" programming from every broadcast channel. Other countries, by contrast, forge policies that support content that is closer to the audience's realities. When Australia sought to enhance children's TV, the government mandated home-produced content, but also enacted financial incentives that encouraged competition for funds and commissions. 20 years on, Australia has a reputation for high-quality "small e" educational programming.
The "three-hour rule" of the Children's Television Act provides a cautionary tale about unintended effects when policy and creative content intersect. "Educational" TV isn't necessarily "quality" TV, and while the government can demand that broadcasters offer shows with curriculum and goals, it can't enforce that they be any good, and there were many cynical efforts -- like calling "The Flintstones" or "The Jetsons" educational.
Further, today's TV environment is radically different from when the law was codified in the '90s, and few kids today seek out the E/I shows hidden in over-the-air channels' schedules. With flatlining ratings, broadcasters found they had no incentive -- financial or creative -- to invest in their E/I shows for older kids. Supply and demand entered a death spiral.
One major purpose for the U.S. law was to ensure educational content on free media; however, it's condescending and wasteful to give mediocre content to those with the fewest resources. Perhaps it's time to revisit the option of commercial broadcasters supporting public service media instead of airing unwatched programs.
For years, my mantra has been that the educational value of media has as much to do with the child's needs, interests and abilities as with the attributes of the program, game, app or website. Maybe what we currently offer isn't relevant or real for older kids, and before we pursue the report's recommendation to foster more content creation in curriculum areas parents rate as weak (e.g., science), we need to study why current offerings don't work for kids.