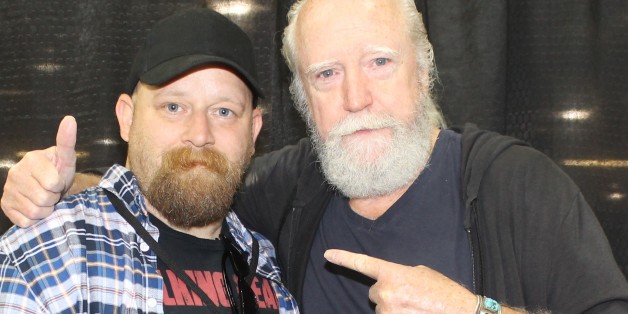 COLUMBUS, Ohio -- From across the state and beyond, geeks, heroes and the anti-heroes descended by the thousands on Columbus for the 2013 Wizard World Ohio Comic Con.
The three day fan-centered event, which started Friday and ended Sunday evening, was a celebration of comics, movies, superheroes and all other forms of cult and pop-culture entertainment.
While there was no shortage of things to gawk at - everything from scantily-clad Princess Leia's to the 2007 Playmate of the Year, Sara Jean Underwood - there is no mistaking that the cast of AMC's zombie drama "The Walking Dead" stole the show.
Scott Wilson, Chandler Riggs, Michael Rooker and Norman Reedus - all stars of "The Walking Dead" -- drew large crowds. And whenever things appeared to slow down - a rare occurrence -- Rooker would intervene. At one point, when he noticed Reedus had a longer line than his own, Rooker ran over to fans lining up to see his co-star, yelled and flipped them the middle-finger, prompting much laughter from those in attendance.
While Wilson and Riggs were less outspoken than Rooker, they showed great appreciation for the fans during the autograph sessions. There was no rush and both took the time to discuss whatever aspects of the show fans inquired about.
For instance, Wilson's character in the show, Hershel Greene, lost his leg after an unfortunate run-in with a walker. One of his fellow survivors had to chop it off in order to save him. When an inquisitive youth said he was not used to seeing Wilson with both of his legs, Wilson replied, "Well, it's sure nice to have them."
PHOTOS: (Story Continues Below)
PHOTO GALLERY
Wizard World Ohio Comic Con 2013
Other notable guests at the comic con included: Linda Blair ("The Exorcist"); Lou Ferrigno ("The Incredible Hulk"); Ernie Hudson (Ghostbusters); William Shatner ("Star Trek"); and Stan Lee, the creator of "Spider-Man."
During a Q&A session with Lee, Shatner and the fans, an attendee asked Lee who would win in a fight between the Incredible Hulk and Superman.
"I get questions like this all the time and I'm going to be honest. It depends on who is writing the story," Lee said.
An inquiring young boy in the audience then asked Shatner who his favorite person was to work with during the filming of the original "Star Trek" TV series.
"I'm not going to tell you about any of the women," Shatner said, garnering laughter from the crowd.
All in all the con was a great time for everyone. And don't fear, if you missed the one in Ohio, you've still got a chance to see your favorite celebrity. The tour will be making stops in Tennessee, Texas and several other locations. Check out the Wizard World website for details and then dust off your favorite costume.