Over the thirty years I have traveled back and forth to Africa, I had never seen the notorious Wild Dogs. One of Africa's most endangered species, they are rare sightings and even more rare is the opportunity to spend time with them due to their constant state of motion. From the beginning, the image that I have held in my mind is a wild pack of scraggy-looking 'mad dogs' wrecking havoc amid the animal kingdom. Even in their waning days, they ruthlessly ruled their territory. After years of fruitless treks to view them in the wilderness, I had given up hope of ever seeing these maundering creatures!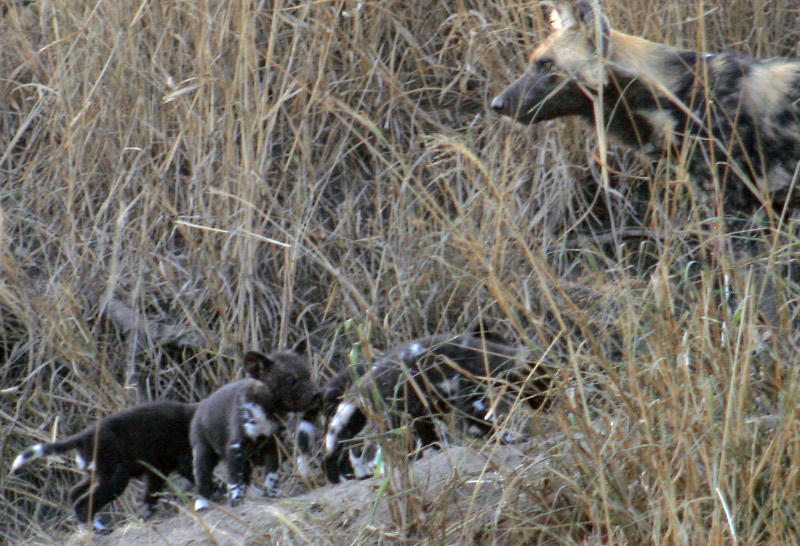 Preparing for this particular journey, I had seen reports of sporadic sightings of the Wild Dogs in the Mala Mala and Singita portions of the Saba Sands area of South Africa. With the exception of the Ethiopian Wolf, the dogs were the only animals I had yet to see in Africa but even the positive news would not allow me to believe I would actually see one this time. We arrived in the Castleton Camp of Singita, and I was immediately greeted with the news by Camp managers Kevin and Bereen that there were indeed Wild Dogs on the property and they had given birth to five to eight puppies. Despite my previous caution, I was beside myself with anticipation.
The 'golden rule' is to never insist that your ranger guide show you a particular animal since they can only show you what is there. It is not a Disneyland-type of operation where they can cue animatronic wildlife. However, I shamelessly exclaimed that I had been seeking to see Wild Dogs for three decades and that anything they could do to assist in that search would be deeply appreciated. In fact, I think I was close to begging for an opportunity. On my second day, sporting an evil grin -- or was it an apologetic grimace? -- Kevin collected us for an attempt to see the Wild Dogs.
Driving through the Singita Savannah was a total joy and I couldn't believe that maybe my moment was here. Indeed it was here and in spades!
Driving off the track into the bush, we came to a tall tree where the Wild Dogs had been recently spotted. At last, there they were sitting, resting in the shade: Four beautiful animals far from the mangy, unkempt curs that I had expected. The coats of these magnificent dogs were golden and black; they sported ears like Shepards. I fell in love with them as they rested, played and sunbathed outside their den.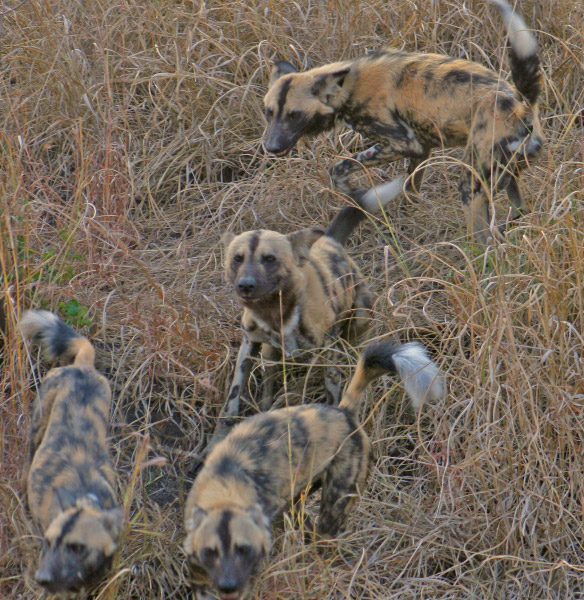 Suddenly, out of the den came five of the cutest puppies I have ever seen in my life: Dark black with heavy fur and prancing around coaxing mom to give them some food. I knew that I was witnessing a moment that most would never see. And that my search had ended with sighting beyond belief. The puppies were simply adorable. You wanted to reach down and hold them in your lap. Unfortunately, that foolish attempt would most likely leave you minus an arm.
Later in the week, we saw the Wild Dogs one more time. Getting a siting report, we hopped in the Range Rover and high-tailed it over to the area north of the watering hole arriving just in time to see the four Wild Dogs tree a leopard who was clearly scared out of its mind. Savagely snarling and barking, the dogs gathered around the tree and you suddenly understood how this pack of animals instilled fear any where in Africa. The leopard in the tree sanctuary was not about to come down and finally the dogs moved on. As soon as they were gone, the shaken cat leapt out of the tree and ran off in the opposite direction.
So, a life long dream was realized and it was one of those rare moments where the reality was better than the dream. Now were are those Ethiopian Wolfs?
Photographers taken by Steven Guy in Singita, Africa