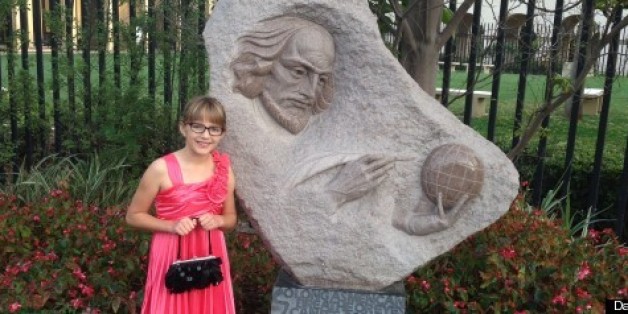 My daughter is turning 11 and showing more interest in the classics.
She's been reading the original Grimm fairy tales, and recently watched The Wizard Of Oz while listening to "Dark Side of the Moon."
She also went to an opera, "Pagliacci," with her school, but she was confused by what I told her beforehand: "You'll know the opera is over when the fat lady sings."
She came home, confused.
"A fat lady didn't sing at the end, Daddy. Just some guys rolling around."
Hmmm, I better recheck Wikipedia.
Anyway, since my daughter is on a culture kick, she recently expressed an interest in seeing something with Shakespeare. When she first mentioned it, I thought she had developed an interest in reggae, but wondered why she wasn't also interested in Robbie Shakespeare's partner, Sly Dunbar.
"She means Shakespeare, the playwright, silly," my wife helpfully explained.
Apparently, my knowledge of Shakespeare is surface level.
I know that "West Side Story" was based on "Romeo and Juliet" and that 10 Things I Hate About You was based on "Taming Of The Shrew," but I apparently was wrong about Grease 2 being inspired by "Julius Caesar."
Luckily, we live in San Diego, which, along with surf, sun and great Mexican food, has a nationally recognized theater, the Old Globe, that just happened to be presenting "The Winter's Tale," one of Shakespeare's last plays.
"Is that the same as the Colin Farrell film?" my wife asked.
"I thought so, but that's 'A Winter's Tale.'"
"Ahh."
I got tickets for the play and my daughter was excited. Yay for Dad.
But in doing the research before the play, I was a little worried.
Unlike Shakespeare's more well-known plays, "The Winter's Tale" is known for being hardcore drama in the first three acts and frivolous comedy in the final two.
It seemed like the contrast might be difficult for both of us to grasp.
Turns out, as the day came nearer, my daughter was nervous too.
"What if I don't understand what they say?"
"All the thees and thous?"
"Yeah."
"That stuff confuses me too. We'll figure it out. It'll be fun"
"OK. I'm wearing my pink dress, Daddy."
"So am I," I lied.
The play was scheduled to last around three hours so we picked a matinee.
I was happy that there were other kids there so my daughter didn't feel out of place. We were dressed up for the the-a-tah, but there were some people in shorts and flip-flops (it's San Diego, people).
The plot thrust of "The Winter's Tale" occurs when King Leontes imagines his wife cheating on him with another King. My wife and I haven't discussed adultery with our daughter, so I was wondering how she would react.
I think it just registered that the guy was overreacting. It helped that the star, Billy Campbell from the SyFy Channel show "Helix," was good at conveying crazed anger.
We were both pleasantly surprised that we were able to understand, for the most part, words first published in 1623. The play was in modern dress (which helped, although my daughter was slightly disappointed not to see the actors in pantaloons). The actors often put modern timing to their Elizabethan-era dialogue, which my daughter and I thought was cool.
I recognize Shakespeare's importance to literature and language, but some things that probably seemed like gripping drama to 17th century theatergoers seem a little creaky to modern audiences.
For instance, seemingly important scenes, like a man meeting his long-lost daughter, take place offstage. Also, characters disguise themselves in really lame costumes, but the other people onstage can't tell it's their own dad.
To be fair, Superman is able to disguise himself as Clark Kent with a pair of glasses and a comb through his hair, so I shouldn't judge.
When the play was over, my daughter was very happy to have heard Shakespeare performed live by talented actors. Before I saw the play, I was nervous on whether I could handle high culture for my daughter's sake.
Now, I know that it can be fun and enjoyable on its own terms. I'm looking forward to the next Shakespeare play.