Internships are meant to give you a glimpse of what working in a certain company and/or industry is like. But for me, my summer internship was so much more than just a glimpse. My month-long summer internship at Asia's No. 1 Startup Accelerator, the Joyful Frog Digital Incubator (JFDI) Asia was a platform for me to dive into the Asia startup scene, and at the same time, an opportunity for me to chase my dreams and become one step closer to my goal of starting something that can impact a lot of people.
What was this dream that I was chasing? Expanding the organization I had started called YouthHack to Singapore. It was back in late April when I had first received the message from a NUS high school student who wanted me to bring YouthHack to Singapore.
What better excuse to dive right into the heart of the Asia startup scene right? After deciding that we would figure out a way to do a YouthHack Singapore event, I went ahead and spent the next two weeks searching for an internship.
Luck would be on my side as a Twitter connection I had made months back with the country manager of JFDI Asia would lead me to an interview with them, and after convincing them that I could add value even though my time would be limited to one month, I was set.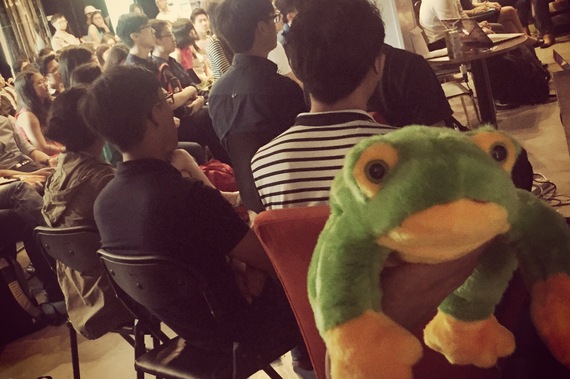 The Legendary 'Smoochy' Frog of JFDI
I wasn't sure what to expect but I was excited.
When I arrived in Singapore, I wasted no time getting to know the startup scene. My sister, who studies in Yale-NUS, had connected me to one of her Singaporean friends who would give me a tour of Block 71 and 79, industrial buildings that have been turned into startup hubs with co-working spaces and startup offices lined up floor after floor -- I was impressed.
I didn't know something like this had existed in Asia. The fun was only about to begin.
What is innovation?
I remember my second day at my internship when I was invited to grab dinner with the cofounder of JFDI, the COO and the head of corporate partnerships. It was during the 3-hour dinnertime I spent with them that I realized how fortunate I was to be interning at JFDI. Here I was sitting in on a high-level strategic meeting and gaining a deeper understanding of the business of accelerators and what it really takes to build a startup ecosystem.
As the night went on, we started talking about innovation and what it really took to create something new. I remember the cofounder of JFDI Meng Weng Wong sharing with me, "In order to create something new, you have to be willing to make-up things." This conversation then shifted to the difference between a mystery and secret. A mystery is something everyone wants to know but nobody knows, while a secret is something somebody knows but won't tell.
I was inspired.
I asked myself, is the answer to what it takes to innovate and to create a unicorn company a mystery or a secret? Have certain people figured out what it takes to start a successful startup? Why do we see repeat entrepreneurs? What secret does Silicon Valley have that we haven't unlocked?
Right then and there, I knew I had made the right choice to intern at JFDI. I was going to use this month to dig deeper and really understand this world of startups. I had been writing about entrepreneurs and founders in the past few months, but I wanted to really dig deeper and understand their deeper motivations and what it took to become a successful entrepreneur.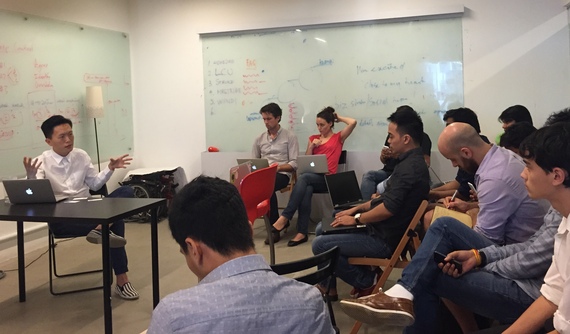 I got the opportunity to sit in all the workshops at JFDI
Best Job Ever
As a content marketing intern for JFDI, my job was to literally create content about JFDI, the programs they run, the startups they accelerate and the mentors they work with. I couldn't have asked for a better job scope. I immediately dived into my job, scheduling interviews with the founders from the current accelerate batch and the previous accelerate batch.
Once again, I had the perfect excuse to learn from the journey of these entrepreneurs, venture capitalists and startup founders. I sat in workshops in growth hacking, pitching, valuations and more.
Traction was important. Data analytics is a must. Ecommerce and Fintech are the hot industries. Mobile is growing rapidly in Asia. The words user acquisition, domain expertise, technical talent had started to become words I would hear everyday. There was no dull moment. Everyday was different.
One day I would be Skyping with one of the startup founders in Vietnam then the next day I would be interviewing one of the venture capitalists that mentored the startups at JFDI. I was spending so much time speaking with the founders at JFDI that I started to see a few common trends.
Starting a startup was harder than what most people think. There are so many factors to think about. There are so many variables involved. Yet almost all the founders I had spoken with had given up something to go on this path of being an entrepreneur.
Two weeks into my internship and I was starting to question whether the startup route was the path I would actually want to take. It seemed to be the riskiest path one could take. But in the next two weeks, I would meet hundreds of people who would bring back my optimism.
Hundreds of Startups from all over Asia
I had visited Singapore at the right time; the third week of my internship was everything a startup enthusiast could ask for--the Echelon Asia Summit, our Corporate Demo Day and Walk About SG, where all the startups open up their offices.
It was by seeing hundreds of startups from all over Asia in the two-days at Echelon in one room did I get this weird feeling, this feeling of being part of something bigger.
During the Echelon Asia Summit, I started to understand why people decide to start a startup: They believe that they have the idea and the ability to really change the world, to create something special. People were talking about disrupting industries, getting thousands, if not millions of people to use their products.
As I walked the aisles of the Echelon Asia Summit, the number of startups present overwhelmed me. You had startups ranging from mobile applications and social networking platforms to Internet of Things and FinTech. There was even a startup that 3D printed customizable braces for injuries, and a virtual reality startup that was thinking of virtual reality applications for schools, architects and more--the future was being created right there.
My optimism had come back.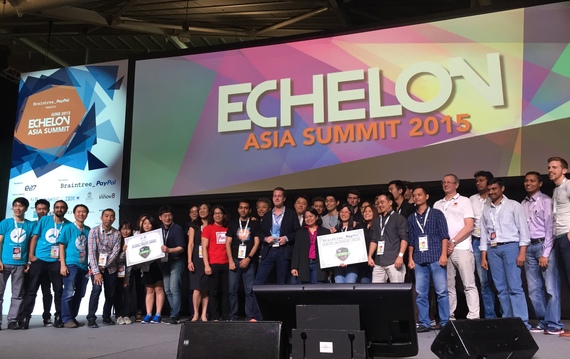 The Echelon Asia Summit Finalists
YouthHack Singapore
That week would be capped off with the main reason why I had even decided to intern in Singapore, the YouthHack event I had decided to organize. In the past four weeks leading up to the event, I had spent almost every single night, working a few more hours before I went to bed emailing students, updating the website, coordinating with our team and writing email blasts. Admittedly, I had felt burned out at times, questioning why I even worked so hard to organize these events to get more students interested in the riskiest field ever.
But for every instance where I felt like giving up, I would get a message from one of the participants saying, "I look forward to your event," or a message from one of my friends I had just met saying, "Keep up the good work. You inspire me."
Thankfully, the event was a success.
Over 100 students from schools like NTU, NUS, SMU and more had come out on a Sunday morning to hear from experienced entrepreneurs who shared their startup journeys. They then came up with their own ideas and pitched it to a panel of judges. Students had come out inspired. I had come out with a sigh of relief.
We had accomplished the impossible. Less than 6 weeks ago, YouthHack Singapore was merely an idea. I knew nobody in Singapore or the Singapore startup scene except for a few friends from university and one guy I had met in the Global Student Entrepreneurship Awards. But hundreds of emails later, we had built out a YouthHack Singapore community.
What was next? That I was unsure of.
After spending one month interning at Asia's No. 1 Startup Accelerator, diving deep into the Asia Startup Scene, meeting startup founders from all over Asia, and accomplishing my goal of holding a YouthHack event in Singapore, I had gotten accustomed to this fast-paced lifestyle of the startup world--a world where you're constantly pushing and pushing, constantly thinking about what's next.
One opportunity leads to the next. Once you've hit the right buttons, you have to be ready to keep up with the pace or you'll miss your opportunity.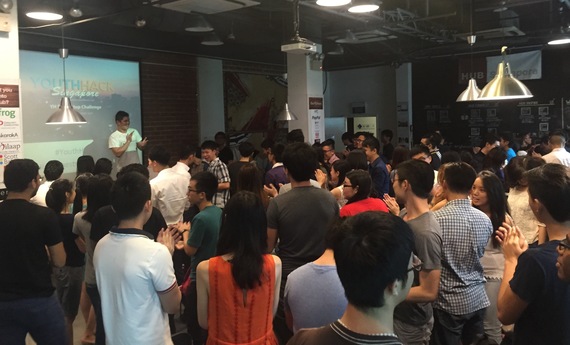 YouthHack Singapore
The Month After
Right after my one month in Singapore, I was back in Manila organizing and preparing for two more YouthHack events. One sleepless weekend in Microsoft and one event was done. Two weeks later and we held our largest event yet. Over 200 participants, 4 keynote speakers, 7 workshops and one startup fair--we had turned the impossible into reality once again.
Now, I'm headed to Hong Kong for the RISE Conference, and later on to organize YouthHack Hong Kong. It sounds really exciting. But the reality is that it's really tiring as well.
Sometimes, I wish that life could slow down a bit, that I could have more hours in my days. Sometimes I ask myself, am I growing up too quickly?
My to-do list never seems to run out. Every time I finish something, something new pops up. It's exciting but it's also a challenge. Suddenly, we have people who want to bring YouthHack to their countries--Nigeria, Kenya, Thailand. Is YouthHack ready for this? More importantly, am I ready for this?
Why do we do what we do?
But somehow, as I finish writing this article and as I land in Hong Kong, I think I now have a deeper understanding of this whole culture of startups, and why startup founders go through all the struggles, challenges, hard moments and sacrifices even when there's such a high chance that they'll end up failing.
Our time is limited in this world but we all dream of creating something bigger than ourselves. We want millions of people to use the applications we build. We want to create the next Apple, Facebook and Google. However, the chances are so slim that sometimes, it seems impossible. But why do we still dream to do so? Why do so many people now want to become entrepreneurs?
I try thinking about the answer. Thirty minutes left before I land in Hong Kong and I want to finish this article before the next roller coaster ride begins. I start browsing through photos I had taken during my one-month stay in Singapore, hoping to find the answer. Then I realize...
It's about the journey.
I had finally gotten time to let the journey sink in. I don't think I would've spent the last two months any other way. I had gotten the opportunity to meet people from all over Asia. I was pushed out of my comfort zone as I travelled around Singapore, made new friends and worked towards creating a YouthHack community from scratch. But it was more than just that.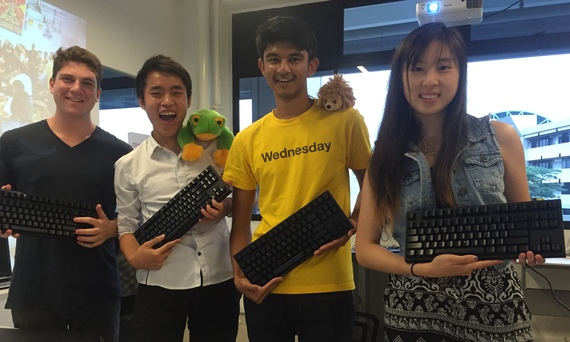 With my fellow interns at JFDI
Experiences and memories that last forever
Those nights I spent with friends eating in Hawker centers, trying Singaporean cuisine, exploring the suburbs of Singapore were irreplaceable nights--authentic experiences that I wouldn't have gotten had I not been in the startup world. Those weekends and weeknights spent hanging out with my fellow interns, grabbing dinner with old and new friends, dancing at the Singapore Stock Exchange, going to beach parties and celebrating the 4th of July were the ones that made that one month in Singapore more than just an internship or startup immersion--it was fun.
Digging deeper, these opportunities and experiences were only made possible because I had chosen to take this path--the path of a startup enthusiast, dreamer, hustler and 'wannapreneur'. I want to be an entrepreneur and hopefully one day, I'll be a successful one. But right now, I'm just going to enjoy the ride and cherish every moment I have left before I go back to university three weeks from now.
To everyone I've met in the past two months, thank you for all the memories. We will soon cross paths again maybe in the next two days at the RISE Conference or maybe in the next week, month or year -- but until then, enjoy the journey and keep hustling!
My internship at JFDI Asia allowed me to truly understand what life is like as an entrepreneur. It's hard. It's challenging. There are so many ups and downs. You'll work harder than you ever have. You'll struggle. You'll get rejected. You'll face competition. You'll fail. Few startups succeed. Even fewer become like Apple or Facebook. But the journey one takes in trying to create something that can disrupt the status quo and impact society is worth it. I don't think I've worked harder in my whole life than in the past two months but I've also never had this much fun. I can't wait to see where this startup journey leads me to next.
---About the Author---
David Ongchoco is a student entrepreneur and avid storyteller from the Philippines studying at the University of Pennsylvania majoring in what he likes to call, LIFE. He is currently working on expanding his nonprofit organization YouthHack. It's David's goal to make an impact in the lives of as many people possible while constantly learning new things every single day. David can be reached at david@youthhack.net.