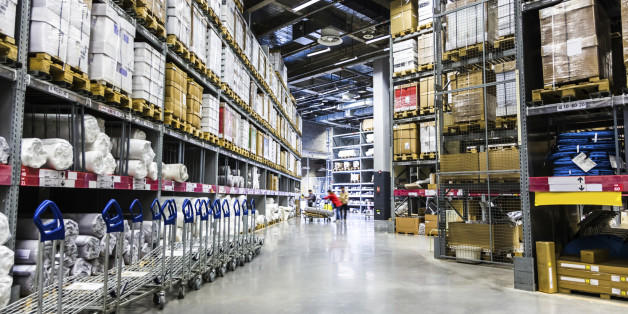 Startup Insider is a series of articles with the goal of helping aspiring founders and entrepreneurs understand the ins and outs of starting a startup. We hope to dig deeper and showcase stories, advice and lessons from founders, investors and other key players in the growing startup ecosystem all over the world. You can sign up to stay up to date with this series here.

The Chinese market has been a rapidly growing one with foreigners flocking to the country to get involved. For Steve Suh, his experience in China after spending the first half of his life in Philadelphia would be pivotal in leading him to start Floship, a leading provider of international fulfillment, recognized for fast and cost-effective worldwide shipping services.
Floship Founder and CEO Steve Suh was one of the entrepreneurs I got to speak with at the RISE Conference where over 500 startups from all over Asia came together. Steve shared with me his journey from the United States to Asia with the goal of starting a business in the rapidly growing region.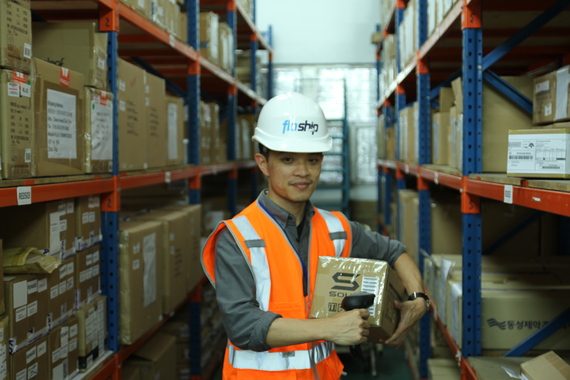 Steve Suh has spent the last few years immersing himself in the shipping business
But how did it all start for Steve?

Growing up in Philadelphia as a Korean-American, Steve always wanted an international experience. Seeing China become one of the top economies in the world, Steve decided to take a leap of faith and go to China, with a goal of learning more about startups and becoming an entrepreneur.
He shared, "I wanted to understand how Chinese people think and do business. If I'm going to do business with Chinese people, I want to know how they operate. I wanted to understand the culture."
Despite barely knowing how to speak the native language, Steve would network his butt off in China. All this networking would eventually pay off, as Steve would land a job in MyLuxBox, a Sequoia-backed company.
This would be a valuable experience for Steve as he got the opportunity to learn how to work with Chinese people and understand what they cared about. He shared, "Chinese people really care about the relationships. You don't want to be this outsider guy who just comes to work.. You're not just learning the business but also the culture."
Filling the gap in eCommerce and shipping

After MyLuxBox had a successful exit, Steve decided to join 4PX, where he got to really immerse himself in the eCommerce industry and understand the Chinese habits of shipping from China to the rest of the world.
It was at 4Px where Steve would also meet his mentor who is now the managing director of Channel Advisor. Steve shared, "He trained me at 4PX. He gave me a great image and eventually I was reporting to the CEO of 4PX."
But Steve still had a goal of becoming an entrepreneur and a chance dinner with different representatives in the eCommerce industry would lead him into meeting his eventual cofounder.
He shared, "I was working on a drop-shipping platform and he was doing drop-shipping as well. He was doing this fulfillment thing on the side and that was what I was thinking about as well, providing great retail service to merchants all over the world that are manufacturing in china and using Hong Kong as a central distribution point to ship things all over the world."
This is where Floship was born.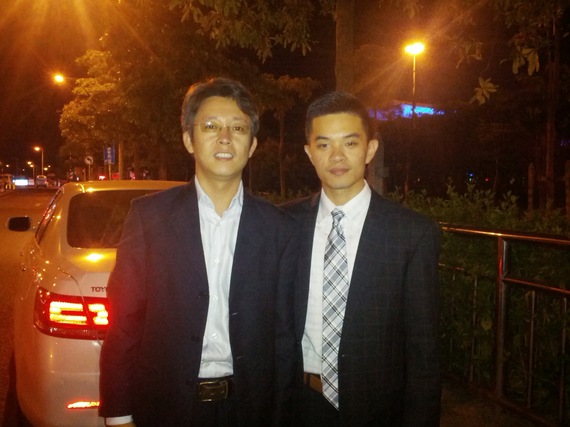 Steve with his boss and mentor back in 4PX
Hire people who are as driven as you

While Floship has been making money since day 1, Steve emphasized how building the team has been one of the biggest challenges.
He shared, "Being in Hong Kong, developers are really hard to come by. They usually migrate into Silicon Valley but we were fortunate; we had my cousin who was a software engineer in Etsy and I had no idea she'd be interested in working with us considering that I was all the way in Hong Kong but when we presented the idea to her, she decided to join us."
Steve also recalls moments during the Christmas season when they would have to stay overtime just to finish the shipments.
He shared, "There were so many shipments going out last December. Even I had to stay up until overnight just trying to package boxes and ship it to the customers. There was even a time when the team was up 2am 3am in the morning printing out shipping labels for a key client that did a Kickstarter campaign, which had 35,000 orders off the bat. Imagine doing that in 3-5 days."
Given the importance of finding members who were willing to put in the extra hours for the growth and success of the company, Steve has put a big emphasis in finding people with the right attitude.
He shared, "There's nothing more that I look for in a candidate than attitude. Does the person really want the job and does he / she possess a confident spirit to get the job done no matter what challenge is put in front of them? Since I have a lot of drive, it's not tough to find people that are equally as driven, if not more motivated than you."
Entrepreneurship is a Mental Battle

Entrepreneurship is a long journey and there were times when Steve had to wonder and ask himself if this venture was really going to work out. He shared, "I believe that about 80 percent of building a lasting startup is mental, while the other 20 percent depends on the skill-sets and decisions you make for the business."
He added, "It takes a lot of that perseverance and going to work every single day and just making sure that your subordinates are on the same page and are continually motivated. You have to be mentally tough."
While entrepreneurship is a roller coaster ride, Steve enjoys being able to take ownership over the decisions he has to make. However, he shared that entrepreneurs don't have much flexibility as most people think. He shared, "As an entrepreneur, you're constantly working every single day, every single hour on the business."
But being an entrepreneur has given Steve the opportunity to grow as a leader, "I think the beauty in entrepreneurship is being a leader. I love being part of the team and helping them become better people as well. As an entrepreneur, you are able to shape the culture of your company and make it your own."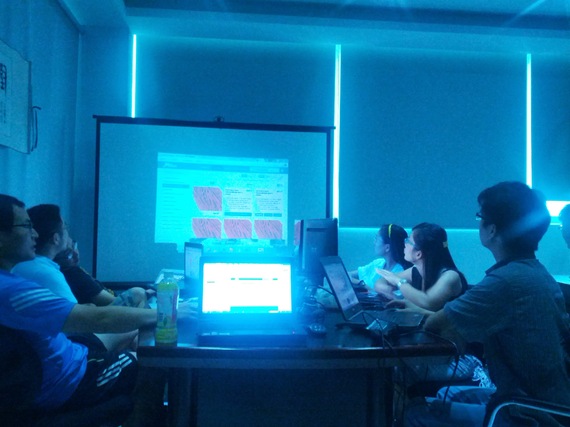 The Floship team spending extra hours in the office working on a new product feature
---About the Author---
David Ongchoco is a student entrepreneur and avid storyteller from the Philippines studying at the University of Pennsylvania majoring in what he likes to call, LIFE. He is currently working on expanding his for-purpose organization YouthHack. It's David's goal to make an impact in the lives of as many people possible while constantly learning new things every single day. If you have any interesting startup stories, David can be reached via Twitter @DOitChoco. You can also email startupinsider.official@gmail.com.