Young and Entrepreneurial is a series of articles where I've decided to interview and write about young individuals disrupting the world. By sharing the stories of these individuals, I hope to inspire youth from all over the world to follow their passions, to take the road less travelled and to disrupt the status quo. This is the 17th post in the Young and Entrepreneurial Series. To read previous features and to stay up to date with future features, like our Facebook page here.

---
It's really amazing to see how transformative entrepreneurship can be and the lessons one can learn from starting a business. This was the case for high school student entrepreneur Yasmeen Haider, the founder of Cake Pop Place and the winner of the Global Student Entrepreneurship Awards (GSEA) High School Division.
Before my interview with Yasmeen, I got to watch her presentation at the GSEA Finals last April in Washington, D.C., and this is how she started it, "I think entrepreneurs are pretty hungry people." She then quoted Roy Ash saying, "An entrepreneur tends to bite off a little more than he can chew hoping he will quickly learn how to chew it."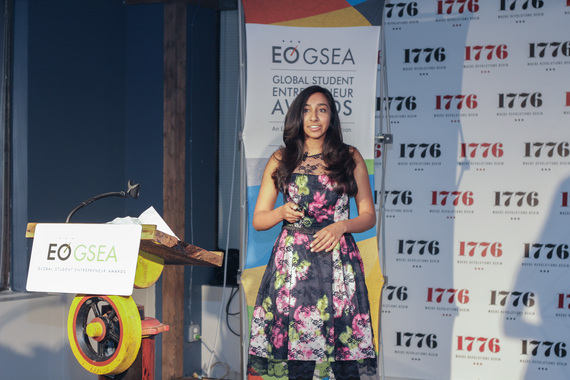 Yasmeen presenting at the Global Student Entrepreneur Awards
It was the perfect opening to what would be a presentation that would get a lot of the entrepreneurs at the GSEA Finals hungry after Yasmeen presented the different Cake Pop designs (you can view the designs here) she has made in the past 4 years, ranging from animal cake pops to graduation caps to logos of companies.
It was back in 2011 when Yasmeen was in 9th grade when she first started Cake Pop Place, a specialty business focused on making cake pops, which are cakes on sticks. Cake Pop Place offers exceptional taste, custom designs and artisan quality.
She recalled, "It came out because of a Spanish Immersion Trip my school offered that I wanted to go to. I needed to raise enough money to go because it was a very expensive trip." She added, "I learned a lot about patience. It comes from the first two months when I first tried to make cake pops and it would break for the first two months to standing in a farmers market for three hours and only sell two cake pops."
But Yasmeen enjoyed making Cake Pop's so much and seeing the reactions of her customers that she decided to continue even after her Spanish Immersion Trip was over.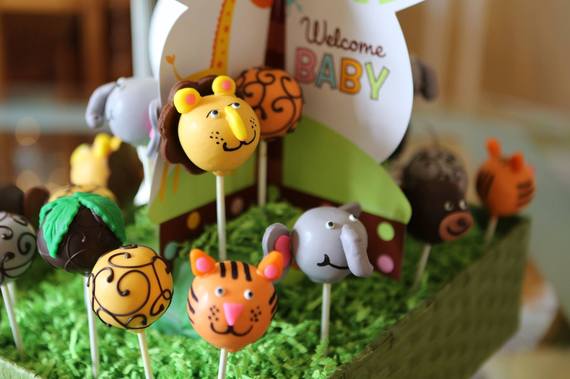 Animal Cake Pops!
Stepping out of her comfort zone
Yasmeen shared how starting Cake Pop Place really helped her step out of her comfort zone. "It was a great experience for me because I was forced to speak to strangers that I didn't really know. I was incredibly shy but it really helped me put myself out there. It was a big step out of my comfort zone but it has really helped me become the person I am today."
In 2012, Yasmeen decided to make her business official and created a logo and website. She would also start selling at farmer's markets. She shared, "I would stand out there for four hours on a Thursday evening and eight hours on a Saturday morning."
This sacrifice would pay off as Yasmeen started to get more traction, which allowed her to move from selling in farmer's markets to selling in bigger festivals and shows. She shared, "These festivals were better time wise and more affordable. I could also meet a larger audience in a short amount of time. These festivals and shows would be around 3 days and I would meet anywhere from 300-1,000 people."
However, starting a business didn't come without its challenges.
The "you're too young" dilemma
One of the challenges Yasmeen faced when she was a 15 year old trying to close deals with customers was being too young. She recalled her experience dealing with a coffee shop owner who tried to take advantage of her youth. She shared, "The owner of the coffee shop and I discussed a deal, where I was going to supply every week then suddenly he tried to lower the price for the cake pops I was selling."
She added, "There came to a point where I had to confront him. He eventually started to say things like you're so young, you don't know what you're doing." Fortunately, Yasmeen was able to resolve this with the help of her parents and get the coffee shop owner to pay what he owed her.
The key takeaway from this experience? It's really important to have a support structure especially when you're young and trying to start a business. She shared, "It's very difficult to be a student entrepreneur. When my parents see me at 2 in the morning and they tell me to keep going. Sometimes, I do need that push. Just seeing people around me that are supportive helps keep me running. After GSEA, I now have all this support and network as well."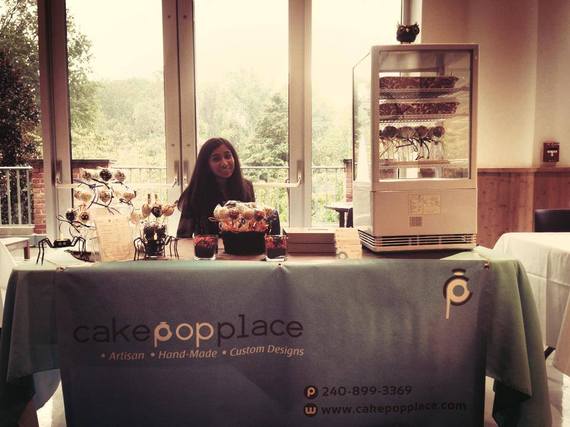 Yasmeen selling at the Cake Pop Place booth at one of the festival events she attended
Favorite moments
Despite these challenges and the tough balancing act of being a student entrepreneur, Yasmeen enjoys seeing people eat her cake pops especially when she goes to community events and donates cake pops to partner organizations.
She shared, "When I make cake pops, I generally make extras just in case. However, if they don't sell, I don't want them to go to waste so I donate them to a children's hospital. When you bring in these bouquet of cake pops and they're all decorated and it makes the kids all happy, that's usually one of the most impactful moments."
Yasmeen also won't forget her first commercial order where she had to make 500 cake pops. She even initially thought that her friend was pranking her. She shared, "A business called up and their budget was in the thousands. It was definitely interesting because they were looking to give the cake pops to investors."
With this, Yasmeen had to take a day off from school, and spent her free time that entire week finishing the order.
The Global Student Entrepreneurship Awards
Yasmeen shared with me how winning the Global Student Entrepreneurship Awards and attending the global finals where she got to hear the pitch of the college finalists really helped her with her college decision and what she wanted to do when she graduated high school -- "I want to continue being an entrepreneur. Entrepreneurship is what I'm doing for the rest of my life."
But how did it all start? Yasmeen recalled looking for college scholarships for entrepreneurial students when she came across the Global Student Entrepreneurship Awards and decided to just apply for it. After filling in a lengthy application and going through an interview, Yasmeen didn't know what to expect.
She shared, "They called me a day early. And I thought oh know and they're telling me I didn't make it. But when they told me I won, I started crying. I was in the pool on vacation. The people next to me were just like what just happened." And the rest is history.
Yasmeen had the time of her life in the global finals where she got to interact with entrepreneurs from all over the world. While initially Yasmeen thought that the other competitors wouldn't take her seriously because she was a high school student, she was amazed by the openness of the entrepreneurship community.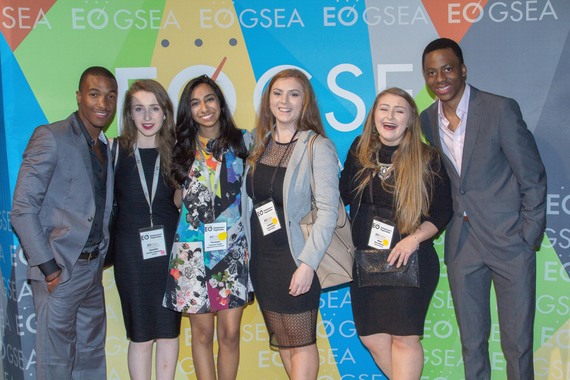 Photobooth at the GSEA Finals with the other finalists!
She shared, "Their reactions were pretty great. That's the great thing I found out about the entrepreneurship community, everyone treats everyone equally. They're always willing to help out. I had older judges going to me and saying, 'Oh you have this new idea, let me know, I'm willing to invest.'"
All this energy from meeting fellow entrepreneurs has gotten Yasmeen even more excited for the next chapter of her life--College at the University of Maryland's Entrepreneurship Program.
Future Plans
Yasmeen hopes to create an actual shop model for Cake Pop Place in the future. She explained, "Right now, I'm running out of my house. I have an idea, and I have a base sort of plan. I'm just trying to find the money to get the business self-sustaining. My future idea for the business is a modern cake pop lounge, where you can go and have a quiet place and other places where you can go talk and hang with your friends."
It's been such a surreal journey for Yasmeen so far, but this is exactly what she loves about entrepreneurship. She ended our interview by saying, "There are dreamers and doers. Then there are entrepreneurs. We're both of them. We like to dream, we like to take risk but we also like to take action."
You can visit the Cake Pop Place website here for more information.
---About the Author---
David Ongchoco is a student entrepreneur and avid storyteller from the Philippines studying at the University of Pennsylvania majoring in what he likes to call, LIFE. He is currently working on expanding his nonprofit organization YouthHack. It's David's goal to make an impact in the lives of as many people possible while constantly learning new things every single day. David can be reached at david.ongchoco@gmail.com