This article is part of the Young & Entrepreneurial series that features young startup founders and entrepreneurs. You can see past features here. To stay up to date with future posts, sign-up here.
For most entrepreneurs, the Internet and technology allows them to solve problems they come across. However, for some entrepreneurs like Marcin Kleczynski, the Internet and technology becomes the source of the problem one decides to take on. It was back when Marcin was 13 years old when he got his parents computer infected with malware because of a pirated video game.
Frustrated by the process he had to go through in order to remove the malware, Marcin decided to learn how to make the process of removing malware faster. This would lead to the creation of Malwarebytes.
He shared, "I didn't know what to do. I went online and found a community of people who were helping people get rid of malware manually. It took 3 days, over 30 steps and 40 different tools. The process was so brutal that I wanted to help people automate this process."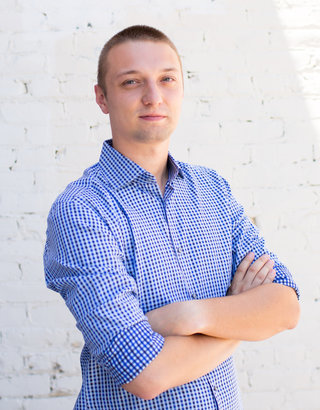 Malwarebytes CEO Marcin
This is where Marcin's journey would begin.
Starting Out As A Teenage Programmer And Entrepreneur
The first thing Marcin did was buy a programming book to start learning how to automate certain processes and build little freeware applications. In the same malware forums he was hanging out in, Marcin would also meet a guy named Bruce who would end up becoming his cofounder.
They set out to solve two problems: Fixing unhealthy computers and protecting healthy computers.
In 2008, they would go on to launch the first version of their product, and by the end of the year, they earned over half a million dollars. Marcin shared, "We were simply communicating on Skype and chat and it was very anti-climactic the first time we met at the end of 2008."
On the same year, Marcin started his freshman year at the University of Illinois where he had to run the company from his dorm room, fraternity house and apartment in the next few years. He shared, "The company grew from half a million to a million to 3 million to 10 million to 17 million through my college career."
Early Challenges as a College Entrepreneur
Some of the early challenges Marcin faced early on was earning the respect of his team as a teen entrepreneur. He shared, "The passion really got them infected. Especially when I'm caffeinated, I can talk about security and malware like nobody else."
While it was tough telling people older than him what to do, Marcin was lucky that all the people who joined his team early on were extremely passionate about security.
Marcin shared, "I was hiring from the support forums and community. It was one of the easier hires because they were volunteering already and now I was offering to pay them to do what they were doing for free already."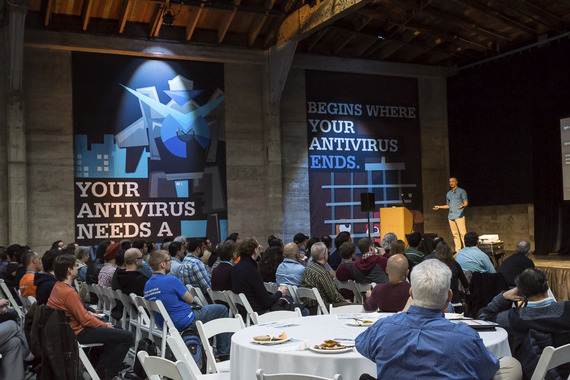 Marcin giving a talk
Balancing College Life
One of the challenges many college entrepreneurs face is balancing the demands of being a student and entrepreneur. While people initially thought Marcin didn't sleep during college, he actually did the opposite.
He shared, "I actually got 6-7 hours of sleep each night and I still got to go out with friends. I think this was far more important than sitting down 14 hours a day because at some point, there's a theoretical yield on how much return you can actually get from working for so long."
Marcin also shared how pursuing a computer science degree gave him more flexibility since his professors at the University of Illinois would upload the lectures and videos online, allowing Marcin to watch them in his dorm.
Growth of Malwarebytes
Marcin attributes the growth of Malwarebytes to the brokenness of the anti-virus industry. He shared, "These are companies that built their anti-virus in the late 80s. The amount of hacks and breaches has been growing exponentially as well."
Malwarebytes also started out with a freemium model where consumers could get the consumer product that would nuke all the malware for free. Then many of these initial consumers ended up converting to the paid version, which is protection.
The product was so useful that word of mouth got around and before Marcin and his team knew it, IT guys in big tech companies started using their product. This led to Malwarebytes coming up with an enterprise version.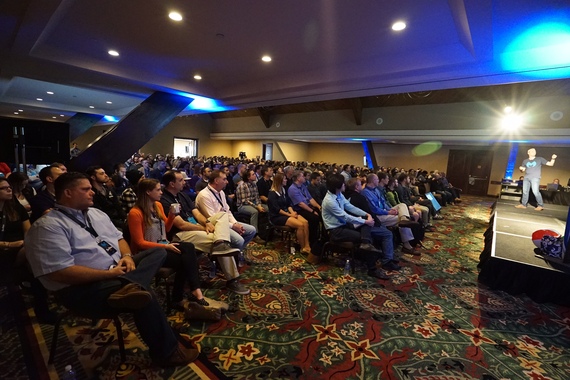 Malwarebytes Summit 2016
Global Expansion
Along with this rapid growth was the change in Marcin's role as CEO and a hiring spree that happened this past year.
As a company scales, the CEO's role evolves, and this was a challenge Marcin had to overcome. He shared, "I had a tough time letting go. I programmed the first version of the software so giving up the programming stuff to focus on the business was really tough for me."
However, Marcin shares how he's now in a much better position where you can spend time with his team and executing the vision. He shared, "I had to take a leap of faith and trust that I hired the right people who could exemplify our vision."
Hiring over 180 employees in 2015, Marcin has learned a few things about hiring the right people. He added, "It was tough to hire this amount of people but the nice thing was that most of these people came through referrals which means they've worked with somebody in the company in the past."
Marcin believes that he can trust these new hires because A players hire A players. He shared, "We try to create a company where referrals happen because nobody is going to refer somebody to a company that they don't enjoy working at."
To make sure that the company culture is still maintained, Malwarebytes does an all team summit each year where they fly every single employee from all their offices to one area. He shared his experience when they first did this 2 years ago, "This was the first time I saw some of the employees who have been working for me for 5 years already and that was just mind-blowing. It isn't cheap but it's so valuable because so many great ideas cross pollinate and people get to meet each other for the first time and put a face to the name."
'It can take years for your idea to catch on and make money'
Marcin's biggest advice to entrepreneurs is to be patient and persistent. He shared, "I've been at this for a long time now. The first idea I had for the product was 2004 and we didn't see a dollar until 4.5 years later. We could've given up so many times in the 4.5 years and we wouldn't be where we are today."
You can learn more about Malwarebytes here.
--- About the author ---
David Ongchoco is a student entrepreneur and avid storyteller from the Philippines studying at the University of Pennsylvania majoring in what he likes to call, LIFE. He is currently working on expanding his for-purpose organization YouthHack. It's David's goal to make an impact in the lives of as many people possible while constantly learning new things every single day. If you have any interesting startup stories, David can be reached via Twitter @DOitChoco. You can also email him at david@youthhack.net.