Young and Entrepreneurial is a series of articles where I've decided to interview and write about young individuals disrupting the world, whether it's through entrepreneurship, non-profit work, intrapreneurship or singing, dancing, writing or by just doing something innovative that impacts the lives of many people. These young individuals use their entrepreneurial mindset to get things done. By sharing the stories of these individuals, I hope to inspire youth from all over the world to follow their passions, to take the road less travelled and to disrupt the status quo. This is the 13th post in the Young and Entrepreneurial Series. To read previous features and to stay up to date with future features, like our Facebook page here.

---
With the demand for Computer Science (CS) graduates rising, a lot of CS students have a choice, whether to work for a big and established tech company or take the plunge in a startup or build your own startup. For 25-year-old University of Michigan Computer Science graduate Brian Clark, he would first start out in corporate life before deciding to take the leap of faith two weeks before his two-year contract with General Electric was over.
Fast-forward a year and a half later and Brian has won multiple hackathons and is working on his third startup idea called LinkTexting, which helps convert desktop visitors into app downloads, generating revenue since day one. Along the way, Brian has learned his fair share of lessons that he shared with me during our interview.
The Decision to leave General Electric

While Brian explained how he enjoyed working for General Electric as part of the IT Leadership Rotation Program right out of college, the corporate life eventually started feeling too slow for him. He shared, "I wasn't really learning a lot anymore during the second year. This is when I got the startup itch to do something on my own."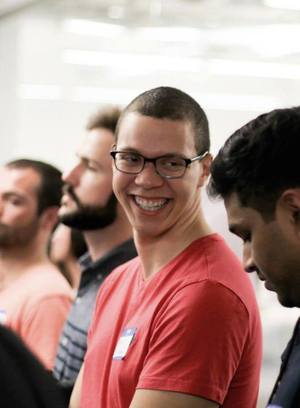 After he and his coworker ended up winning a startup competition hosted by the NewME accelerator, Brian and his cofounder decided to take the plunge and go to Silicon Valley to work on their winning idea. Brian along with 4 other cofounders had ended up building a widget for IOS applications where you could have a paint bar and paint on applications.
The venture would end up failing due to a few reasons. Brian shared, "It was too many cooks in the kitchen where nobody had enough to do early on for the company to go further. We weren't really familiar with how startups worked. We were mostly developers. Things like building one specific tool really well wasn't something we did. Instead of just focusing on one widget, we started building multiple things."
'Pivoting to Vue Analytics'

The team ended up trying to do too much and take on the big companies without really knowing what they were doing. The team decided to move on in January 2014, and Brian decided to move to his friend's house, without any money left. Luckily, it was perfect timing - the Launch Festival, a hackathon with more than $100,000 in investment money was just right around the corner.
Brian shared, "I ended up winning first place for my idea, Vue Analytics. It was a pivot of the first business. What I built in the hackathon was an in app mobile analytics platform where you (developers) could understand their users directly through the app. We built out the initial version and started launching to users."
However, Brian and his team members didn't know that this was a crowded space with the likes of Inercom and MixPanel already dominating the space. He shared, "We didn't do our homework on that and we weren't able to move fast enough to differentiate ourselves."
The Birth of LinkTexting

Around that same time, Kumar Thangudu, Brian's roommate at a hacker building had come up to him with an idea to work on for a few days. While Brian initially turned down his Kumar's offer to work on it together, he ended up agreeing to work with him with an agreement that it would be branded as powered by Vue Analytics.
Before they knew it, LinkTexting was generating paying users and people just kept signing up on LinkTexting. After getting posted on ProductHunt and getting hundreds of upvotes, LinkTexting was growing exponentially which led Brian to shut down Vue and just focus on LinkTexting with Kumar.
He shared, "We're running and profitable right now. We're working with a few hundred applications right now. Meerkat is using us. MSNBC is using us. For the first time ever, I've found a digital business. I've seen real growth."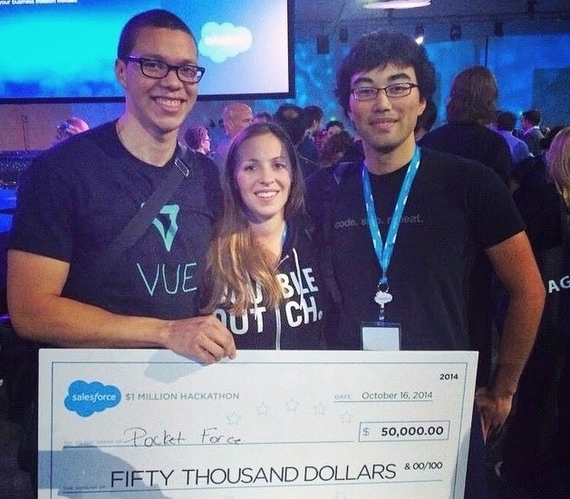 Brian and his team at the SalesForce hackathon
Prolific Hackathon WInner

In between all this, Brian had won over $150,000 through hackathons (you can read more about the specifics in Brian's Medium blog post here). This is where he got the funds that kept him going despite his failed startup ventures. He shared his winning formula, "You have to understand what the judges are looking for if you want to win. Try starting out with how you will pitch your idea then based on that, build your product backwards. Don't build anything that isn't being pitched."
Brian also emphasized the beauty in knowing how to code, "It really opens up your ability to try a lot of things. If you have an idea, if you know how to program just a little bit, you can spin up a very basic version of what your idea is. These things can be spun up in a couple of weeks. Just being able to do that quickly on your own is extremely empowering. "
Given this, Brian has been involved with a non-profit organization called Mission Fit , which helps middle school and high school students learn to code, ever since he moved to San Francisco. His friend Tyson had this idea of helping middle and high school students learn how to code. Brian decided to jump in and teach the students during his free time.
Given the number of hackathons he has been to, Brian has seen all types of hacks. However his favorite hack will still be the talking Teddy Bear his team built that could read to children. He shared, "I just love hackathons. Coding for 23, 24 hours straight then getting to pitch on stage in front of a lot of people is just a crazy experience."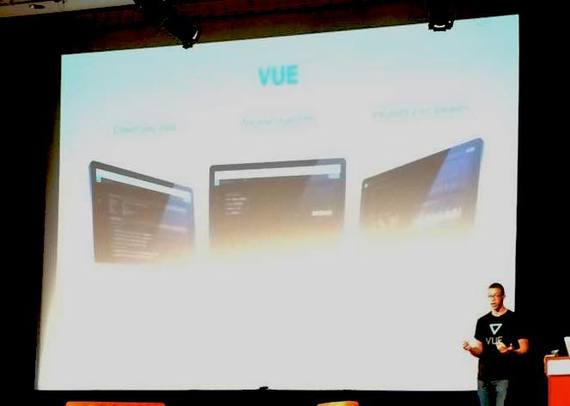 Life as an Entrepreneur

Brian shared the best thing about being an entrepreneurship, "It's just about being really challenged. You put yourself in a position where you can grow and learn. I'm just really trying to build up my sales, marketing, business development skills. I just never really got this opportunity before in GE as an IT guy."
Having shipped numerous products and applications, Brian is a big fan of the lean startup model. He shared, "Usually the first answer isn't "go build your product". An example of that is a friend of mine wanted to do something in the AirBnb for offices space. Rather than build an entire platform, get an excel spreadsheet and manually match them. Whether it's pretty or not, if you're able to solve a person's core problem, you will sell be able to sell to them. Build your landing page then build your first version of a product."
Brian's advice to young entrepreneurs was, "You're not going to know what you want to do until you realize what it's actually really like. I didn't really really know what it was like to start a startup. But one thing I would say is to pick something you want to be known for. Then start working hard and getting known for that one thing really well."
One thing is for sure, Brian is now known for being able to ship prototypes of ideas over a weekend after winning one hackathon after the other in the past year. You can head over to his Medium post here to read more about that.
*This is the 13th post in the Young and Entrepreneurial Series. To read previous features and to stay up to date with future features, like our Facebook page here. You can also help me figure out who I should feature next by nominating a "Young and Entrepreneurial" person here.
---About the Author---
David Ongchoco is a student entrepreneur and avid storyteller from the Philippines studying at the University of Pennsylvania majoring in what he likes to call, LIFE. He is currently working on expanding his nonprofit organization YouthHack and social impact startup ThirdEye. It's David's goal to make an impact in the lives of as many people possible while constantly learning new things every single day. David can be reached at david.ongchoco@gmail.com