... In which I cull band names from the internet and make wild guesses about the bands. This week I set my shoddy, unreliable sights on two bands names I discovered on Twitter.
Band Name 1: The Cringe
When The Cringe showed up on my Twitter feed, I thought someone was messing with me. In this post-postmodern age of needless complexity, could there really be a group of musicians so unself-conscious as to be satisfied identifying themselves with such raw brevity? No, there could not.
The Cringe was a 1980s London Punk outfit who toured the U.S. in '85, lifted the wrong Delorean from the streets of Brooklyn one night and never made it back to the tour bus. After an all night, drug-addled joy ride they made their way to the Northside address of a storied smack dealer only to find the door answered by a mild mannered micro brewer named Derrick. Ever the quick study, Derrick promptly downloaded Back to the Future from iTunes (remastered 30th anniversary edition), sat the boys down in front of the TV and explained that even in 2015, plutonium was hard to come by.
With Derrick as their de facto manager, The Cringe is now working the club circuit trying to raise enough cash to buy the fuel that will get them back to '85. Their wide-reaching social media campaign is part of an effort to lay low by appearing contemporary. If you catch them live don't tell them you know. History itself is at stake.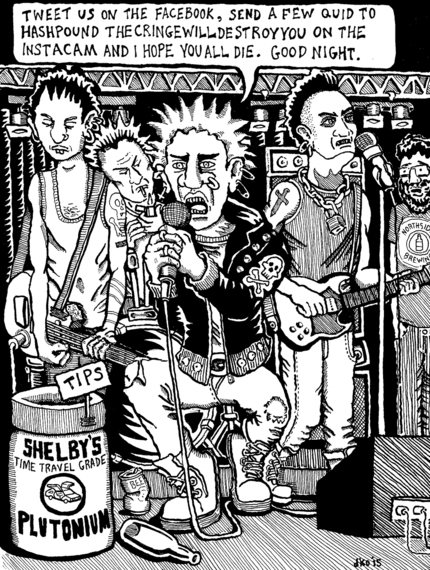 Band Name 2: The Values
It may be that I'm being too easily taken in by the lure of obvious word association but when I consider The Values, the idea of family keeps coming to mind. There is also a certain solemnity about the word "values", a nod to some primal form of ethics that suggests to me we're not dealing with a David Cassidy gleeful song and dance sort of family, but rather a ragtag band of individuals bound together by a constellation of vows and relationships that may or may not be officially recognized by the state.
Like the Arcade Fire and the Magnetic Zeros, The Values, I believe, are situated comfortably within that cross section of the scene that is pushing hard to bring the aesthetics and the disquieting energy of an Appalachian bible cult to the forefront of the music industry. At any given time there are no less than nine people in this band though at every show and in each photo the lineup appears to change. My personal belief is that these changes are based on the dream cycles of Wes Anderson.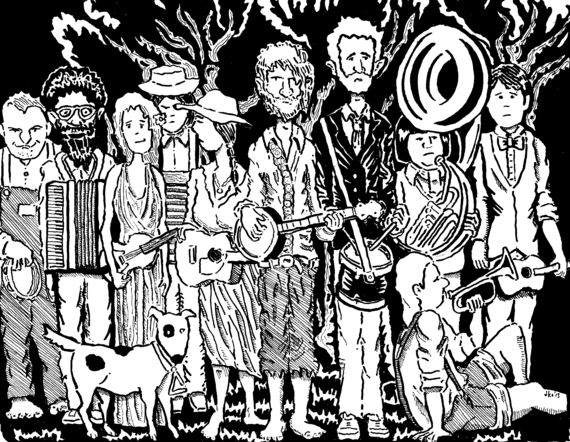 Corrections from last time:
Bro Safari is not a pack of bratty hard rockers from Williamsburg, but an EDM project out of Atlanta.
Brooklyn Moron Grade: C
Sex Prisoner is not a New York based electro-art duo but a hardcore band from Tucson, Arizona.
Brooklyn Moron Grade: D
Mr. Legs is not an acid-doused jam band from upstate but a 3-piece indie rock band based in the Bronx.
Brooklyn Moron Grade: B+
Stay tuned...