From the age of five (which is as far back as I can recollect) I have gravitated towards objects with wheels. Remember getting your first bike? Suddenly the universe expands from around the block to across the town. That quantum leap in personal freedom is hard to duplicate. Your first car might do it. Maybe a private jet, wheels up. Forget travel to the moon (can't book a table when there are no restaurants...).
Meanwhile, on earth: sedotta e abbandonata (seduced and abandoned). The first time I encountered the Tour table -- a satisfyingly thick sheet of ground glass poised on four glittering chromium-plated bicycle wheels -- I was smitten. It stood in the far corner of a trendy East Berlin furniture boutique, radiating allure. With the touch of my hand, this quirky example of Italian casual chic spun like a ballerina on the polished marble floor. "Don't hate me because I'm beautiful," it seemed to purr. The Euro had just been introduced in the global finance market, and the dollar was (all too briefly) strong against the new currency. Still, the table was expensive on a curator's salary, and it didn't seem quite the thing for a living room crowded with Aesthetic Movement antiques. Anyway, I wouldn't have had an easy time lugging it to the airport and getting it past the check-in desk -- even before airlines began levying insidious baggage fees.
A decade later I still thought about that table a lot. Having changed museums in the interim, I now have charge of contemporary design acquisitions, among other duties. So I hunted around on the internet. Fortunately the table, designed in 1993, was still in production -- not always the case with contemporary pieces. I decided to add one to the BMA collection before they run out. Insofar as I have been able to determine, no other art museum owns one, at least not on this side of the Atlantic.
For years my brother has recounted various versions of a long shaggy dog story about the Royal Bombay Bicycle Club. The tale always ends with "'twas a harrrrrowing expurrrience" retailed in a fake Scottish accent. That about sums up purchasing high-end contract furniture, if you ask me. I mean I can see why folks shop off the floor at Crate and Barrel. Nonetheless, having repressed the details of the museum's drawn-out transaction, I now cheerfully report that it was well worth the wait. The table has recently gone on view in the European Decorative Arts Galleries. Serene and elegant amidst 18th-century European silver, ceramics and glass, it's a seductive people-magnet.
Architect Gae Aulenti, the table's designer, deftly blends old and new. She is skilled at retrofitting buildings to create dynamic new museums. In Paris, her Musée d'Orsay (1980-1986), repurposes the old Gare d'Orsay railroad station for cultural tourism, splendidly encapsulating many gems of French painting from 1848 to 1914. In Venice, she remodeled the Palazzo Grassi (1985-1986), transforming it into a museum for contemporary art. In 1988 she remodeled the Catalan Museum, housed in a structure left over from the 1929 World's Fair in Barcelona. The Asian Art Museum, San Francisco, was created in 2000-2003 out of what was once the city's Beaux Arts main library. No surprise: Aulenti also has credits as a stage designer.
One of surprisingly few women to reach the winners' circle in competitive international architecture and design, Aulenti might enjoy early bicycle poster art, advertising the new-fangled safety bicycle, a serious improvement over earlier contraptions like the high wheel and the bone shaker. In turn-of-the-century ads, women predominate, taking advantage of unprecedented mobility to pedal smartly towards emancipation. Artists quickly adopted the bicycle, along with the automobile, the ocean liner and the airplane, as speedy symbols of twentieth-century modernity.
Aulenti named her piece the Tour table, after the Tour de France, a regular feature on the international sporting scene since 1903. Originally sponsored by L'Auto, a new magazine, the arduous bicycle race still generates excitement, controversy and commerce. At the outset L'Auto used attendant publicity to boost circulation ten-fold, putting its rival periodical, Le Vélo, out of business in the race for readership.
Tour isn't Aulenti's first glass table. Earlier she designed the Tavolo con Ruote (table with wheels). Far more familiar than Tour -- perhaps because much less expensive -- it's a large glass rectangle on four industrial trolley wheels crouching a dangerous 9.8 inches off the floor, regularly biting the ankles of inattentive guests attending cocktail parties in the lofts of SoHo while wearing their Jimmy Choo platforms (range $665 to $2696: that last, Mira, featuring a pencil-thin red heel, a faux-leopard vamp and a blappy silk rose, promises to "make the ultimate statement this season." For that much, Manolo Blahnik, who does not endorse platform shoes, might find the Tavolo con Ruote a better bet. It's been around since 1980.)
Given her interest in stage design and the reuse of historic architecture, it is not surprising that Aulenti might occasionally create a piece that resonates with an earlier icon. To my mind, Tour nods to Marcel Duchamp's Bicycle Wheel, first constructed in Paris in 1913 and later declared a readymade. The original is lost, but Duchamp's 1951 recreation of the bicycle fork with front wheel mounted upside down on a wooden stool (Collection MoMA), is itself turned upside down and made functional in Aulenti's poised yet whimsical table. She conceived it for FontanaArte, a Milan design firm founded in 1932 by the architect Gio Ponti.
Commenting on an exhibition, "Italy: The New Domestic Landscape" (MoMA, 1972), Aulenti said she wanted to "achieve forms that could create experiences, and that could at the same time welcome everyone's experience." When I look at Tour, I see memorable Italian design, and I see a kid on a new bike, taking off across town.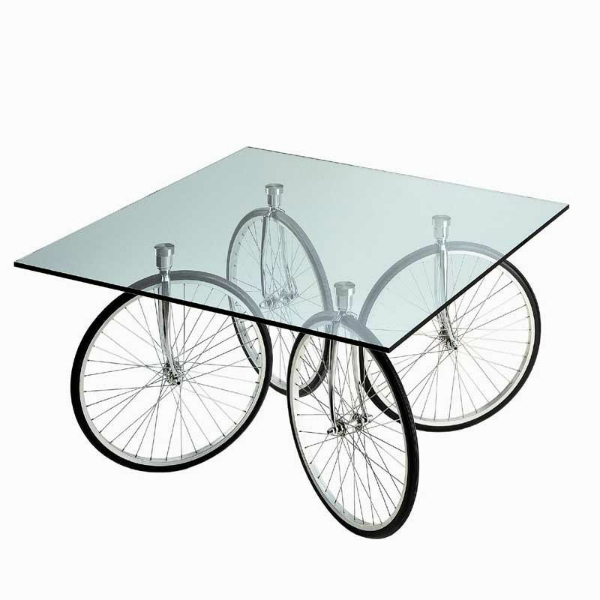 Tour Table
Designed 1993, this example 2010
Designer: Gae Aulenti (Italian, b. 4 December 1927)
Manufacturer: FontanaArte, Milan, Italy. 1932 - present
Ground glass, stainless steel, chromium plated metal, rubber
28 x 7 x 47.2 x 47.2 inches
The Baltimore Museum of Art, Decorative Arts Acquisition Endowment established by the Friends of the American Wing. BMA 2010.35